Several of my Seeking Alpha colleagues, notably Rocco Pendola and Jim Pyke, have written outstanding articles on this site over the last few months, detailing the issues with the Netflix (NASDAQ:NFLX) business model. Both authors (particularly Rocco -- see this piece from April) eloquently and correctly predicted the explosion in content costs that the market is only now beginning to understand.
Indeed, as Rocco noted here, content costs increased by $1 billion in the most recent quarter, according to the company's 10-Q. Further increases are likely, as new content deals come online, including the agreement with television network the CW, for which Netflix will pay as much as one billion dollars over the next decade.
NFLX bulls have responded that subscriber growth in the Americas, along with international expansion, will allow the company to cover these escalating costs with escalating revenues. Many of these investors now see the stock, at less than 30% of its valuation in July, as a bargain.
But the problem with Netflix is not just on the cost side; it is on the revenue side: specifically, the company's insistence on pricing its streaming plan at $7.99 per month. As a Netflix streaming subscriber (and a happy one, at that), I received the following email last month, in the wake of the company's decision to discontinue its plan to spinoff the DVD-by-mail business as a rebranded Qwikster (highlighting mine; click to enlarge):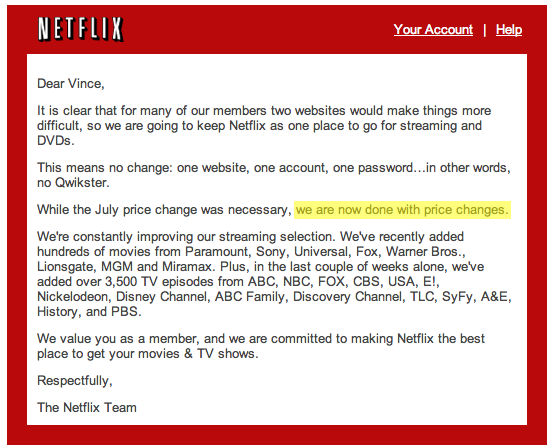 The company doubled down in its Q3 investor letter (.pdf), announcing the following (highlighting mine; click to enlarge):


Leave aside the estimates on subscriber growth, the costs -- and benefits -- of international expansion, and the expanding expenses related to licensing deals. On a common-sense basis, what does $7.99 a month buy in content?
One way to answer that question is to look at the dollar value of content in the typical American home. How much is the average American home contributing to television content today? A 2009 report by industry analyst SNL Kagan noted that content providers received a sum of $34 monthly per cable subscriber in wholesale fees (exclusive of cable company markups). Add on inflation, and the new cable fees now paid to broadcast networks CBS, NBC, ABC, and Fox and we can roughly assume that the total per-household subscriber fee for 2011 is in the range of $40. 40% of those fees go to sports channels, according to the Wall Street Journal (via the AllThingsDigital article linked to above), and roughly $5.64 of fees listed in that report are for news and Spanish channels, so content providers' share for scripted programming net of sports, news, and foreign language programming -- the same content that may eventually find its way to Netflix -- is about $18.
Of course, advertising is a key driver of content revenue as well. American television advertising spending is projected to be $60.5 billion in 2011, or $459 per household. This works out to nearly $40 per month per American household in revenue for cable and broadcast networks. Give sports and news programming a 60% share of advertising revenue -- owing to their more-valued demographics -- and content providers receive another $16 monthly. (This is actually an understatement, as the per-household number includes all households; no doubt cable homes are responsible for a greater share of advertising spending than their antenna-only neighbors.)
All told, each cable household has available to them at least $34 worth of original and syndicated programming and movies monthly. Granted, some of this revenue is eaten up by expenses and profits. But Netflix must compete with this $34 worth of monthly programming with revenue per household of $8. Is it any wonder that the selection on Netflix streaming garners so many complaints?
Netflix can promise (as it did in the email pictured above) to continue to upgrade its service, and add new television shows and movies. But it simply can't afford to -- not at $7.99 per month, without advertising, an option the company has repeatedly refused. The constant calls for new streaming content -- newer shows, better movies -- simply do not understand the economics of the Netflix model. There is not enough money at $8 per month per subscriber for the company to create high-quality content.
Netflix is caught between outsized expectations -- which the company has, in part, helped to create -- and the economics of the $8/month plan. The company itself highlighted this problem in its Q3 investor letter, by comparing itself to Time Warner (NYSE:TWX)'s HBO:
We've been aggressively increasing our content spending, and in 2012 will nearly double what we've spent this year, putting us almost at par with what HBO, the biggest of the premium TV networks, spends in the U.S., and making the range and quality of content on Netflix the best it has ever been.
Yet HBO must program just eleven channels, with a focus on quality: new release blockbuster movies, original documentaries, and well-reviewed scripted programming. HBO earns $7.27 in revenue per subscriber, 10% less than Netflix, with a larger subscriber base (28.3MM subscriptions for HBO, 21.45MM streaming subscriptions for Netflix). Netflix must fund a far larger amount of television episodes and movies off a similar revenue stream; it is quantity versus quality.
Unfortunately for Netflix, its customers seem to desire both. The outcry over the June price increase, and the "demands" for new streaming content in response led to net subscriber losses. This is not all Netflix's fault; many of its customers in the younger demographic grew up to listening to and watching "free" (ie, stolen) music and video content through Napster and Kazaa, and may simply have a different price point as a result. But it is Netflix's problem. The bull case for Netflix often rested on the idea that Netflix would replace cable, particularly for younger customers. But Netflix cannot offer enough quality content to do so at $7.99 per month.
Meanwhile, the revolt and the brand damage caused by the initial price increase, and the company's commitment to the $7.99 price level, leaves no wiggle room. Netflix will be a niche service, wonderful for customers like me who watch little TV, have tastes outside the mainstream, or who travel regularly. But, on the streaming side, it will remain a niche business.
Netflix bulls claim that subscriber growth will cover streaming costs, which will fund better content, which will continue subscriber growth. But the content simply can't get good enough at $8 per month. There's a reason that cable television costs, on average, $75 per month, and a reason that over half of households pay that bill. They get what they pay for. Unfortunately for Netflix investors, so do Netflix subscribers.
Disclosure: I have no positions in any stocks mentioned, and no plans to initiate any positions within the next 72 hours.