At first glance, the BioMedReports FDA Calendar and World Wide Regulatory Tracker indicates that the company's next major milestone is not scheduled to take place until 1Q13 and it involves Phase II trial results for Zybrestat with Bevacizumab in Ovarian Cancer.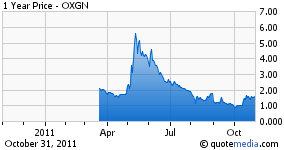 As has been reported, OxiGene (OXGN) is targeting ovarian cancer using a new type of therapy known as "vascular disrupting agents," which works by collapsing the blood vessels inside of the tumor and "starving" it from within.
In September, Oxigene said it didn't have the cash to fund a late-stage study of ZYBRESTAT and that it would pink-slip 11 workers--more than half its remaining staff. Its shares, which traded at $50 just two years ago, slid even more on the news.
OXiGENE believes that ZYBRESTAT is poised to become an important product in a novel class of small-molecule drug candidates called vascular disrupting agents. Through interaction with vascular endothelial cell cytoskeletal proteins, ZYBRESTAT selectively targets and collapses tumor vasculature, thereby depriving the tumor of oxygen and causing death of tumor cells. In clinical trials in solid tumors, ZYBRESTAT has generated data that are suggestive of possible clinical activity against tumor vasculature in anaplastic thyroid cancer, and has demonstrated a positive profile in clinical trials in non-squamous, non-small cell lung cancer, ovarian cancer and various other solid tumors.
In a recent SEC filing, however, Peter Langecker, CEO and Chief Development Officer at OXiGENE told shareholders that a next key event for OXiGENE's shareholders is the annual shareholder meeting scheduled for October 31, 2011.
Proxy materials have been sent to all shareholders, and they are also available online on the company website and on the SEC webpage.
Langecker strongly recommended that shareholders read these materials carefully and that they vote your shares in favor of the three proposals described in the proxy.
At the annual shareholder meeting, in one of the proposals, the company is asking for is the confirmation of recently announced changes to the Board of Directors.
On the clinical front, shortly OXiGENE is expecting to have the final overall survival data from our completed Phase 2 study in non-small cell lung cancer (the FALCON study) which compared the standard chemotherapy treatment regimen for these patients, consisting of carboplatin, paclitaxel and bevacizumab with and without ZYBRESTAT. We hope to be ready to talk about these results at our upcoming quarterly earnings call in November 2011.
Speculators are buzzing about these developments and biotech investors are obviously looking ahead at these news events. The company has 24M shares outstanding with 38.69% owned by Insiders and 1.90% owned by Institutions. Shares of the company have recently bounced off the bottom from 52-Week Lows in early October and are still trading -75.86% from their 52-Week High ($ 6.38 ).
Oxigene's products include: Zybrestat (fosbretabulin) for the treatment of anaplastic thyroid carcinoma; Zybrestat with Bevacizumab, Paclitaxel and Carboplatin, for the treatment of stage IIIb/IV non-small-cell lung cancer; Zybrestat with paclitaxel and carboplatin, for the treatment of platinum resistant ovarian cancer; Zybrestat for the treatment of ophthalmological; and OXi4503 for the treatment of advanced solid tumors with hepatic involvement.
Oxigene has collaborations with The National Cancer Institute, Symphony ViDA, Inc, RRD International, LLC, U.S. Food and Drug Administration, The US Department of Health and Human Services, Intracel Holdings, Inc., The Foundation Fighting Blindness, and others.
Disclosure: I have no positions in any stocks mentioned, and no plans to initiate any positions within the next 72 hours.