Apple (NASDAQ:AAPL) was co-founded by the late visionary Steven Paul Jobs and has completely transformed every industry it operates in. The perpetual focus on innovation has made this one of the largest, fastest growing companies and Apple investors have been handsomely rewarded for their ownership over the years.
I have recommended option strategies on Apple since 2010 with tremendous results. For reference, please view the first and other articles in the series to fully understand the strategy and its strong potential returns. As we enter the post-Jobs era, it is even more important to keep a close eye on your investment and execute care with your trades.

click to enlarge
A brief recap of this week in Apple [Up $8.77 (2.2%)]:
· Apple Video: "A Celebration of Steve's Life" (October 19 Apple)
Popular trade-in website Gazelle has reported that trade-ins of BlackBerries nearly doubled leading up to the iPhone 4S. This is not unexpected as the BlackBerry operating system is years behind iOS 5, but the rate of abandonment of the platform is startling. There was also a "spike" in trades of Android phones and older iPhones.
Forbes has a great overview of the "Steve Jobs Economy" and it shows the tremendous growth that Apple still has in the future. There still have "only" been 130 million iPhones and 30 million iPads sold in comparison to the 300 million iPods that have been sold. I still firmly believe that Apple is a value stock because of its sub 15 P/E before adjusting for cash but the high growth days for Apple are still ahead of us.
I have stated it in the past, but the landscape has not changed: competitors have no traction against Apple. Amazon is trying to sell its new Kindle Fire at a loss to beat Apple. Research in Motion is borrowing a supermarket promotion with its "buy two Playbooks get one free" promotion to slow the iPad. Motorola is resurrecting the Razor brand in a Hail Mary attempt against the ever-popular iPhone. HP doesn't even know what business it wants to be in anymore! In perhaps the most telling sign of how dominant Apple is, Sprint is basically betting its company's solvency on the success of the iPhone. If the iPhone fails, Sprint will fail – I will take that bet any day.
Apple has reclaimed the $400 price level by gaining nearly $9 last week but lagged the overall market which surged on the better than expected macro news. The stock is still $20 below its high and suspect that it will oscillate within a tight level for the remainder of the year. If Apple does stay range-bound there are a variety of option strategies that you can employ such as the covered call, long condor, or short straddle/strangle. In the absence of a significant catalyst in the near-term, I do not see a tremendous risk of any "opportunity cost" lost profits from a huge week for Apple.
Below I present three possible scenarios and the potential returns for the November 4 monthly options (Source: TD Ameritrade). The first scenario represents a negative outlook for Apple while the final two scenarios are more reasonable. These scenarios are just projections and there is no guarantee that they will come to fruition. As a general rule, selling calls with higher strike prices has greater potential return but additional risk of loss due to the lower (or lack of) downside protection. For more information on the fundamentals of covered calls, consult Investopedia.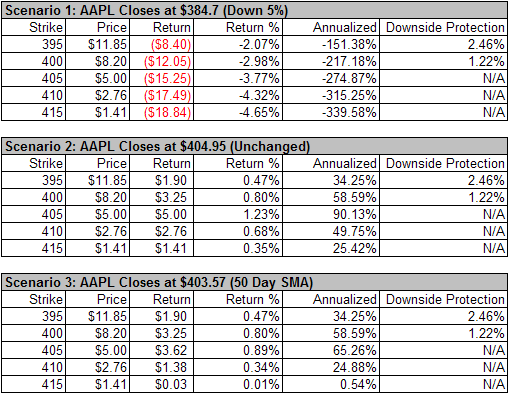 Additionally, if you would like even more information, I have prepared a sensitivity analysis for absolute return and percent returns, respectively. After studying the information above, these two charts make it easy to pick a strike price based on where you believe Apple will close on Friday.

With this information, executing a buy-write on AAPL November 4 (Weekly) 405s is the optimal risk-return strategy. If you are uncomfortable with this strategy I suggest a buy-write 400s. After earnings the time value of the options falls back to earth but the 405s still have a respectable 1.2% time value ratio. Even if you are extremely bullish you can still profitably sell covered calls because Apple is volatile enough that you will have opportunities to repurchase on dips.
An alternative approach is to sell out-of-the-money 400 puts and collect the premium without having to purchase the stock outright. Note that if the stock declines to the strike price, you are obligated to buy the stock (or closeout the position). If you agree with me that Apple will remain in a tight range, executing a short straddle on the 400s can generate the highest returns but also is more risky than the other strategies discussed.
Disclosure: Author is long AAPL and MMI; short AAPL November 19 425 Calls.