Winter is quickly approaching, and according to history, the market is priming to heat up. November historically has been the second best month of the year, with the S&P 500 (NYSEARCA:SPY) rising an average of 1.5% during November since 1950. With November historically bullish, we looked at which stocks have performed well in November. Here are nine companies to watch during November:
(Click charts to expand)

We analyzed how various stocks performed historically during November since 1985 to help us understand what sectors or companies help fuel November's bullish trend.

The following data compiles the nine best performing companies in November. The data describes the amount of gains, average gains, and maximum gains during November since 1985 for each stock as well as highlights their losses, average losses, and maximum losses during this period. Each of these stocks show gains at least 75% of the time in November since 1985.

The best performing stock in November has been SO, seeing gains 85% of the time for a total average of 3.43%. SO's biggest loss is only 3.58% whereas its largest gain has been over 11%.
The next best buy for November has been VOD, averaging 3.78% returns during November with gains seen over 77% of the time. VOD comes in second with the lowest maximum loss, behind SO, with a max loss of -4.46% whereas showing a maximum gain of 14.55%, the second highest gain seen for any of these companies during November.
Stocks that have been inconsistent in November include the Chinese Internet search provider showing losses over 83% of Novembers. Broadcom (BRCM) follows a similar trend seeing gains only 33% of the time, averaging losses greater than 7%.
The Trades:
The Southern Company (NYSE:SO) – Given that the stock is the one of the best, we like starting here. The company just reported strong earnings on October 26, that should help propel the stock higher in November. The company beat estimates reporting EPS of 1.07 vs. 1.04 expectations. Revenue was up as well from $5.32B to $5.43B. The company offers a great 4.4% yield that is attractive as well, and the ex-dividend date is November 4. We will be paid $1.89 per share held, which means this is a great name to pick up at the beginning of the month as well.
We want to go long the stock on Monday. We are looking at a tiered stop loss at the 50-day MA and the 200-day MA. We will sell ½ on a break of the 50-day MA. We will sell the rest on a break of the 200-day MA. We target exiting at 5% and 10% gains on the month.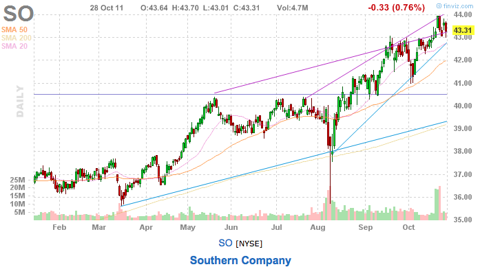 Vodafone (NASDAQ:VOD) – After utilities, telecommnications tend to be one of the most healthy sectors during November. VOD may be one of the best because of a large dividend that will go ex-dividend on November 16, with a 6.6% yield. The stock has been on a tear since September 30's earnings. We like the stock as it should make the run into the dividend as well as has never lost more than 5% in November.
We like going long on the stock on Monday with a 50% position as well as selling the 26 put as it's offering nearly an 8% return, and it seems like a very safe line below the 50-day and 200-day MA. Our stop loss for the stock will be on a break of the 200-day MA. We will be able to also make money holding the stock into the ex-div date. We will look to sell ½ on a 5% gain and target 10% for the second half.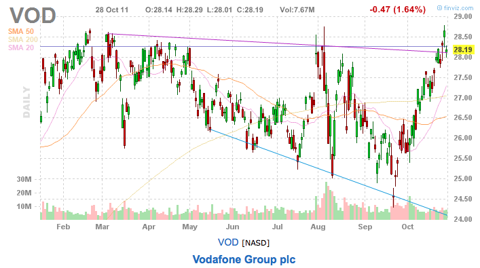 American Electric Power (NYSE:AEP) – Same story as SO. The company is a great utility play. The company had great earnings this past week and goes ex-div in November.
We want to go long on the stock with a full position on Monday. We are looking at a tiered stop loss with selling 50% at the 50-day MA and the rest at the break of the 200-day MA. We will look to sell ½ on a 5% gain and 100% at a 10% gain.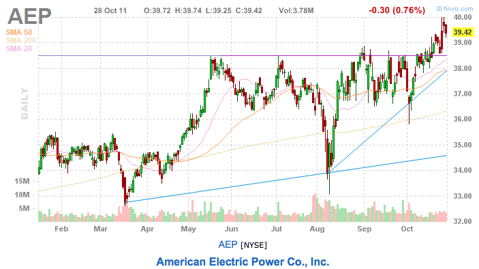 ExxonMobil (NYSE:XOM) – XOM had a nice earnings report on Thursday, and the stock has been performing quite well. It is moving closer to its 52-week high, and with a lot of the market uncertainty starting to look certain, XOM could start to move back to that $90 level. The company has limited downside with good earnings. We are not as crazy about the stock as the company has had larger drawdowns and a lot of upward movement, so we are going with a bull call spread that has tons of upside and will be limited in losses.
We like the 87.50/90.00 bull call spread on XOM for December expiration. The spread is only $21. If the stock jumps to $87.50, the spread will be around 1.25…worth an extra $100. With five spreads, we lose at most $100. We can gain $500 if XOM does make a move to 87.50.
ExxonMobil does have a dividend on November 8th for those interested.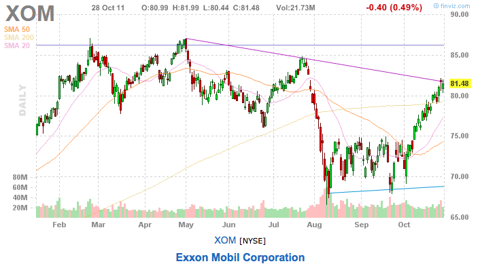 Broadcom (BRCM) – One of the worst performers we found in November just reported some weak earnings on Wednesday of this past week. We like using BRCM as a hedge for our November picks. Guidance was weak for the company, and it missed estimates. The company rebounded on the big day Thursday, but we see the upside limited for this stock. The stock has not broken $38.50 in the past three months.
We like selling the 39/40 bear call spread for Nov19 expiration. With that spread, we get paid $16 for the spread, which returns 19% for selling the premium. We like this spread as a nice hedge against further upside in the market and our four bullish calls.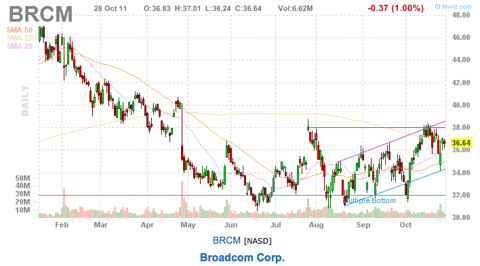 Note: Be careful buying into Utility ETFs as XLU does not move consistently with the electric utilities during November, up only 58% of Novembers.
Don't be quick to jump on the natural gas seasonal bandwagon either as NatGas has been on average flat since 1985 with Southwestern Energy (NYSE:SWN), Apache (NYSE:APA), and Chesapeake Energy (NYSE:CHK) failing to rally consistently in November.
Disclosure: I have no positions in any stocks mentioned, but may initiate a long position in AEP, SO, XOM, VOD over the next 72 hours. We will be initiating a short on BRCM in the next 72 hours.