By Jonathan Chen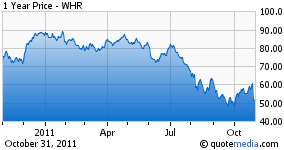 Whirlpool (NYSE:WHR) reported third quarter earnings Friday that were nothing short of shocking, missing Wall Street estimates, and sending shares down more than 11% in early trading.
The maker of refrigerators, washers, dryers and other home appliances reported third quarter earnings of $2.35 per share on $4.63 billion in revenues. Wall Street analysts had been expecting earnings of $2.75 per share on $4.73 billion in revenues. In addition, the Benton Harbor, MI-based company announced it cut its guidance for 2011. It said it now sees earnings of $4.75-$5.25 per share, versus its previous view of $7.25-$8.25 per share.
"During the quarter, we experienced weaker than expected global industry demand and elevated material costs," said Jeff M. Fettig, Whirlpool Corporation chairman and chief executive officer in the press release. "Consumers continue to show strong preference for our unmatched global brand portfolio and new product innovations, and we are beginning to see the benefits from previously announced price increases. However, our results were negatively impacted by recessionary demand levels in developed countries, a slowdown in emerging markets and high levels of inflation in material costs."
The company also announced it is cutting 5,000 jobs, and taking a $500 million restructuring charge.
Fettig went on to say, "As we previously indicated, in a period of uncertain economic growth and consumer demand, we would be prepared to take the necessary actions in order to expand our operating margins and improve our earnings. Given the weakening global economic environment, we are today announcing aggressive plans that will result in substantial cost and capacity reductions. The plans are the result of a comprehensive global review of our operations, products and manufacturing facilities."
J.P. Morgan has a Neutral rating on shares, and was mixed in its reaction on the report. In the note, J.P. Morgan wrote, "While we view this as a material disappointment, at the same time, we believe a likely negative stock reaction should be moderated by the company's aggressive restructuring program announced today, which represents roughly $3.85/share of annualized savings (assuming a 25% tax rate) to be achieved through 2013-end."
Whirlpool's not so shocking results are likely the result of global economic uncertainty, and a housing market that has still not recovered. In the past 52 weeks, Whirlpool has lost nearly half of its market cap, suggesting that consumers just are not buying new washers and dryers. When people move, they purchase new home appliances. When people renovate their homes, as we are seeing now, they do not purchase as many new home appliances. A new washer and dryer is not what people think about when renovating their home. Usually, one thinks of a fresh coat of paint, new counter tops, cabinets, rugs, and perhaps a new fridge. Whirlpool is just not seeing any follow through in the mini-renovation boom, and the share price has been halved as a result.
Whirlpool has relied on strong demand in the emerging markets in the past, and to see a weakened emerging market as well as domestic does not bode well for the short and medium term future of the company. The company is heavily exposed to Brazil, and to suggest that emerging market demand is weakening signals something is wrong with the company, not in emerging market demand itself.
The dividend, a 3.5% yield currently, could be cut as the company attempts to save money during these hard times. Shares are trading at less than 8 times 2012 earnings, but we could see 2012 estimates come down after the weak earnings release this morning.
Whirlpool's stock has become just that: a whirlpool. Investors would be wise to stay away from getting caught in the undertow, sinking below the surface where they cannot be rescued.
ACTION ITEMS:
Bullish:
Traders who believe that Whirlpool's cost restructuring will help in 2012 and beyond might want to consider the following trades:
Whirlpool shares have lost a significant amount of value. If the housing market modestly rebounds, in addition to the cost savings, Whirlpool's earnings could be better than most expect in 2012.
Traders could also look to Electrolux AB (OTCPK:ELUXY), which operates at the high end of the market. If Electrolux is signaling positive signs, that could be a good indication for Whirlpool.
Bearish:
Traders who believe that the housing market, and Whirlpool's emerging market weakness signal more downside may consider alternate positions:
Emerging markets are generally thought to be healthy economies. If Whirlpool cannot do well in Brazil, which is experiencing an infrastructure boom, then this could be a company-specific issue. Traders may want to short it aggressively until signs change.
Neither Benzinga nor its staff recommend that you buy, sell, or hold any security. We do not offer investment advice, personalized or otherwise. Benzinga recommends that you conduct your own due diligence and consult a certified financial professional for personalized advice about your financial situation.
Disclosure: I have no positions in any stocks mentioned, and no plans to initiate any positions within the next 72 hours.