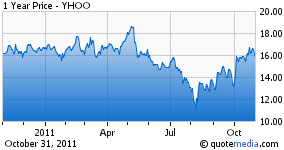 A story came out late Friday afternoon suggesting that Yahoo (NASDAQ:YHOO) may sell its Asian assets in lieu of a sale of the whole company. The stock traded down 2.8% in the aftermarket Friday after this news was disseminated.
Selling Yahoo on the back of this news is a mistake for several reasons:
Yahoo's value is based on a sum-of-the-parts analysis (see below), and unlocking the value of its Asian assets should increase the value of the stock given that its stock price suggests the core business has almost no value.
Monetizing its ownership stakes in Yahoo Japan and Alibaba Group, while still complicated, is far less complicated versus selling the entire company. In the case of Alibaba Group, Yahoo can negotiate with only one party in Alibaba founder Jack Ma, rather than a sale process with multiple buyers, each one a consortia of multiple private equity firms and strategic partners. The same goes for Yahoo Japan. Further, selling the Asian assets avoids potential change of control provisions that could be associated with the Asian assets if the entire company is sold as a whole.
Selling the assets creates transparency regarding the stock market value of Yahoo's core business, which is still a premier Internet asset with significant value if correctly managed. If the stock price does not reflect this value, it can be then be sold with much less complexity. Said another way, Yahoo selling its Asian assets could very well be the strategically correct order of operations that will still result in a sale of the entire company. It may be easier for Yahoo to monetize the Asian assets versus a private equity consortia.
The rumor, attributed to "five people familiar with the situation" could be a negotiating tactic. Who are these "five people?" For all we know they could be the Yahoo's investment bankers.
Let's review the sum-of-the-parts valuation of Yahoo. Note that we are using Third Point's valuation of Alibaba Group from its September 8, 2011, letter to Yahoo's Board of Directors.
Value Component

Total Value

($US millions)

Total Value per Fully Diluted Yahoo Share

Yahoo Japan

$6,678

$5.25

Alibaba Group (ex. Alibaba.com)

$8,536

$6.71

Alibaba.com

$2,214

$1.74

Net balance sheet cash

$2,690

$2.11

Total

$20,119

$15.80

Current Price

$21,080

$16.56

Implied Value of Core Yahoo

$961

$0.76
Source: Market data per Bloomberg as of 10/28/2011
This suggests that the core Yahoo business is only being valued at $0.76, which is less than 1x projected 2011 earnings.
Yahoo's third quarter 2011 earnings results released on September 30 were decent. While they were down year-over-year, they exceeded Wall Street consensus expectations. And these results were despite a leadership vacuum at the company and the distraction of the firing of CEO Carol Bartz and the on-going strategic review process.
The strategic process that Yahoo is undertaking is complicated. There are multiple possible outcomes and the order of events and timing is anyone's guess. The one simple fact that spans all scenarios is that Yahoo is a collection of assets that have value and the sum-of-the-parts is far greater than the value currently being ascribed to those assets by the market. Investors should expect continued rumors and leaks, but ultimately separating these assets, however it is done, should result in the creation of shareholder value.
Disclosure: I am long YHOO.