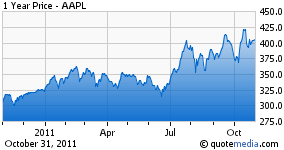 I still laugh when I visualize the Fonz on water skis with his leather jacket on, jumping over a shark in the 1977 Happy Days episode. The phrase "jump the shark" stemmed from that episode, meaning that the show Happy Days reached a point where quality begins to decline that is beyond recovery. That same phrase can arguably be applied to Apple's (NASDAQ:AAPL) newest project of offering its own branded television known as the iTV.
It is possible that Apple's best days are already in the past. Steve Jobs did do an outstanding job turning around the company with the innovative iPods, iPhones, Macbooks and iPads. However, high growth companies eventually hit a peak, and then experience growth that eventually approaches the market's average. Apple will need to constantly be on top of its game with innovative products that are in high demand to avoid a decline. Apple's growth is expected to slow in the next five years. Apple achieved an impressive annual earnings growth rate of 61.15% the past five years, but it is expected to grow earnings annually at 20.34% for the next five years. That is a 67% decline in its earnings growth rate.
What is Apple doing to at least meet its lowered earnings expectations? It is working on a Siri (voice command system) enabled TV that syncs with all of your devices and with iCloud. It should be interesting to see if consumers will actually embrace this product. Is it really that difficult to use a remote that we need to shout voice commands at the TV? I can picture a few kids having fun by shouting at the TV to constantly change the channel. Or accidental channel changes: picture a wife asking her husband if he wants meatballs on his spaghetti and the channel changes from the Super Bowl to the 1979 comedy movie, Meatballs. On the serious side, I do see a lot of value in being able to say "put on the Phillies game" instead of surfing through the 3 or 4 possible channels that they are typically aired on.
Apple television is also supposed to work with iCloud, which would combine live television with TV recorded in the cloud. This would also allow you access to stored data such as music files or videos that would be heard and viewed on the Apple TV.
Apple does have a number of loyal customers that would most likely embrace an Apple branded television, but I don't know if Apple can price it competitively enough for significant revenue and earnings growth. Barclays issued a recent report that stated that Apple could generate an additional $19 billion in revenue per year from its television.
Granted Apple's Siri enabled TV will not be ready until around 2013, so there is plenty of time to work out the kinks and conduct focus groups to see what customers would really want in an Apple branded television. If this product is successful what else does Apple have in its pipeline to maintain 20% annual growth? I think that it will be difficult for Apple to maintain a high level of growth in the next 10 years or more. It will need to constantly update and innovate current and new products and maintain a competitive advantage over its rivals.
The primary advantage that Apple has is that it is currently an undervalued momentum stock. It has a low PE ratio of 10.48 and a PEG of 0.58. Its stock trades at under 5 times book value per share, which is a nice value for such a high growth stock. I think that this valuation gives Apple some insulation from large stock drops in the near future. However, it will need to meet its earnings expectations consistently to avoid going south. I'm not yet convinced that the Apple TV will be as successful as the iPod or iPhone, it may just be "jumping the shark."
Disclosure: I have no positions in any stocks mentioned, and no plans to initiate any positions within the next 72 hours.