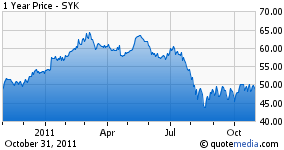 We wrote a detailed analysis of Stryker (NYSE:SYK) here.
We continue to believe that Stryker possess the formula for a long-term competitive advantage; a diverse product portfolio, an innovative pipeline, geographic diversity, high-switching costs, and an inorganic growth strategy.
Stryker has announced its results for the third quarter ended September 30, 2011. Net sales amounted to $2.03 billion, increasing by 14.9% year-on-year, mainly due to acquisitions (7.6%) and increased unit volume (6.1%). Sales growth for the orthopedic implants segment continued to lag growth in Medical Surgical (MedSurg) segment as it has been since the start of 2010, registering a growth of 8%, while MedSurg product sales grew 12% year-on-year. In constant currency terms, sales of orthopedic implants increased 3.9% and MedSurg product sales increased by 9.8%. The newly formed Neurotechnology and Spine division's net sales constituted 17.9% of total sales, registering $363 million and surging by 45.8% year-on-year.
Other Updates:
Like most medical technology companies, Stryker is facing an environment of increasing cost pressures due to scrutiny of pricing by government and third party payers. During 2010 and the first nine months of 2011, net sales declined 2% year-on-year due to pricing pressure. This trend will most likely remain in the near future. From a longer-term perspective, the company has announced it will focus on cost containment. This includes procurement, material and manufacturing costs, which should help the company expand gross margins and leave more cash for R&D and other business opportunities.
With respect to inorganic growth, Stryker plans to slow down the pace of acquisitions in the near future, focusing on integration of recently purchased businesses (Neurovascular division of Boston Scientific Corporation and Orthovita Inc.). From our point of view, the move reflects a sound strategy and minimizes the risks associated with the integration of recent acquisitions. However, the company is expected to continue seizing opportunities in adjacent "niche" markets, which should further expand the product portfolio. For instance, on October 3, 2011, Stryker completed the acquisition of privately-held Concentric Medical Inc., which expands the company's presence in the interventional stroke market by offering minimally invasive products for the treatment of acute ischemic stroke.
Overall, Stryker maintained healthy growth in line with 2011 guidance. Through the first nine months of 2011, the company repurchased 9.9 million shares at a cost of $539 million, while the total cash dividends paid increased by about 17% over the prior year.
Long-term operational performance (5-year averages) remains strong and valuations remain attractive. Our strategy is to buy on dips in the $45-46 range.
Disclosure: I am long SYK and acquired it at $45.25 and $50.00