On Tuesday July 26th, Jim Cramer was asked his opinion on Imax Corporation (NYSE:IMAX) on his TV show Mad Money during the nightly "Lightning Round" segment. When Cramer was asked about Imax he appeared to be bearish by saying to take a pass on the stock as he believes the movie industry as a whole isn't doing well.
I, on the other hand, believe that 2012 could be the biggest year the movies have seen in some time. There are numerous blockbuster movies coming to movie screens including: The Avengers, The Amazing Spider-Man, The Hobbitt, Men in Black 3, and the newest Dark Knight movie. While Cramer doesn't believe in Imax or the movie industry, I do.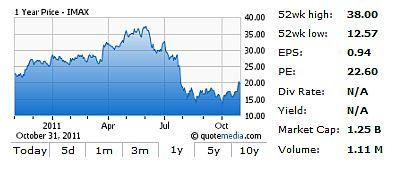 This show aired months ago on CNBC and its time to see where the stock has gone since then. The stock has been beaten down since that bearish call along with the rest of the market. Imax shares traded at $25.17 before Cramer's show aired.
Shares Friday were up close to 12% to close at $19.49. Imax shares were in the news for two reasons this past week. The two reasons that Imax shares likely rallied are the release of quarterly earnings and the announcement of a new movie being added to the 2012 lineup. I am betting that the earnings proved to have more of an impact on the share price but will discuss both in this article.
Third quarter revenue of $67.5 million (an increase of 32% from the third quarter previous year).

Third quarter earnings per share of $0.16 (includes $0.06 loss per share due to weak Canadian dollar)

Box office for the third quarter was $149.3M, driven by Harry Potter: Deathly Hallows Part 2 and Transformers: Dark of the Moon.

Fourth quarter 2011 theater installations revised up to 49-59.

Installed 11 new Imax theaters during third quarter.

Installed 16 Imax theaters under the joint revenue theater sharing program.

Signed contracts for 28 new theater installations and two theater digital upgrades.

As of September 30, 2011 Imax now has a backlog of 295 theaters.

Company raised number of possible worldwide Imax Theaters at 1,500 to 1,550 (was thought to be 1,200 to 1,250 previously).

Increase in possible theaters forecasted based on strong international revenue of large movies on Imax screens (average of $560,00 compared to $257,200 for North American screens).
The second piece of Imax news was the announcement that Lorax, the popular Dr. Seuss book that is being adapted into a movie, will be hitting Imax screens in March of 2012. The movie becomes the ninth major movie being released by Imax in 2012. The lineup for next year is shaping up quite nicely and should provide record revenue for the company. Lorax is being produced by the people behind Despicable Me and Hop. The list below shows similar movies and how they fared. (Box Office Figures for US only from IMDB.com)
Cat in the Hat (2003) $100.4 Million

Despicable Me (2010) $251.5M

Hop (2011) $106.4M

Horton Hears a Who (2008) $154.5M

How the Grinch Stole Christmas (2001) $260.0M
The two movies by the duo directing/writing The Lorax adaptation (Despicable Me, Hop) has fared well at the box office. The adaptations from former Dr. Seuss books shows a wide range of box office results. None of the movies listed above were featured on Imax screens. I am predicting $175 total domestic box office revenue for The Lorax. Estimates will have The Lorax taking in $15.75 million for Imax screens.
The lineup for 2012 now looks like this:
January 20-Underworld Awakening

March 2-The Lorax

March 9-John Carter

March 30-Wrath of the Titans (Clash of the Titans 2)

May 11- Dark Shadows

May 25-Men in Black 3

July 3-The Amazing Spider-Man

July 20-The Dark Knight Rises

December 14-The Hobbit: An Unexpected Journey
Four Movies Remain for the Rest of 2011 as well:
October 28-Puss in Boots

November 18-Happy Feet 2

December 16-Mission Impossible: Ghost Protocol

December 21-The Adventures of Tintin
Mission Impossible rolls into Imax theaters days earlier than other movie theaters. I wrote a previous article about how this change could impact Imax earnings and its future here.
The 2012 lineup is very strong and could provide record revenue because of its blockbusters in the newest Batman, Spiderman, and the first movie in The Hobbit series. There are a couple of holes in the release schedule that could be filled up with some blockbuster movies as well, such as:
May 4-The Avengers

August 3-The Bourne Legacy

August 8-Total Recall

November 9-Bond 23

November 16-Breaking Dawn Part 2
Even though part of March is taken, my favorite pick for 2012 would be The Hunger Games, which will be released March 23rd. I wrote a previous article about how this movie series (trilogy) could transform Lions Gate Films (LGF). The trilogy would also be a nice boost to Imax to lock in a potential blockbuster series ahead of time.
There are many Imax bears on Seeking Alpha and I have continued to write bullish articles over my three years writing for the site. As it is common in the stock market, there is a difference of opinion on whether the shares are overvalued or undervalued. I like to think that shares are undervalued as they still trade at around half of their fifty two week high share price. I have owned shares since 2004 and have bought in several times since then and have an average price per share of less than $9. I am so optimistic about the company that I am actually looking at buying shares under $20 once again. To see what I currently hold in my portfolio you can go here.
Disclosure: I am long IMAX.
Additional disclosure: I am long Imax and may add to my position at any tiime.