There are many investors who are looking for the banking sector to pay them back for the beating they have been taking. Gone are the days when the money center banks were solid investments with a nice fat dividend you could count on. Citigroup (NYSE:C) has been no exception. Citi still has about $22 billion in loans to the PIIGS (Portugal, Ireland, Italy, Greece and Spain) but is trying to sell those off as the few speculative buyers put in bids.
Let's look at the numbers without emotion and see what we find. The price momentum is up recently as this graph from Barchart of last month's hourly price movement shows:
Click to enlarge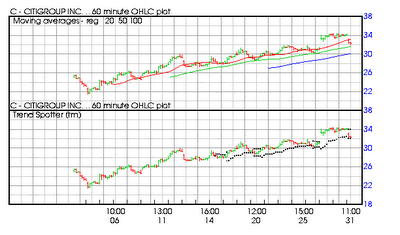 Although that graph looks nice when compared to the Value Line Index Citi has still lagged behind the market over the last six months:
Click to enlarge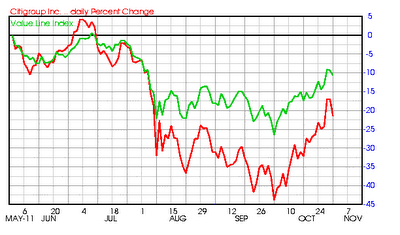 Citigroup, a global financial services company, provides consumers, corporations, governments and institutions with a range of financial products and services. The company operates through two segments, Citicorp and Citi Holdings. The Citicorp segment operates as a global bank for businesses and consumers with two primary businesses, Regional Consumer Banking and Institutional Clients Group. The Regional Consumer Banking business provides traditional banking services, including retail banking, and branded cards in North America, Asia, Latin America, Europe, the Middle East and Africa. The Institutional Clients Group business provides securities and banking services comprising investment banking and advisory services, lending, debt and equity sales and trading, institutional brokerage, foreign exchange, structured products, cash instruments and related derivatives, and private banking, and transaction services consisting of treasury and trade solutions, and securities and fund services.
The Citi Holdings segment operates Brokerage and Asset Management, Local Consumer Lending and Special Asset Pool businesses. The Brokerage and Asset Management Business, through its 49% stake in Morgan Stanley Smith Barney joint venture and Nikko Cordial Securities, offers retail brokerage and asset management services. The Local Consumer Lending business provides residential mortgage loans, retail partner card loans, personal loans, commercial real estate, and other consumer loans, as well as western European cards and retail banking services. The Special Asset Pool business is a portfolio of securities, loans and other assets. Citigroup Inc. has approximately 200 million customer accounts and operates in approximately 160 countries. The company was founded in 1812 and is based in New York.
Factors To Consider
Barchart technical indicators:
Barchart uses various technical indicators to analyze price movements for periods of 7 days to 6 months
At the present time, although the overall weighted average of all the indicators is a positive 48% buy, the buy signals are weakening
The Barchart Trend Spotter technical indicators are a weakening buy
The stock is currently trading above its 20 and 50 day moving averages but is still below its 100 day moving average
The stock had 11 up days and has gained 26.35% in the last month but is still 5.90% off its recent high and is down 37.15% from its 1 year high
Relative Strength Index is 31.23% and climbing
Barchart computes a technical support level at 31.23
Recently traded at 32.24 with a 50 day moving average of 28.18
Fundamental factors:
In the past few years sales and earnings forecasts have been highly unreliable but recently management has learned a lesson in giving a low guidance and then surprising the analysts with better sales and earnings than promised
Wall Street brokerage analysts project revenue to be down 8.00% this year and up by only 1.10% next year
Earnings forecasts are a little better as the company institutes cost savings and recovers from sales of written down assets. Analysts estimate a 16.00 earnings increase this year, an additional 9.60% next year and an annual increase of 11.32% over the next five years
The analysts consensus was 7 strong buy, 11 buy, 6 hold and 3 sell or under perform recommendations
The P/E ratio of 9.18 is at about a 60% discount to the market
As mentioned previously bad loans need to be sold and the losses realized including a $22 billion portfolio of shaky PIIGS debt
Meaningful dividends are still a few years away
General investor interest:
As measured on Motley Fool a lot of readers are following this stock and 11,058 reader have given an opinion on this issue
They voted 84% that the stock would beat the market, which as the chart above shows isn't happening
The more experienced All Stars only voted 80% for the same result
I like to see the individual investor optimism vote be above 90%
The Wall Street columnists Fool follows were about 90% positive on the companies chances and although Jim Cramer was a sell, Bill Ackerman, Pat Dorsey, David Tepper and Chris Davis were all buys
Competitors:
I always like to compare the price action of a stock over the past year to its major competitors to see what the market consensus is, and the comparison shows Citigroup (C) down 22%, Bank of America (NYSE:BAC) down the most at 38%, HSBC (HBC) down 16% and JP Morgan Chase (NYSE:JPM) down the least at 4%.
Summary: Citigroup is still a speculative stock in my view. A company this large should have solid and predictable revenue and earnings projections and that is still not happening. The company is in a reorganization phase and although I'm sure it will survive it is not a stock for long-term conservative investors. There are just too many stocks with reliable double digit revenue and earnings forecasts available to bet the farm on Citi. I'm siding with Jim Cramer and the nine analysts recommending hold or under perform. Even if you hold please have a conservative stop loss in place.
Disclosure: I have no positions in any stocks mentioned, and no plans to initiate any positions within the next 72 hours.