Dendreon (NASDAQ:DNDN) isn't the only high profile biotech/pharm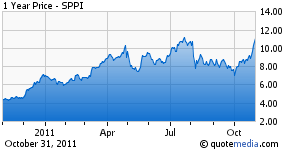 aceutical company making noise this week.
Spectrum Pharmaceuticals (NASDAQ:SPPI), a company whose stock has been quickly on the rise during the past couple of weeks, issued its third quarter earnings report on Friday and a sharp increase in revenue combined with a solid cash position had the company touting its record numbers in high style.
The SPPI stock was being touted just as much, with shares increasing by over six percent Friday, followed by a continued rise in after-hours trading. The solid earnings report, Friday's trading pattern and another pending catalyst for November make SPPI one to keep track of during the coming weeks.
Spectrum ended the last quarter with over $200 million in cash and cash equivalents and raked in over $50 million in revenue, with $48 million of that coming from product revenue.
Fusilev continued to demonstrate its strength as a growing, big time earning force with just over forty one million in sales, were joined by Spectrum's second lead product, Zevalin, which raked in just under seven million on its own.
Investors should take note of Zevalin's potential as a growth player as well. The FDA is set to issue a ruling in late November that - if approved - would allow the bioscan requirement for Zevalin treatment to be removed. Such a removal has the potential to significantly increase the likelihood that doctors will prescribe Zevalin, since without the bioscan, the treatment will be more convenient and less expensive for the doctor and patient alike.
Some cautious optimism surrounding Fusilev is starting to turn into all-out support by some players in the media who had counted on the generic leucovorin to eat into any potential Fusilev growth. Leucovorin's supply issues, however, have upped the ante for Fusilev and allowed the product to start making a foothold in the market; a foothold that could remain, if only for the sake of complacency, even after leucovorin's supply problems are solved.
Additionally, Spectrum is planning two FDA filings for next year. Apaziquone targets the non-invasive bladder cancer market and Belinostat would be approved for the treatment of Peripheral T-cell Lymphoma.
The board has also approved a share buyback program that is in effect, only adding fuel to the recent fire that has moved SPPI's share price higher.
Only the potential competition from leucovorin stands as a negative catalyst for this company, and a possible decision by the FDA to not lift the bioscan requirement for Zevalin, and it's well worth keeping this one on the radar.
Already a big winner for the quarter, there may be more to come.
Disclosure: I am long DNDN.