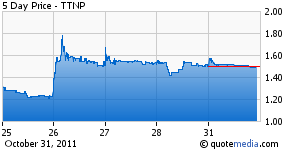 Volume and price were both rising last week for shares of Titan Pharmaceuticals (NASDAQ:TTNP) last week after the company announced that a pre-NDA meeting with the FDA indicated that Titan could move forward with an approval filing for Probuphine with the trial data that has been compiled to date.
Some investors had speculated that the FDA may ask for additional information or another Phase III trial for Probuphine before allowing Titan to seek approval. Those fears were put to rest last week with the significant turn of events for Titan, and shares responded accordingly.
The coming weeks will see some detailed information for investors that will outline the path and timeline for approval, according to the company press release linked above, and although the heavy trading to close last week could have been some profit taking, it looks like investors are again taking up their positions in anticipation of a possible Probuphine regulatory approval.
But there may be some posturing going on outside of just betting on Probuphine.
The positive news and increasing volume is sure to bring with it some renewed takeover talk. Ever since Vanda Pharmaceuticals (NASDAQ:VNDA) announced that the FDA had approved Fanapt to treat schizophrenia [for which Titan receives and 8% royalty rate and for which Vanda has partnered with Novartis (NYSE:NVS)] a couple of years ago, many investors - including this one - have speculated that Titan would end up being bought out before the final chapters of its pipeline reached market.
With the Probuphine situation now cleared up, any potential partner could more accurately assess both the short and long term risks of purchasing Titan's pipeline and ProNeura drug delivery system, but truth be told, the cost of purchasing TTNP is chump change for any bigger player in the market.
Titan shares may contain more long term value if the company goes it alone, but recent activity in the sector has demonstrated the troubles experienced by smaller companies that try to launch a new drug on their own, so expect Titan to at least seek a major partnership.
The company's small work force and recent $20 million credit facility, however, look to be indicators that Titan is just trying to hang on until the right deal is on the table.
Given the current market conditions and TTNP's recent trading range, any deal could be worth between $2.50 and $3.00. Again, that's chump change for a bigger player, but could well pay off given Probuphine's potential in the opioid addiction and chronic pain markets.
With new life once again surrounding the TTNP stock, keep an eye on this one as the company outlines its now short term plans for filing for Probuphine approval.
Disclosure: I am long TTNP.