Shares of Talisman (NYSE:TLM) have rebounded after falling 50% earlier this year on a couple of negative earnings surprises and some production hiccups. Although the company has made little progress the last five years or so, there are reasons to believe that things are improving and it can be argued it's reasonably valued on present production and reserves.
However, the investment thesis lies in the upside its exploration assets could yield.
Some metrics
Market cap: $15.36B on 1.02B shares outstanding (all of them in the float), 1.03M short
$3.93B in debt, 873M in cash
Enterprise value (NYSE:EV): $18.4B
Production 420,000 BOE/d
Proven and probable (P2) reserves: 2.2BBOE
EV per P2 Barrel: $8.50
NPV (10) of P2 reserves about $18B
Cash flow $4 per share so P/CF of 3.75x
Dividend yield about 1.8%
Production and Reserves
Sometimes a graph says more than a thousand words, from its October Investor Presentation.
Click to enlarge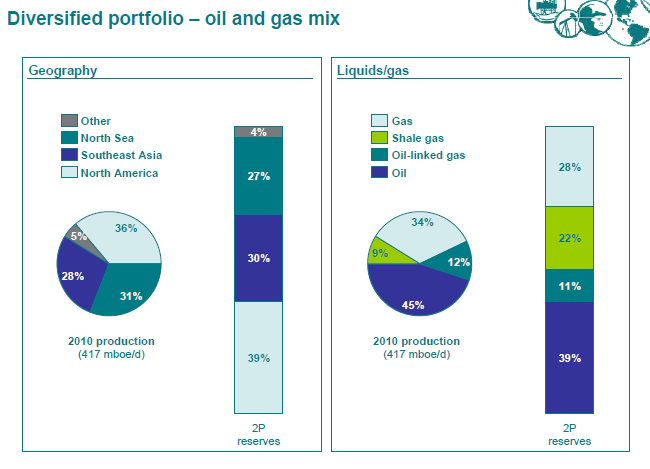 Click to enlarge
Talisman has many properties in many countries: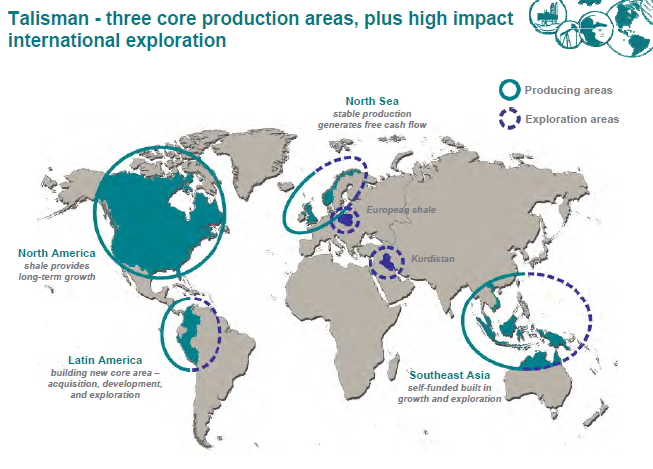 Click to enlarge
Investment Thesis
Our basic investment thesis already peeks out from the following table from an October 2011 Investor Presentation: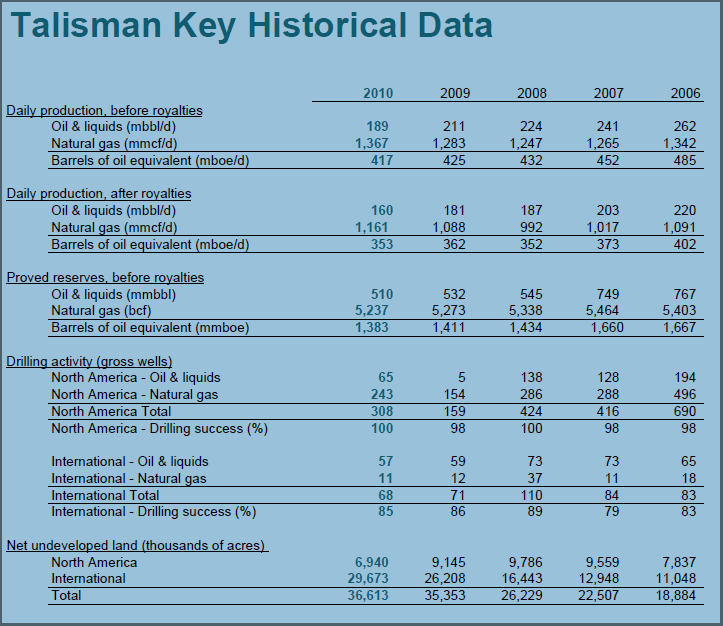 Click to enlarge
What is striking from this table is that looking at most metrics (daily production, proved reserves, drilling activity) the company has been stagnant or worse in the last five years. Only the international part of "net undeveloped land" has shown a large (2.5x) increase. It is in this exploring undeveloped land where most of the upside lies. But let us turn first to the production side, as things are really not that stagnant there either.
The problem: North Sea Production
Here is were the major problems lie. The company has been hit by a tax hike (in April, with an impact of some $40M according to Q2CC) and ongoing maintenance and production issues of its Yme platform:
They principally revolve around a weld inspection, which we have to go and redo, because the records weren't in good shape and around the quality of the electrical and instrumentation work. So we've had to go through the whole platform and understand that. And we're a long way through that now. So we have a reasonable understanding of what the scope is, and I think we'll be very shortly be able to quantify the full scope. So based on that, we've pushed out our first oil into toward the end of the second quarter next year. (Q2 earnings call)
The cost of that will most likely be recouped as the contractor is obliged to pay for the work, but the delays are a nuisance. The North Sea forms a quarter of the company's production but it doesn't grow. However, the $650-900M in free cash flow provides considerable fire power to finance exploration elsewhere (a shift in America from conventional to shale gas and exploration in Asia, Kurdistan, Peru and Colombia).
This hasn't been an easy going strategy so far with unpredictability quarter on quarter, no growth and low operating efficiencies in North Sea production. The unpredictability, lack of growth and high operating inefficiencies in the North Sea is not something the stock markets tend to value (they like predictability, growth and high operating efficiencies, needless to say). It might even be an idea to sell the North Sea properties.
Production Prospects
Opinions differ considerably about the immediate prospects. Zacks is rather negative and has cut the company's stock to underperform on October 26 (with a $12 price target) following the cut in its annual production target for the second time in about two months. TLM expects repair work in the North Sea and weather-related issues in Canada to hurt operations and lower average output for 2011. They also cite low gas prices (in America) as a reason.
And indeed, the last four earnings "surprises" were all negative surprises. However, not all has been negative, for instance, unit operating cost are falling: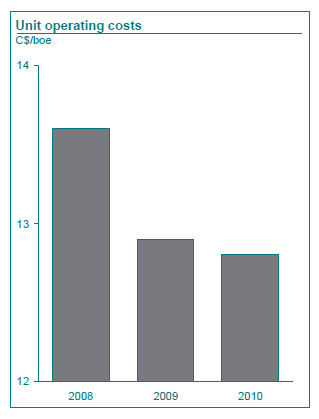 According to the company, a 5-10% production growth rate is possible: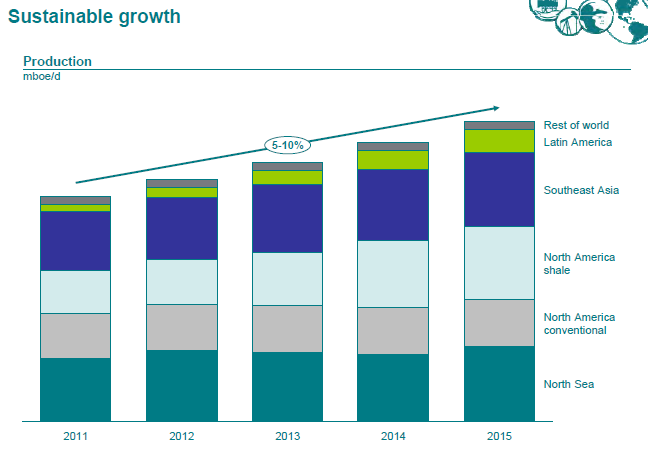 Click to enlarge
This year, despite the headline production delays and resulting lower guidance for production to average 430-440KBOE/d it still amounts to an 11% year-on-year growth from continuing operations (real growth is lower due to assets sold in 2010).
Even more impressive is the production ramp-up in America, where 40% of the production comes from. Production on a continuing basis (netted for divestitures) increased 41% in Q2 over the same quarter of 2010. This was mainly driven by a 184% rise in production from the Marcellus shale.
In Asia, much of the production is linked to oil prices (needless to say for oil itself, which accounts for roughly 30% of production but also much of the gas prices are linked to the price of oil). Much of the production comes from Corridor and Jambi in Indonesia.
Morningstar is among the optimists. This table shows how the market valuations have come down in recent years:
However, the 2012 estimates are on the optimistic side ($2+ per share), a view which is by no means shared by all analysts. Estimation for next year show a remarkable variation from 66 cents to $2.27, with an average of $1.35.
Exploration Upside
We hope to have a more detailed article about their exploration prospects soon but here is a list already:
Colombia
Peru
Norway
Poland (shale gas)
Kurdistan (Irak)
Vietnam (Nam Con Son Basin)
Papua New Guinea (Foreland Basin)
Indonesia (Makassar Strait)
American shale gas areas (Marcellus, Eagle Ford, Montney, partnering with Statoil STO and Sasol SSL, Duvernay)
Needless to say, the company has pretty high hopes for the exploration upside and a first indication of this are figures that show that Talisman is able to replace reserves faster than they produce, at declining cost:
Click to enlarge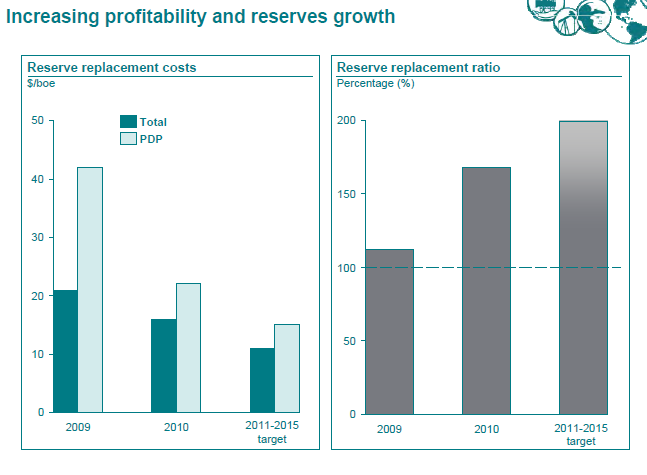 Click to enlarge
Conclusion
At present, Talisman shares, at $15, are sort of in a balance range between those that worry about the low gas prices in the U.S. and the North Sea troubles and those who see underlying growth when the figures are stripped of divestitures.
The present stock price ($15) roughly gives you 3.8x cash flow, $8.50 per barrel of P2 reserves, roughly a NAV(10) of those P2 reserves and an 1.8% dividend yield. That is neither cheap nor overly expensive, but the thing is it doesn't factor in a whole lot of potential upside from the many exploration areas.
So it is basically a fair-valued stock with some dividend yield and a whole bunch of lottery tickets attached. We think that is a rather attractive proposition.
Disclosure: I have no positions in any stocks mentioned, but may initiate a long position in TLM over the next 72 hours.