On Wednesday, Boeing (NYSE:BA) reported strong third-quarter results that revealed earnings expansion and continued commercial backlog expansion. We're sticking with our $77 fair value estimate.
The commercial jet maker's revenue jumped 4% led by a 9% increase in commercial airplane sales, and the firm leveraged that top-line expansion into 24% earnings from operations. Boeing's net income and earnings per share increased by more than 30% each thanks to roughly 1.5 percentage points of operating-margin growth.
See the Full BA Earnings Call Transcript
The aerospace giant's free cash flow, however, was less than impressive, falling to practically nil from the same period a year ago—meaning earnings quality is still far from sound (largely due to the flexibility of program accounting). We'd be more comfortable in Boeing's bottom-line (the guidance of which it raised for this year), once free cash flow trends reverse and become more robust. Backlog jumped to $332 billion, up roughly $9 billion from the beginning of the quarter, supporting our positive view on aerospace and our overweight position of the industry in our Best Ideas portfolio.
We think most of the risk surrounding Boeing is now past with the delivery of the first 787 Dreamliner to ANA in September (we're less concerned about delays in the 747-8), but we stress the jet maker has a long way to go to call this program successful. The company has sold 821 units (with about 200 options for more) of the 787, and it may take the delivery of this entire pool of orders to breakeven on the program. We're more positive on the 737 MAX, its re-engined version of the 737NG,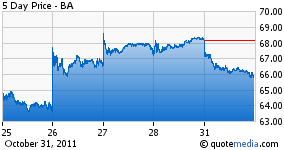 than the 787, but even this aircraft will face tough competition from Airbus' A320neo and other commercial OEMs across the globe. Regardless, Boeing has pulled in roughly 500 order commitments for the 737 MAX, which is a nice pace (given that it just announced the upgrade a few months ago). Total backlog across Boeing's entire commercial airplane portfolio now numbers greater than 3,500 airplanes—more than 7 times its current annual delivery run rate. Such a massive backlog of undelivered airplanes--which Airbus shares--supports the sustainability of aerospace strength regardless of the broader market environment.
Although Boeing's third-quarter report was strong, we continue to believe that there are better plays within the aerospace supply chain--Precision Castparts (NYSE:PCP), EDAC Tech (NASDAQ:EDAC), and Astronics (NASDAQ:ATRO) that do not have the vagueness of the company's accounting flexibility.
Disclosure: Precision Castparts, EDAC Tech, and Astronics are included in our Best Ideas portfolio.