About the company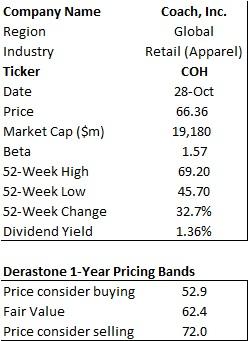 Coach is a leading American manufacturer and retailer of leather goods, accessories and apparel for men and women. The company occupies the affordable luxury segment, which provides high-end merchandise for both high and middle-income consumers.
Coach's business model is chiefly distinguished by its stress on "accessible luxury," reaching a larger demographic than many of its higher-priced competitors, including Louis Vuitton (OTC:MAGOF), Gucci (OTC:GUCG), and Prada.
These competitors tend to focus on a higher income, high-fashion demographic companies like Dooney & Burke and Cole Haan also stress "accessible luxury" and are Coach's most successful competitors; however, Coach's market share has continued to increase in their presence.
Coach has primarily stayed focused in North America and Japan. However, China is becoming an increasingly important market for luxury retailers. The rise of China's middle class has led to an increase in disposable income and thus an increase in potential customers.
First, Coach is a growing global brand, which allows for both top-line and margin expansion. With 36% share of the US premium handbag market, Coach is the #1 accessories brand in the U.S. In Japan they are #2 with a 17% share. In China, Coach is gaining share in China (currently #3), both in units sold and in name recognition.
Opportunity
We believe that the brand is in an excellent position to focus on key product initiatives including in the men's category. Also, over time, we expect the company to continue grow at an ~13% revenues and ~19% EPS growth annually over the next three years. Second, Coach's return on common equity relative to peers, has been impressive, driven by a solid balance sheet, efficient supply chain (lower working capital), topline growth, and consistently high margins. Importantly, relative to its luxury peers.
Coach is in simple terms a cash-cow that is still growing at a rapid pace. Operating income has grown while the capital requirements for the business have remained fairly stable, only rising for the China expansion.
The company has bought back ~$5.1bn worth of shares during the past 10 years, equal to 30% of the current market cap. We expect Coach to continue to invest ~$650m/year going forward in share repurchases.

Holding the 2014 P/E at 20x we would have a price target of $97.30. This company is certainly well run, creating value along the way. However, we believe it is currently trading at a premium. Any disappointment will lead to a revaluation of the stock, leading to underperformance.
Risks associated with this position include the following:
Concern over the U.S. and Japanese economic environment, given its correlation to Coach's business
A growing factory store base may dilute (or give the perception of diluting) the brand in the eyes of some consumers and/or investors
Brand accessibility may pressure pricing power and gross margin.
China hard landing
Disclosure: I am long COH.