Fortune Brands Inc. (FO) once proved to the world that you can mix alcohol, golf and faucets into a profitable cocktail, and now it seeks to change its fortune into spirits domination, after the recent spin-off of its home and security business. At the urging of shareholder activist William Ackman of Pershing Capital, the company made the rare, but seemingly fortunate, move to narrow its focus and concentrate on its most successful brand name, Jim Beam. It had previously sold off its golf division, which included the famous Titleist brand to Korean investors for $1.2 billion.
Catalyst
Beam (NYSE:BEAM) is currently in hot pursuit of being bought out. The new, independent liquor company is also drawing the attention of possible buyers which could bring about $64 a share, a 30% increase over its current market value of $49. Foreign liquor giants Pernod-Ricard SA (OTCPK:PDRDY) and Diageo Plc (OTCPK:DGEAF) are said to be circling BEAM for its dominant U.S. position. It would be the largest acquisition in the liquor industry in over six years if it were to come to fruition.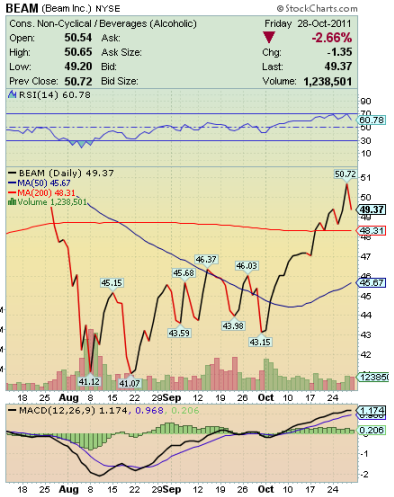 The key issue is Fortune Brands' recent spin-off terms. The timing and the terms are central to the final price a suitor would pay for BEAM. A tax-free spin-off requires specific actions on part of both the acquirer and the acquiree.
As more companies seek ways to increase shareholder value in sluggish economic times, corporate spinoffs are becoming increasingly popular. There have been five spinoffs of major brand companies this year alone. As an unlikely assemblage of three unrelated, albeit successful, business lines, the move for Fortune Brands seemed to make the most sense, and its timing appears to be perfect for both Beam, Inc., and the new call sign for Fortune Brands and its offspring, Fortune Brands Home and Security (FBHS).
As the world's top producer of bourbon, and the fourth-largest premium spirits company, Beam is already an established leader in the world liquor market. And now it can concentrate its resources into expanding its dominance in bourbon sales while opening up new avenues for its other popular liquor brands. With the $1.2 billion from the sale of it golf division and a $500 million infusion from the spin-off FBHS, it starts anew with a strong balance sheet and big marketing war chest.
The timing couldn't be better for Beam as liquor sales at bars and restaurants are finally starting to take off again after a recessionary lull. And with the introduction of some popular new low-cal, flavored drinks which are very much in vogue, it can use its new marketing muscle to make a dent in that fast-growing market. The company will also target the foreign market, which accounts for more than half of its revenue, with emphasis in India, Asia, South America and Easter Europe. But, its dominance of bourbon sales in the U.S. will still generate its biggest profit margins.
November 3 Conference Call
BEAM will announce its third-quarter conference call on November 3 at 10:00 a.m. EST. I am confident BEAM management, due to the recent spin offs, is diligently looking for the top offer. Investors may glean new information on potential deals at the conference call. My experience has been that acquisition news will remain silent on a pending buyout.
In addition, an item for consideration is the tax ruling. Typically the Internal Revenue Service requires two years prior to a buyout. I will be immersing myself into the stock spin-off to identify what conditions can preclude a buyout without a significant tax obligation.
Summary
No matter how you pour it, Beam is positioned for certain growth and it will continue to generate solid shareholder value through its steady earnings growth and its 1.5% dividend yield. Shareholders who held Fortune Brand shares prior to the spin off were also rewarded with a stock payout consisting of one share of FBHS for every share of FO they held, so they will enjoy the same diversification that came with the original company, but now in the form of two well run companies poised for growth.
Recommended Action
I believe multiple players are interested in BEAM. The equity has a strong brand name in the U.S. Liquor is a recession play, as most hard liquor drinkers prefer their chosen brands. My price target is $60 - $68 per BEAM share. Part of the acquisition price, however, may be tax obligations due to the recent merger, since the BEAM spin off. This target still yields a 20% plus in potential short-term profits. Clearly, BEAM is a name on my radar screen.
For now, I plan to wait and see what ensues from potential bidders. BEAM is a blue chip liquor company. Shareholders want and deserve a fair price. Let the bidding begin.
Disclosure: I am long BEAM.