Last week, the August S&P/Case-Shiller housing indices were released, and below are a few tables and charts that help translate the info. In the first table, we highlight the month-over-month and year-over-year changes for each city that is tracked along with the two composite indices.
As shown, ten cities saw gains from July to August and ten saw declines. Both the 10-city and 20-city composite indices saw month-over-month gains. The DC area saw the biggest month-over-month gains at 1.59%, followed by Chicago (1.38%), Detroit (1.35%), and New York (0.40%). The west coast cities are the ones that saw the largest declines.
Only two cities are up over the last year -- DC and Detroit.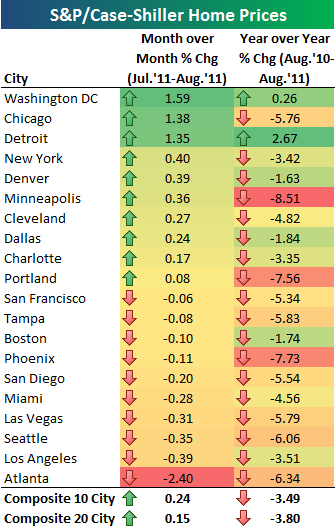 Below is a chart that shows how much each of the cities have bounced off of their recession lows. Earlier in the year, nearly half of the cities traded to new decade lows as the housing market double dipped, but at least for now we're seeing a bounce off of the lows. San Fran is up the most from its low at 15%, with Detroit and DC not far behind. Detroit, talk about a comeback!
click to enlarge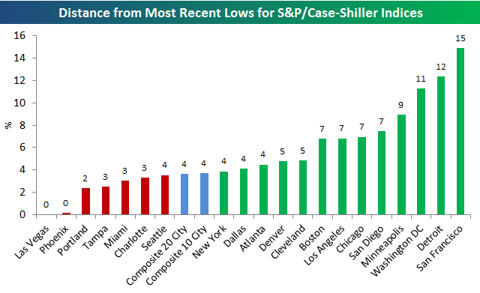 For those interested, below are charts showing the historical year-over-year changes for each city that is tracked (on a monthly basis).