By Justin Dove
For anyone who used a public transit system before, a swift ticket transaction can make all the difference in being somewhere on time.
There's nothing worse than watching a train take off while you're waiting for the machine to process a payment or spit out a ticket.
But New Jersey residents are getting a glimpse into the future.
The Garden State will be the first to allow customers to buy mass transit tickets with Google's (Nasdaq: GOOG) near-field communication (NFC) payment system – Google Wallet.
Next year, New York MTA customers will also have an option to pay with NFC-enabled phones. However, the pilot will only be available to owners of Nokia's (NYSE: NOK) new generation of smartphones – the Lumia 800 and the Lumia 710.
Adoption Slower Than Expected
Currently Google's Nexus S and Samsung's (OTC:SSNLF) Galaxy II S are the only phones compatible with Google Wallet. But now that Google owns Motorola Mobility (NYSE: MMI), expect plenty of other options to enter the market.
Research company Gartner thinks there may be some hurdles for NFC technology to overcome before it's widely accepted.
Earlier this year, Gartner claimed that the biggest obstacle NFC faces "is the need to change user behavior by convincing consumers to pay with mobile phones instead of cash and cards." That being said, Gartner believes that "mass market adoption of NFC payments is at least four years away."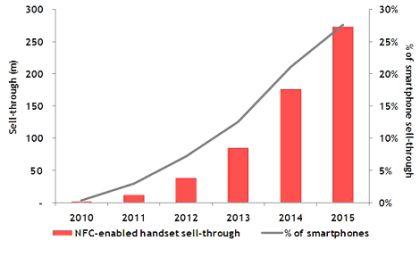 (Source: Pyramid Research Global Telecom Insider)
Back in August, Gartner appeared to be on to something as NXP Semiconductors (Nasdaq: NXPI), which was lauded as the forefathers of the technology, had to trim its guidance citing lack of demand.
Time is of the Essence
One thing that could speed up mass-market adoption, of course, is the iPhone 5 including the technology for speedy transactions – like buying a mass transit ticket.
While it may take a lot for the average consumer to break the habit of using cash and cards in traditional settings, the speed advantage of NFC payments may be the differentiator that offers encouragement.
While the hustle and bustle of mass transit is the most obvious scenario where speed is of importance, there are sure to be other situations that may make NFC advantageous. Maybe it will come in handy at the convenience store or for that morning coffee when you're in a hurry.
But lest we forget, that NFC isn't just for payment. It also easily allows the sharing of documents and media. With a simple tap of the two devices, you can send a picture or video to your friend's phone.
Bottom Line
NFC is still in its infancy and will certainly take some time before it becomes widely used. But the most likely way it can differentiate itself as advantageous over previous methods of payment is with transactions that depend on speed.
As I've written before, NXP Semiconductors is going to be a strong player in the beginning as it develops the standalone chips and holds many strategic patents. However, larger chip companies, such as Broadcom (Nasdaq: BRCM), are already developing combo-chips that make NFC inclusion incredibly cheaper than the standalone chips NXP is developing.
Investors will definitely want to keep an eye on the emerging NFC smartphone trend, because it could be revolutionary.
Disclosure: Investment U expressly forbids its writers from having a financial interest in any security they recommend to our subscribers. All employees and agents of Investment U (and affiliated companies) must wait 24 hours after an initial trade recommendation is published on online - or 72 hours after a direct mail publication is sent - before acting on that recommendation.