The decades of cheap oil prices are over. Even with all the bad economic news in the last few months, oil prices have held up extremely well.
A price in the low $80 appears to be the new bottom. Oil currently makes up 37% of worldwide energy consumption. Emerging markets, being led by China, will increase their demand significantly over the next decade. An additional 10 million cars on the road in China equals a demand increase of a million barrels a day. China alone sells more cars than that each year to first time buyers. Since 1990 oil discoveries have equaled only half the production. It is clearly getting more and more difficult to find oil. Recently, even the International Energy Agency has proclaimed that, absent major new discoveries, the output of conventional oil will peak around 2020. It is only a question of time before the demand and supply conditions will push the oil price back toward $150 a barrel. Higher prices will be the trend. How to benefit from it?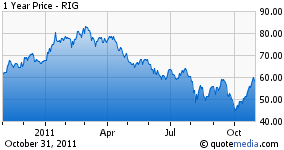 My biggest play on this is through Transocean (NYSE:RIG). It is the world's largest offshore drilling contractor and leading provider of drilling management services worldwide. Its fleet is considered one of the most modern and versatile in the world due to its emphasis on technically demanding sectors of the offshore drilling business. It includes the latest generations of ultra-deepwater drillships and semisubmersibles. Its operations are geographically dispersed in oil and gas exploration and development areas throughout the world. Its positioning is perfectly aligned with the increased focus from big oil companies, like Exxon Mobil (NYSE:XOM) and Chevron (NYSE:CVX), on exploring for hydrocarbons in deeper waters and harsh environments, including extreme marine and climatic conditions and temperatures.
The 2010 annual report provides some good information on the capabilities. Table 1 shows a summary of its drilling fleet. Around 50% of Transocean's fleet is focused on deep-water or harsh environment drilling. Day rates for ultra-deepwater rigs are increasing and currently getting above $500,000 a day. This is clearly the area in which drillers will make most money in future.
Table 1: Drilling Feet
Click to enlarge

Click to enlarge
Transocean currently trades around $60 with a P/B value of 0.9. This is extremely cheap. Over the last 10 years the correlation between the stock and the oil price has been very strong (Graph 1). Based on the current price of oil I would expect the stock price to be around $100.
Graph 1: Oil and Transocean Stock Price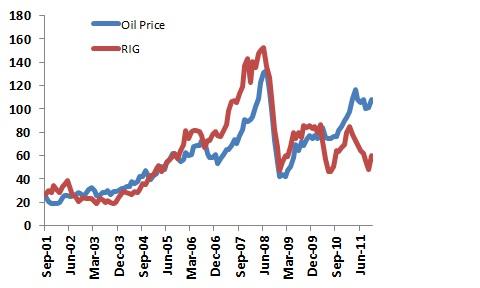 Let's take a closer look at the company and try to determine the intrinsic value through the Earnings Power Value (EPV) method. I'll first normalize and adjust earnings to represent the cash investors can extract and still leave the company functioning. Secondly we need to determine a discount rate. Lastly we'll estimate the future growth of the company.
Following adjustment to the earnings reported in its latest SEC submission:
EBIT margin of 38.50% (average of the last 5 years)
SG&A, R&D and Depreciation adjustment
Tax rate of 17% (maximum rate in the last 5 years)
Discount rate of 10%
To estimate future growth we'll take a conservative growth percentage of 5%, cost of capital of 9% and a ROIC of 12%. This gives us a current Earnings Power Value of $84. If we include future growth we get a total earnings value of $106.
The gap between intrinsic value and stock price is driven by the disaster in the Gulf of Mexico. Uncertainty remains around the potential liabilities for Transocean. Drilling in the Gulf has declined impacting rig demand (lower revenue) and downtime has gone up due to additional safety and maintenance activities (lower margins). I consider these factors to be temporary. Drilling demand will increase due to future supply constraints. The world needs more oil. Drillers will get used to the new safety and maintenance requirements and find effective ways to deal with it.
The market offers you the opportunity to buy the world's largest offshore driller with a significant margin of safety and a price lower than book value. Transocean is well positioned to capitalize on higher oil prices, has more than $25 billion in backlog and has a dividend yield of more than 5%. The stock has the potential to double over the coming 12 months.
Disclosure: I am long RIG.