The late Irish dramatist George Bernard Shard once famously quipped: "If all economists were laid end to end, they would not reach a conclusion." While there certainly is a lot that economists disagree about, free trade is not one of them.
The idea that the specialization in comparative advantage raises living standards is now well accepted within the profession, but it has nevertheless yet to be fully practiced in the real world. The Obama administration took a step in the right direction recently by signing free trade agreements with South Korea, Colombia and Panama. One company that stands to substantially benefit from this is UPS (NYSE:UPS), a firm synonymous with package delivery.
Such an environment will aid a stagnating economy through a positive feedback where nations benefit from one another's success. Delivery services is the obvious intermediate function to fuel globalization. In the recent third quarter earnings call, CEO Scott Davis provided a brief outlook of its domestic and international operations:
"(It) appears that the U.S. economy has stabilized and continues to show modest growth. Despite all the concerns of the European economy, our business there continues to perform well with exports up 9%.

The outlook for the remainder of the year is for continued slow growth. Because we have seen less build-up of inventories heading into peak season, UPS could benefit if consumers respond with stronger than expected holiday purchases just like it did in 2009. We really won't know this until the two weeks prior to Christmas as peak has become more compressed.

Taking a step in the right direction, I want to congratulate Congress and the administration for approving the critical trade agreements with South Korea, Colombia and Panama.

Export growth in these countries will provide economic growth and create jobs here at home."
While the firm is experiencing soft trade between Asia and the United States, Asia-Europe trade is holding up quite well. UPS has a tremendous opportunity to gain market share in Europe, as it currently has only 9% of the market in the region. Toward this end, management has been working on expanding its European Cologne air hub, a $200M project that will result in increased capacity around 70%. In addition, the firm is upgrading its technology to improve the efficiency of its delivery system. Add price increases to the mix and you have a company that is successfully navigating a macro storm.
From a competitive standpoint, UPS has also historically weathered the storm better than its competitor FedEx (NYSE:FDX). Since 2008, the stock of UPS fell less than 1% while FedEx fell by more than 12% - both nevertheless held up better than the S&P 500. This has depressed the valuation of FedEx and made it cheaper on a multiples basis than its rival. UPS and FedEx trade at a respective 14.9x and 11.5x forward earnings, although the former offers a dividend yield that is ~230 basis points higher. If you believe that a double dip will occur, in my view, UPS is thus the safer bet to make. At the same time, I also find that FedEx remains a stronger value play given a positive macro outlook.
And while no one can completely predict the future, UPS' package weight tracking is the closest thing to precognition. Notably, it has not experienced a drop off in the weight of shipments - an indication that firms are holding up well and adjusting to an increasingly dynamic economy. At the same time, exposure to emerging markets will help hedge against domestic risk. Management is currently reducing variable production in Hong Kong and offsetting it by increases in more western parts of China. In addition, UPS is restructuring capacity in China, which will help the firm better deal with fluctuations in volume and inventory.
Operationally, UPS will fare well in terms of margin expansion. I model margins growing to around 14.7% in around three years and it is exciting to note that management is already on a path to achieving its target of 15%. With international growth experiencing a CAGR of 13%, as some have anticipated, market penetration will help to fuel long-term value creation. Accordingly, UPS' opportunity is more in gaining market share from its chief rival, FedEx, than it is in simply cutting costs. Efficiency improvements will naturally follow from economies of scale, which are in turn achieved through expansion. The roll out of UPS My Choice, which increases delivery options, is one catalyst that will help build customer loyalty and drive such expansion - it already has more than 100K subscribers and is rapidly growing.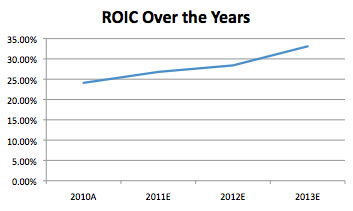 From a financing perspective, however, the company has a bit of a mixed bag. Although it generated $2.3B worth of free cash flow in the first half of 2011 while returning $2.1B to shareholders in the form of dividend distributions and share repurchases, UPS nevertheless has a fair amount net debt at $6.5B, or 9.4% of its market value. Clearing this up will likely be easier said than done. By comparison, FedEx has $270M in net cash - although it limits dividend distributions.
Consensus estimates for EPS are that it will increase by 19.4% to $4.25 in 2011 and then by 13.2% and 12.7% in the following years. I forecast revenue growing by a CAGR of around 7.1% over the next three-year period. Analysts currently rate the stock a "strong buy."
Disclosure: I have no positions in any stocks mentioned, and no plans to initiate any positions within the next 72 hours.