This morning's must-know news SA column hinted at the likelihood that the U.S. government will hold off on selling any more of its stake in AIG (NYSE:AIG), following the insurer's next report on Thursday. SA reported that the government's break-even point on its investment is $28.73 (40% below book value of $40.22). AIG closed at $26.34 on Friday. Its 52-week high is $62.87, 52-week low is $19.18 and EPS are -$0.49).
AIG 1-Year Performance

SA contributors Devon Shire and Roger Nusbaum have published noteworthy reads on AIG recently. They provide analysis on the sizable position taken by Fairholme Fund manager Bruce Berkowitz in AIG, and secondly the potential implications following the departure of co-manager Charlie Fernandez.
For those unfamiliar with Berkowitz and his philosophy behind his large-stake investment in distressed assets, I recommend the article "Bruce Berkowitz – The Megamind of Miami." It clearly sets out the challenges faced by Berkowitz in taking such large positions in companies such as AIG and Bank of America (NYSE:BAC). In this article he outlined that, despite the doom-and-gloom talk surrounding AIG's current performance, the fundamentals of the business model were business divisions delivering cash-positive returns in core areas of property and casualty insurance, including its Asian division of AIA. Fairholme Fund's goal was to reach $25 billion invested.
The essence of Berkowitz's position on AIG was to buy low and sell high, with the risk of his investment hedged against the likelihood that the government would sell its (then 92%) holdings at a profit while the stock continued to prosper on the market, reaching its 52-week high of $62.87 per share (Dec 10 – Jan 11). Fast-forward to May 2011, and Berkowitz admitted that he now expected the government to sell its stake more closely in the $27-$29 per share range, or as alluded to in the above-linked article: "He never believed the government would sell its stake at less than what it paid for the shares under the bailout."
Recent weeks have also confirmed that current market conditions and investor redemptions have reduced Fairholme Fund's assets under management to approximately $9 billion, a reduction of approximately 50% and a long way shy of Berkowitz's goal to grow the fund to $25 billion. A recent article on the trouble at Fairholme indicated it could take up to 67 days for Fairholme to unwind its positions in AIG if it were to remain within the rule of trading within 20% of the stock's daily volume.
I have read numerous comments in the media and on blogs recently taking diverging opinions on what the US government is doing with respect to AIG and its 77% stake in the insurer; one theory is they are deliberately holding off to prop up AIG's share price, another theory is that they want to clear the stock as quickly as possible, regardless of any potential loss or discount to their original investment. Bernanke is on the record saying he wants to sell, that the government should never have bailed them out. One hopes that a previous mistake doesn't encourage a second -- selling its investment at a huge loss.
In terms of investment in AIG, though, it is too rich and risky for my liking. If the company can generate positive EPS, generate more sound financials, eventually followed by a regular dividend payment, then it may generate capital growth and be a potential buy for retail investors. It may be on the beginning of an upward trend breakout when its last month's trading pattern is reviewed (see below). Until then, it should remain an investment stock for those contrarian institutional investors with the risk appetite and liquidity to take on these types of positions, or as Berkowitz states, "Our inclination remains to run from the popular and embrace the hated where prices tend to reflect such mistrust," (Bloomberg, August 2, 2011).
AIG 1-Month Performance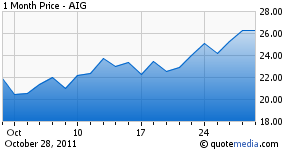 Disclosure: I have no positions in any stocks mentioned, and no plans to initiate any positions within the next 72 hours.