Cisco Systems (NASDAQ:CSCO) seems to be doing all the correct measures in its bid to reorganize and stay profitable. Recently they identified over $1 billion in possible cost savings and have cut their work force by over 13,000. Recent price momentum over the past month has been positive as this hourly trading chart provided by Barchart shows: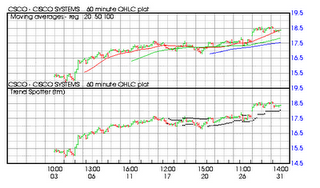 Cisco Systems, Inc. designs, manufactures, and sells Internet protocol (IP)-based networking and other products related to the communications and information technology industry worldwide. It offers routers that interconnects public and private IP networks for mobile, data, voice, and video applications; switching products, which provide connectivity to end users, workstations, IP phones, access points, and servers; application networking services; and home networking products, such as adapters, gateways, modems, and home network management software.
The company also offers security products comprising span firewall, intrusion prevention, remote access, virtual private network, unified client, Web, and email security and network security products; storage area networking products for data center environments that deliver connectivity between servers and storage systems; collaboration products to integrate voice, video, data, and mobile applications on fixed and mobile networks; video connected home products, including digital video distribution systems and digital interactive set-top boxes; and wireless systems. In addition, it provides optical networking products, Cisco TelePresence systems, Cisco Unified Computing Systems, physical security and video surveillances, and digital media systems.
Further, the company offers technical support services; and responsive, preventive, and consultative support services for its technologies. Cisco Systems, Inc. has strategic alliances with Accenture Ltd (NYSE:ACN); AT&T Inc.(NYSE:T); Cap Gemini S.A.; Citrix Systems, Inc (NASDAQ:CTXS).; EMC Corporation; Fujitsu Limited; Intel Corporation; International Business Machines Corporation; Italtel SpA; Johnson Controls Inc.; Microsoft Corporation; NetApp, Inc.; Nokia Corporation; Nokia Siemens Networks; Oracle Corporation; SAP AG; Sprint Nextel Corporation; Tata Consultancy Services Ltd.; VMware, Inc.; Wipro Limited; and Xerox Corporation. The company was founded in 1984 and is headquartered in San Jose, California. (Yahoo Finance profile)
Factors to consider:
Barchart technical indicators:
96% Barchart overall technical buy signal

Trend Spotter technical buy signal

Trading above its 20, 50 and 100 day moving averages

15 new up days and up 18.21% in the last month

Relative Strength Index 67.34% and rising

Barchart computes a technical support level at 18.10

Recently traded at 18.33 with a 50 day moving average of 16.40
Fundamental factors:
Recently management has brought down their guidance in revenue and earnings and so have the Wall Street analysts

Analysts now project revenue to increase by 4.60% this year and another 6.40% next year

Costs cutting and realignment efforts result in a little better earnings forecasts with an increase of 4.90 expected this year, 10.60 additional next year and an annual increase of the next 5 years of 9.20% a year

These new consensus estimates result in 12 strong buy, 8 buy, 20 hold and 4 under perform recommendations for their clients

Cisco has always been considered a tech growth stock so the 13.17% P/E which is slightly lower than the overall market is good

Dividends have begun and at 1.50% are only about 25% of projected earnings
General investor interest:
10,880 readers of Motley Fool have opinions on this stock

95% are voting for the stock to beat the market

97% of the more savvy All Stars voted 97% for the same result

Wall Street columnists writing about Cisco were 98% positive with the lone wolf being Cramer but Ed Lampert, David Tepper and Jim Jubak were more positive

The company enjoys an A++ financial stability ranking

A negative is that about 25% of their customer is federal, state and local governments who are a little reluctant to spend on IT at the present time
Competitors and sector leaders:
Always compare the price action of your stock to its competitors over the recent past Over the past 6 months Cisco (CSCO) was up 10% while Alcatel-Lucent (ALU) down 50%, Hewlett-Packard (NYSE:HPQ) down 25% and Juniper Networks (NYSE:JNPR) down 32%: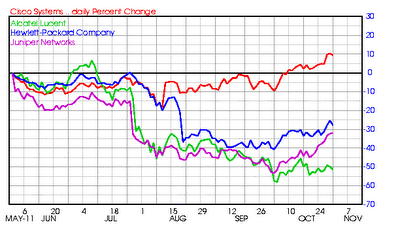 Cisco is a member of the SIC 3576 Computer Communications Equipment sector and some smaller companies have had great years like Interphase (NASDAQ:INPH) up 205%, Allot Communications (NASDAQ:ALLT) up 93%, EZchip Semiconductor (EZCH) up 52% and Digi International (NASDAQ:DGII) up 25%: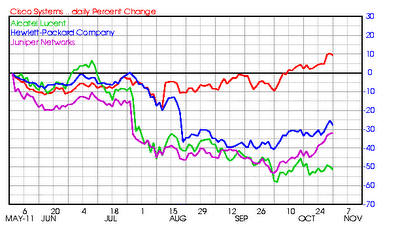 Summary: Cisco Systems has been a long term favorite and in my book deserves to stay there. If the cost savings are met and the P/E ratio returns to its former points investors could see a 14% - 16% annual return over the next 5 years
Disclosure: I have no positions in any stocks mentioned, and no plans to initiate any positions within the next 72 hours.