Lithia Motors, Inc. (NYSE:LAD) has done it again as the auto retailer recently surprised on the Zacks Consensus for the 7th straight quarter. This Zacks #1 Rank (strong buy) continues to be a value stock, with a forward P/E of just 11.3.
A Reflection of the Economy
Lithia Motors is a good barometer on the health of the American consumer because it sells new and used cars, trucks and SUVs in 86 dealerships in 11 states.
Headquartered in Oregon, the company has locations in both rural and urban areas in many different geographical parts of the country from Alaska, Washington and California to Montana, Iowa and Texas.
It also handles maintenance and repair services which is still a hot area as some car owners want to hang onto their cars a little longer due to the economy and are willing to pay for repairs instead of a new car.
Lithia Surprised By 30% in the Third Quarter
On Oct 26, Lithia reported its third quarter results and once again surprised on the Zacks Consensus Estimate. Earnings per share were 61 cents compared to the Consensus of 47 cents. The company made just 36 cents in the third quarter of 2010.
Revenue rose 29% to $737.9 million from $573 million a year ago.
Once again, the company saw increases across all segments.
New vehicle same stores sales jumped 28% which the company reported was well above the national average. Its import sales actually rose even though there was a shortage of import brand new vehicle inventory.
Used vehicle same store sales rose 14% while service, body and parts same store sales climbed 3%.
Outlook for 2011 and 2012
Lithia provided updated 2011 full year guidance of between $1.86 and $1.88 per share. This was above the Zacks Consensus so the analysts have been busy scrambling to raise their estimates.
The 2011 Zacks Consensus Estimate jumped to $1.88 from $1.71 in the last week.
That is earnings growth of 100% compared to the 94 cents the company made in 2010.
But what about 2012?
Growth is expected to slow. The company is projecting earnings in the range of $1.95 to $2.05. The analysts had been at just $1.92 so those estimates have also been revised higher.
The 2012 Zacks Consensus jumped to $2.01 from $1.92, or about right in the middle of the company's range. It's earnings growth of about 7%.
Big October Rally
Shares had sold off hard over the summer but like a lot of stocks, Lithia rallied in October.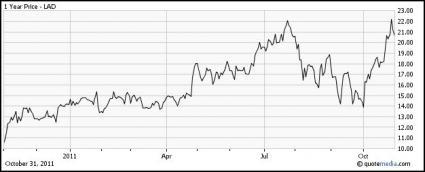 Despite the surge in the stock, there's still a lot of value.
Lithia has a price-to-book ratio of just 1.6, which is well under the ratio of 3.0 I usually use to determine value.
It also has a solid price-to-sales ratio of 0.2. A P/S ratio under 1.0 likely indicates a company is undervalued.
With 100% earnings growth expected in 2011 and the low P/E, Lithia has a PEG ratio of just 0.5. A PEG under 1.0 usually indicates value.
Lithia has been surprising on the Zacks Consensus for nearly 2 years. It has also had double digit earnings growth over that time. Lithia's sales results indicate that America's love affair with the automobile continues.