Quick update (see Part I here). At the risk of pushing my contrarian luck now that we reached my S&P 1270 objective, I went short the EuroDollar December Futures on Friday 10/28 on a sudden dip at the Globex close. This was confirmed Monday and I closed out at 15:50 EST at 1.383, even though I can see a move to the next Fibonacci support at 1.365.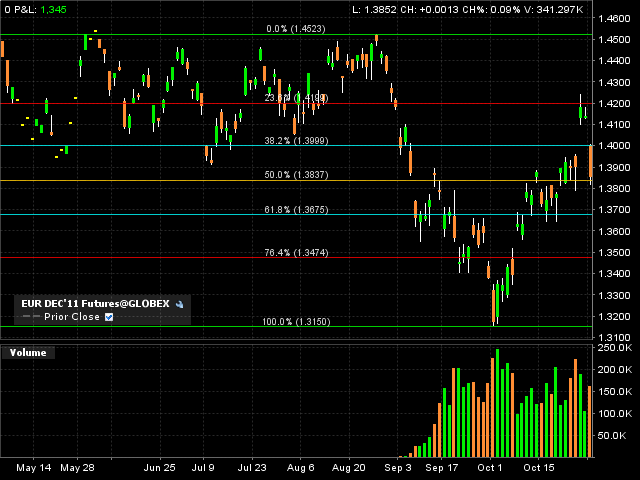 Click to enlarge
click to enlarge
In the meantime, I switched from cash to options when premiums were acceptable, either for strategic longs or event-driven situations. I covered the rest with SDS and puts on MMM and AXP (November at the money). Told you, this ain't time to go to the beach.
Here is what I think is happening. First, October's performance clearly was the materialization of a resolution of sort, but of unexpected magnitude (except for yours Spampeding Truly). This was the combination of a very Baroque European news flow, inspired by a medley of Greek Drama, German Opera, French Operette, Italian Comedia dell'Arte, and Spanish Corrida. And Q3 earnings did count too.
Second, it seems to me we are now switching from the rhetorical "Will the EFSF work" to the more practical "How will the ESM work?". The ESM stands for European Stability Mechanism, of a more permanent nature than the EFSF/EFSM due to operate only until June 2013. Here is an excerpt of their October 26th update, pages 19 and following here (.pdf):
The ESM will have a total subscribed capital of € 700 billion. Of this amount, € 80 billion will be in the form of paid-in capital provided by the euro area Member States being phased in from July 2013 in five equal installments. In addition, the ESM will also dispose of a combination of committed callable capital from euro area Member States to a total amount of € 620 billion. During the transitory phase from 2013 to 2017, Member States commit to accelerate, in the unlikely event that this is needed, the provision of appropriate instruments in order to maintain a minimum 15 percent ratio between paid-in capital and the outstanding amount of ESM issuances.
Remember, there are 17 States in the Eurozone, among which Portugal, Ireland, Italy, Greece, Spain and Belgium. They must have read Charles Dickens:
"Credit is a system whereby a person who cannot pay gets another person who cannot pay to guarantee that he can pay."
I'll say it differently: I owe you 5, OK, give me another 5, I'll owe you 10. The test will be what the EFSF bonds auction at. My usual indicators are the IShares IBOXX High Yield Corporate ETF (NYSEARCA:HYG), down from $91.42 to $89.28 since 10/27, and Barclays (NYSE:BCS), down from $13.88 to $12.51 despite reasonably good earnings and capital ratios.
So, while I stick to my scenario of no European crisis, let me be clear: all of the Baroque art forms include some dose of pain and masochism. I equate this to S&P 1205. I know, not very poetic, but I am running out of analogies. This is serious stuff.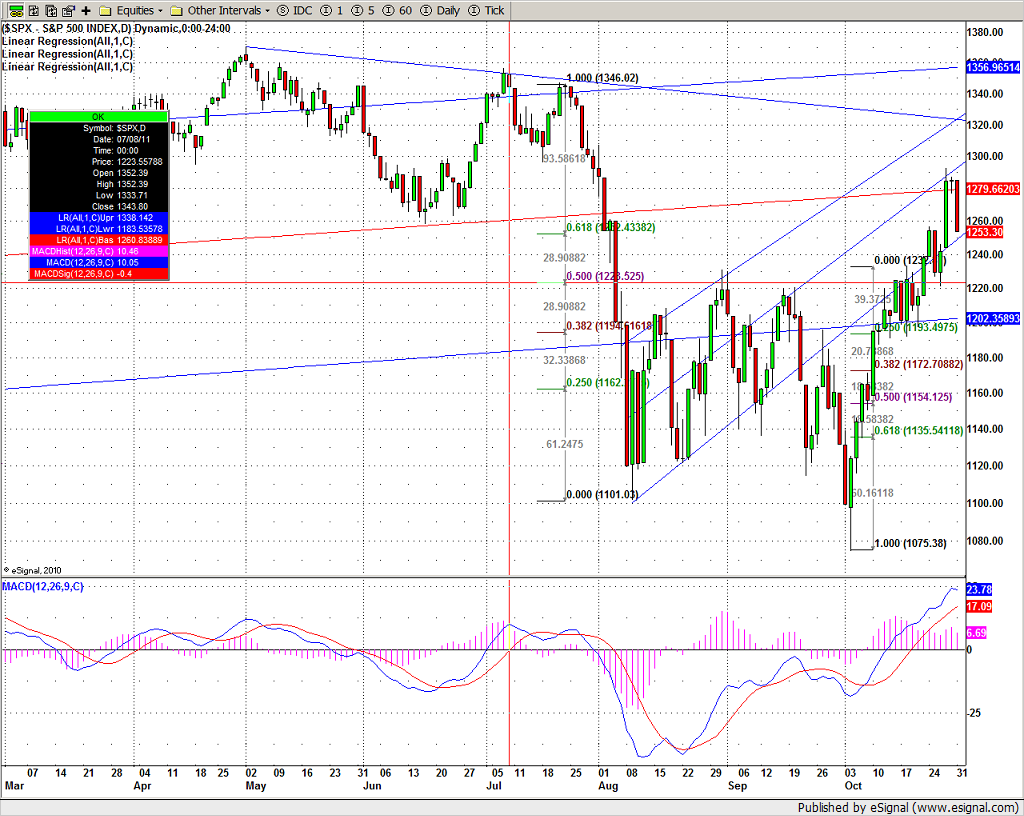 Click to enlarge
Disclosure: I am long AGM, ELON, IO, IMAX, IPG, MXWL, ODP, PIKE, SANM, SLM, TOL, URI, WSBC, F, SDS.
Additional disclosure: Also long November puts on MMM and AXP.