Value, Growth and Event Driven Upside
Fushi Copperweld (NASDAQ:FSIN) shares continue to represent a compelling investment with several characteristics allowing for a degree of capital preservation given the dirt cheap valuation, as well as significant upside related to a number of potential catalysts.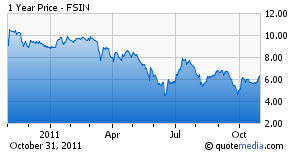 It has been four months since my last article on Fushi was published when a very similar chart pattern was forming - consolidation followed by a move higher. There are several reasons I expect Fushi Copperweld shares to move higher in the near term just as they did in the days following my last article. If you are not familiar with Fushi Copperweld, you can find a summary of several key details in my prior article as well as Fushi's public SEC filings.
Numerous recent developments have occurred that only increase Fushi Copperweld's value, yet these do not appear to be reflected given shares have declined by more than 28% YTD. However, this poor performance is unlikely a result of true negative sentiment but rather heavy short selling based on the continued fear of fraud in US listed securities with Chinese operations and the potential that Fushi Copperweld's management buyout offer will be withdrawn.
Short interest in Fushi Copperweld shares reached an all-time high on 10/14 with 8.4 million shares short, representing over 35 times the trailing 30-day average trading volume. This leaves the shorts in a very precarious position given any sustained covering activity would send shares higher forcing a short squeeze that could last for days. Also, note that Fushi Copperweld is currently a member of the Bloomberg Chinese Reverse Merger index (representing 3.5% as of Friday) and no other indexes which partially explains the increases in short interest, despite the positive news flow, as this index is often shorted as a "Chinese fraud basket" regardless of the actual components.
Friday and Monday's action (up 9.5% on heavy volume) could very well be the beginning of a move higher. With Fushi Copperweld expected to report earnings prior to the open on Thursday (11/3) with fairly conservative analyst expectations (mean of $0.33) despite the second half of the year being the most active and '11 earnings guidance of $1.15-$1.25 (provided in early August, a month into Q3) implying $0.34-$0.39 in Q3 (assuming even distribution between Q3/Q4) there is certainly reason to get long and for shorts to cover/derisk. Not to mention that Fushi Copperweld management may issue '12 guidance which would remove substantial uncertainty.
Additionally, with shareholders having voted to approve Harbin Electric's (NASDAQ:HRBN) deal on Saturday (hope you were long) and with the deal expected to close in the week ahead, there are plenty of reasons for shorts to second guess remaining short another potential Abax backed buyout with the possibility of Fushi Copperweld management providing an update on the MBO process and $11.50 offer during Thursday's earnings conference call, which would immediately trigger a short squeeze. To get an update on the status of the buyout, I exchanged emails with Fushi Copperweld IR earlier this month and received the below response:
Thank you for your e-mail, and your continued support in FSIN.

We understand your concerns regarding the market volatility, and can assure you Management continues to remain focused on creating long-term shareholder value. Although there has been no public announcement since late May, I can confirm that the offer is still valid, and under consideration by the Special Committee.
With the offer still under review, I would expect an update in the near term. Fortunately, even without the offer Fushi Copperweld shares represent an attractive play on the infrastructure buildout going on throughout the emerging markets.
Recent Developments and Absurd Valuation
In the past few months Fushi Copperweld has established an operational hub in Belgium, hired a new VP of operations, received ISO certification for the company's operations in England, and received an award from the Tennessee Governor for excellence in engaging in global trade.
While certifications and awards are nice to see, it's the operational hub in continental Europe and the new VP of operations that warrant attention - Fushi Copperweld is aggressively pursuing international growth as well as opportunities in adjacent markets.
Fushi Copperweld will begin stocking the facility with bi-metallic wire for sale in continental Europe in the 2011 fourth quarter. In addition, the Company will restart the facility's tubing operations, slowly ramping up the production to an annual run rate of approximately 5,000 - 6,000 metric tons per year.
Given the copper tubing manufacturing and distribution center was taken on through a lease with a purchase option out of receivership (likely great deal for Fushi), this almost guarantees that the operation will be profitable once in operation and will likely add to Fushi Copperweld's bottom line in 2012. I expect some further detail here on Thursday's conference call.
The hiring of a VP of operations with 32 years of global sales, supply chain and operational experience should only provide investors with even greater confidence in Fushi Copperweld's ability to grow sales. I expect that sales efforts will ramp with particular focus on Central/South America, the Middle East and Eastern Europe; areas where Fushi has sizable untapped market opportunities.
Once considering all these recent developments, the potential buyout offer and the fact that Fushi Copperweld is actually a multi-national corporation with a global footprint/customer base and multi-pronged growth strategy it is very surprising that so many investors have seemed to overlook the compelling value the shares represent. While Fushi Copperweld has Chinese operations, it is not a fraudulent Chinese company. The company even recently underwent an auditor change, taking on KPMG who went over the books, which only resulted in some immaterial (non-cash) accounting restatements.
To say that Fushi Copperweld shares are cheap at current levels would be a gross understatement. When Q3 numbers are reported on Thursday, cash will likely total ~$150 million (was $142 million as of 6/30) resulting in an equity value of less than $100 million, an EV/ '11E EBITDA multiple of less than 1.3x and a cash adjusted P/E of less than 2.3x based on consensus '11E EPS of $1.15. Assuming the '12 consensus EPS ($1.36) the valuation is even more ridiculous at less than 2x (cash adjusted).
I guess it's not surprising that all three sell-side analysts covering Fushi Copperweld, who expect double digit earnings growth, have price targets >40% above Monday's closing price with an average target over $10.00. At current valuations it seems as if shares receive no credit for Fushi's massive cash balance, which seems ridiculous given KPMG is confident the cash exists.
Compelling Upside With Very Limited Downside
While the headline risk related to confidence in Chinese related equities remains, Fushi Copperweld continues to be miscategorized with its western operations, western management team and coherent growth strategy that is unrelated to China and instead primarily focused on opportunities in the rest of the world. With shares trading so cheaply and numerous positive catalysts on the horizon, the risk/reward is clearly to the long side here.
With Abax's recent success in taking Harbin private, this may be the next in line, but if not you're still getting incredible value and could see quite attractive returns. Bottom line is if Li Fu wants to take Fushi Copperweld private he will (plenty of partners out there) and if not then shares are well positioned for gains given the overwhelming short interest and outrageously cheap valuation at these levels.
Good hunting.