Health Care REIT Inc. (NYSE:HCN), a real estate investment trust (REIT) that operates senior housing and health care real estate, is scheduled to report its fiscal 2011 third quarter earnings results before the market opens on November 3. The current Zacks Consensus Estimate for the third quarter is 88 cents per share, representing a year-over-year growth of 11.6%.
Second Quarter Recap
Health Care REIT reported second quarter 2011 recurring FFO (funds from operations) of 90 cents per share, which beat the Zacks Consensus Estimate by 3 cents. 'Funds from Operations' is a widely used metric to gauge the performance of REITs and is obtained after adding depreciation and amortization and other non-cash expenses to net income.
Total revenues during the reported quarter were $381.1 million compared to $153.7 million in the year-earlier quarter. Total revenues for the reported quarter were well ahead of the Zacks Consensus Estimate of $335 million.
Agreement of Analysts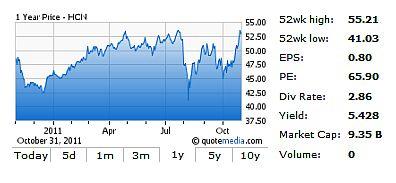 In the last 7 days, there were no earnings estimate revisions for the third quarter as none of the 16 analysts covering the stock has neither increased nor decreased the same. For fiscal 2011, the story is similar as none of the 17 analysts covering the stock has revised the earnings estimates in either direction. This demonstrates that the analysts are extremely circumspect about both the current and the future outlook of the company.
Magnitude of Estimate Revisions
Earnings estimates have remained steady in the last 7 days for the third quarter at 88 cents. For fiscal 2011, earnings estimates have also remained stagnant at $3.39 per share during the same time period, meaning that analysts were overtly cautious about the long-term performance of the company.
Moving Forward
We presently have a Neutral recommendation on Health Care REIT, which currently has a Zacks #4 Rank that translates into a short-term Sell rating. We also have a Neutral recommendation and a Zacks #3 Rank (short-term Hold) for HCP Inc. (NYSE:HCP), one of the competitors of Health Care REIT.
Health Care REIT Inc. invests across the full spectrum of senior housing and health care real estate properties. Headquartered in Toledo, Ohio, the company also provides an extensive array of property management and development services.
Health Care REIT usually has long-term triple-net leases in senior housing and healthcare real estate properties that insulate it from market volatility and provide a steady source of revenue despite a challenging macroeconomic environment.
In addition, the healthcare sector is one of the more recession-proof real estate sectors and has continually fared relatively better than other sectors during the commercial real estate downturn.
Furthermore, an aging Baby Boomer generation's demand for assisted and independent living facilities should increase in the coming years. With a significant presence in these property types, Health Care REIT is in a relatively stronger position compared to most of its competitors.
However, one of the biggest risks to healthcare focused REITs is government reimbursement rates, which could be reduced in the coming years. Deep cuts in Medicare have been proposed over the next five years by reducing or freezing payments to skilled nursing facilities, hospitals, and other healthcare providers.
With a large portion of revenues being determined by government payout rates, forces beyond the company's control could negatively affect revenue and operator coverage ratios.