By Bill Wilton
With snow storms already making headlines, what better time to take a look at Arctic Cat Inc. (NASDAQ:ACAT). The company just reported a fantastic quarter that exceeded expectations and is sure to please investors.
Company Description
Arctic Cat makes ATVs and snowmobiles under the Arctic Cat brand as well as parts, apparel and accessories.
Big Quarter
Last week, on Oct. 27, the company reported results for its fiscal second quarter that included a 17% increase in sales. Results were driven by a particularly strong quarter for snowmobiles.
Arctic Cat also trimmed costs which led to a 20% jump in operating income and the cash balance grew nearly $16 million, to $96.6 million. Earnings per share came in at $1.15, $0.07 above estimates. The company has now topped forecasts in each of the past 6 quarters.
Raising Outlook
Arctic Cat also raised its full-year outlook as it expected higher sales volume throughout the second half of the year. After the recent snow storms here in the U.S., it could be a great season for snowmobiles.
Analysts raised estimates as well, pushing the Zacks Consensus Estimate for this year $0.15 higher, to $1.15. Next year's average estimate rose $0.09, to $1.25. Earnings growth is now expected to be 64% this year and another 10% in fiscal 2013.
Valuations
Even after shares of ACAT popped on the news, the valuations still look good. Shares are going for 18 times this year's estimates, which give them a PEG of 0.8. The price to sales ratio is at 0.7 times and the stock is going for twice its book value.
The Chart
While shares have been volatile in recent years, it is hard to argue with the consistently improving earnings. EPS forecasts have been up year over year consistently and continue to rise throughout the year. Both are great signs of solid growth.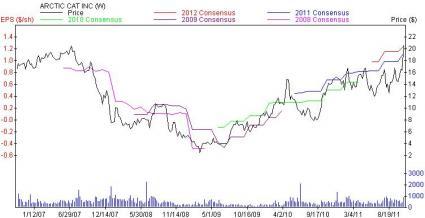 Bill Wilton is the Aggressive Growth Stock Strategist for Zacks.com. He is also the Editor in charge of the Zacks Small Cap Trader service