A recent trip to the local mall, my first in more than 5 years, was an eye-opening experience as to the state of shopping malls in this country. I'd estimate that more than a third of the storefronts were empty. Even with the anchor stores hanging on, a good 10-15% of the total retail space was vacant. Of the stores that were open, nearly half catered to the lower-rung of the socio-economic ladder. Stores with names such as "Phlava Cutz" and "Urban Gold Connection" stood where Crate and Barrel and Brookstone used to do business. It was like driving through a neighborhood that had "really gone downhill". Walking through the mall on a weekday afternoon, I encountered exactly 6 shoppers. This is the same mall that, just 10 years ago, was as bustling as Grand Central Station.
Real estate analysts have been noticing a steep decline in American shopping malls since the mid oughts. According to Smart Money, vacancy rates at US malls have more than doubled over the past 4 years to nearly 10%. Analysts who specialize in mall real estate often cite the rise in popularity of online retailing as the primary cause of the decline. But these analysts are dead wrong. If online retailing were the greatest threat to US malls, then stand-alone "mall-type" retailers such as Best Buy (NYSE:BBY) and Kohl's (NYSE:KSS) would be hurting as badly. But they're not. They've recovered nicely from their Great Recession bottoms.
Contrary to popular belief, there are two primary reasons for the decline of American shopping malls over the past few years, and they have nothing to do with the rise in popularity of online retailing. This fact may make our malls long-term investment opportunities. I'm dead serious about this.
So, what's the real reason for the death of US malls? 1) The moribund economy and its effect on impulse shopping, and 2) a complete paradigm shift in American youth culture.
The Economy and Impulse Shopping
A recent report on consumer spending conducted by Thompson Reuters and the University of Michigan suggests that this depression has all but eliminated impulse shopping for the majority of Americans. According to the report, the majority of Americans are "frustrated that they cannot maintain their customary living standards", which include "the ability to make impulse purchases and spontaneous purchases of gifts during the holiday season". This is a tragic development for US mall owners, as impulse shopping is the foundation on which malls are built. (Think: "I'm going shopping this weekend.")
As the consumer spending report suggests, impulse shopping has become the exclusive domain of the well-to-do. Teens, who used to be the most reliable demographic group for impulse spending, have been hit especially hard by this depression. With teen unemployment hovering around 20% for nearly 3 years now, mall retailers cannot count on youth as thriftless spenders anymore. Indeed, the few malls that are thriving in this country are located in mico-areas of the country where the term "economic downturn" has no meaning: Phipps Plaza in the ritzy Buckhead section of Atlanta, Americana Manhasset in prestigious Nassau County, New York, etc. According to Investopedia, "high-end" malls have vacancy rates around half of that of their middle class counterparts.
The Cultural Paradigm Shift
"Hanging out" at the mall, a rite of passage for generations of American youth, is becoming passé. The iconic mall scene from "Fast Times at Ridgemont High", with profligate teens packing the video arcade, skating rink, and food court by the hundreds, is quickly becoming an anachronism. A 2004 study of US shopping mall traffic conducted by the International Council of Shopping Centers showed that 14-17 and 18-24 year-olds, historically mall retailers' most coveted demographic groups, spent the least amount of time in shopping malls of any age category. This is a wild departure from a similar report issued in the mid 1990's that showed that the 14-17 and 18-24 age groups spent the most time in malls.
The advent of social media has likely been accelerating American teens' exodus from malls. Hot Topic CEO Betsey McLaughlin, an authority on teens' shopping habits, made the incredible admission at an investor forum last summer that "the place for [teens] to hang out today is the Internet". Over the past 3 years, Ms. McLaughlin said, social media sites such as Facebook have "replaced the mall food court as the place for teens to see and be seen". Indeed, roiworld, the teen social media site, recently reported that the amount of time American teens spend on Facebook grew exponentially from 2007 to 2010 to more than 14 hours per week. That's more time than the teens spend in malls by a factor of 12.
The majority of real estate analysts who cover the mall niche erroneously believe that online retailing killed the American shopping mall. These analysts may be forgoing a major investment opportunity. Malls could slowly come back to life as consumers regain their ability to impulse shop. American malls may never again regain their status as a teen haven (which might not be a bad thing in the long run), and they may never again feature retail chains en masse (which, again, might not be a bad thing). However, they may eventually see a return of the middle class who "go shopping". But this time for local wares at a concentration of local stores. Having fallen 18% over the past 5 years, rent is cheap in American malls. If stores like "Phlava Cutz" and "Urban Gold Connection" can afford it, many investors can afford the property.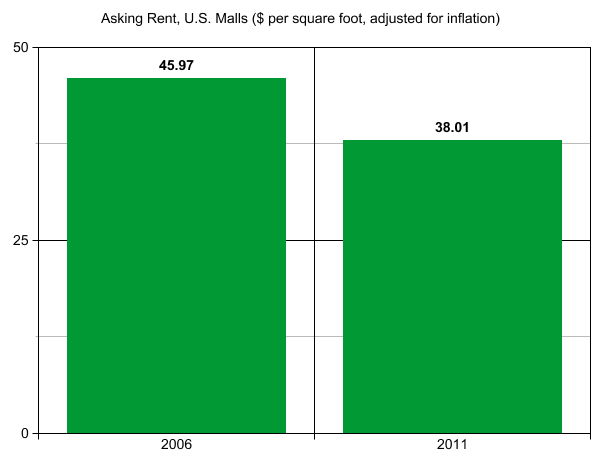 Click to enlarge
Some noteworthy mall owners are Simon Property Group (NYSE:SPG), General Growth Properties (NYSE:GGP), and Developers Diversified Realty Corporation (NYSE:DDR).
Disclosure: I have no positions in any stocks mentioned, and no plans to initiate any positions within the next 72 hours.