Sohu (NASDAQ:SOHU) reported its 3Q11 Monday morning.
Total sales grew 42% y/y to $233m.
Branded advertising sales grew 30% y/y to $77m (33% of total revenue).
Sogou Search revenue grew 243% y/y to $18.4m (~7% of total revenue).
Online gaming unit, Changyou (NASDAQ:CYOU), grew sales 35% y/y to $116m (50% of total revenue) due to continued popularity in its aging title, Tian Long Ba Bu.
Sohu's operating profit grew 13% y/y but operating margin shrank 8% to 32% from a year ago.
Non-GAAP EPS was $1.26 (+8% y/y).
For 4Q11, the management guided 28% - 32% brand advertising revenue growth and 218% Sogou Search revenue growth, which translate to 39% - 46% total revenue growth. Changyou's revenue growth is estimated to be 30% - 33%, in line with its historical average.
What I liked: Network externalities continue to drive robust ad revenue growth.
As I mentioned in my earnings preview, investors should focus on whether network externalities, such as the Sogou browser, continue to drive Sogou's search and online video sales as both units become bigger revenue components so Sohu can be less dependent on Changyou (CYOU).
In the quarter, Sogou Search sales grew 243% y/y, compared to Baidu (NASDAQ:BIDU), whose sales grew 84% y/y as reported in last week's earnings announcement. Sogou is becoming a major growth component of Sohu, accounting for 19% of total ad sales, compared to only 5% two years ago. The management expects Sogou Search to break even in the next two to four quarters, with the help of Sogou Browser, which is already the third widely used browser by user penetration in China. The robust sales growth from Sogou Search highlights the continued effectiveness of Sogou Browser in driving traffic to generate search revenue growth.
Sohu Video saw revenue grow 110% y/y while the number of advertisers grew 50% y/y. Unique visitors to the site grew 19% q/q to 192m. According to comScore, Sohu Video is the second online video site in China in terms of total visitors and videos viewed. For 2H11, the company expects to spend $50 – 80m on content and has secured exclusive content of several American dramas, including The Big Bang Theory, Gossip Girl, and Nikita. In addition, Sohu already secured content for 2012 and 2013 to avoid rising content acquisition costs. Meanwhile, Sohu will focus more on in-house productions, including dramas and interviews, that have gained wide popularity over the recent years.
What concerned me: Margin Deterioration and DMD weakness
Operating margin declined four quarters in a row to 32% partially due to higher headcount and marketing costs from the development and marketing of Changyou's new game, DMD. Over the quarter, Changyou's sales and marketing expense jumped 69% as the company promotes the DMD launch.
Initial results from DMD were disappointing. DMD only connected with "the more hardcore gamers, but rather difficult for casual gamers to pick up quickly," according to Sohu CEO Dr. Charles Zhang. Sohu's biggest weakness is its reliance on Changyou for a majority (~50%) of its revenue. Changyou operates in a highly competitive online gaming industry in which user preference can be highly capricious and unpredictable. DMD's strong search query on Baidu before the launch is not a good indication of its performance because its search query on Baidu fell 29% in October from September after the launch. Its mounting marketing costs are shrinking Changyou's operating costs to 52%, which is the lowest in three years. The drop in Changyou's stock price on Monday indicates that the Street believes DMD is a failure. To address this issue, Changyou will introduce an expansion pack next month to cater to the less-serious and more casual gamer base. However, it is uncertain whether the expansion pack will be a game changer.
Valuation
I am updating my SoTP valuation model and have derived the fair value of Sohu to be $90.65 per share, compared to $95.25 per share from the previous estimate.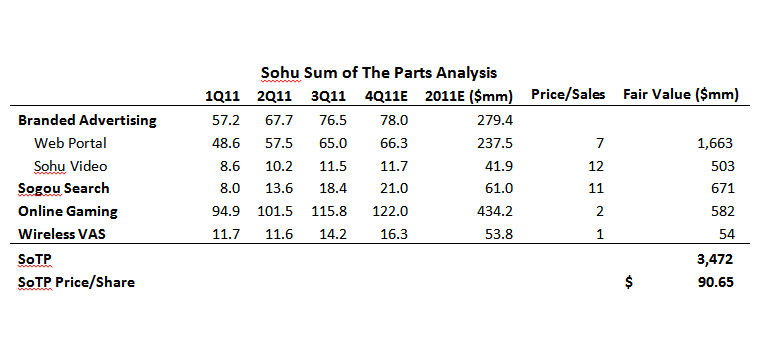 Multiples assumption for the Branded Advertising and Wireless VAS are consistent with the previous model. I adjusted the Sogou Search multiple upward by 1 due to strong growth in the foreseeable future while lower the Online Gaming multiple by 1 due to unattractive outlook for DMD. The adjustment derived a fair value price of $90.65 per share, implying a 50% upside from Monday's closing price of $60.40 per share.


Disclosure: I have no positions in any stocks mentioned, and no plans to initiate any positions within the next 72 hours.