MF Global files for bankruptcy
On Monday, the brokerage company MF Global Holdings Ltd. (MF) filed for bankruptcy protection. Its shares had been on a downward slide for most of the year, but started their precipitous decline, as the chart below shows, after October 24th, when Moody's announced it had cut MF Global's debt rating to Baa3, just one level above junk.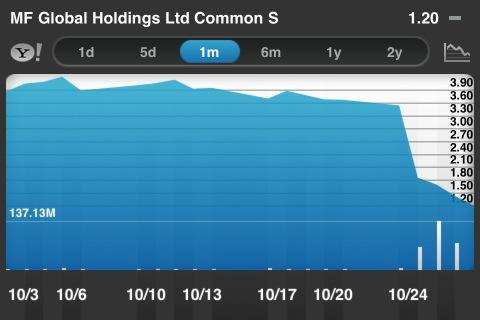 In this article, we'll look at what might have been a red flag for MF Global investors before the company's last, precipitous slide into bankruptcy (the company's low Relative Safety ranking), what other brokerages show a similarly low Relative Safety Ranking today, and the current costs of hedging them. For comparison purposes, we'll also look at a basket of brokerages with higher Relative Safety rankings as well. Let's start with a reminder about what Relative Safety is.
Relative Safety as a possible red flag
Recall that Relative Safety is a measure of risk VectorVest calculates based on its analysis of:
the consistency and predictability of a company's financial performance, debt to equity ratio, sales volume, business longevity, price volatility and other factors.
VectorVest ranks stocks in terms of Relative Safety on a scale from 0 to 2, with 2 being the highest (best) possible score.(to see the VectorVest's Relative Safety ranking for any stock, you can enter its symbol and your email address on VectorVest's home page, and they will email you their analysis of the stock).
Relative Safety of MF Global on October 24th
On October 24th, before MF Global's last, precipitous slide into bankruptcy, its Relative Safety ranking was 0.68, which is considered "poor" on VectorVest's scale of 0 to 2.
Hedging brokerages with similarly low Relative Safety Rankings now
In the table below, I've included four brokerage stocks with Relative Safety rankings of 0.68 or lower, as of Monday's close, along with the current costs of hedging three of them against greater-than-20% declines over the next several months, using optimal puts (one of these four stocks was too expensive to hedge using a 20% decline threshold).
Comparisons
For comparison purposes, I've added three stocks to the table that had the highest Relative Safety rankings in the brokerage industry as of Monday's close, and included the costs of hedging them against the same 20% decline threshold. First, a reminder about what optimal puts are, and why I've used 20% as a decline threshold; then, a screen capture showing the optimal puts to hedge one of the comparison stocks, CME Group, Inc. (CME).
About Optimal Puts
Optimal puts are the ones that will give you the level of protection you want at the lowest possible cost. Portfolio Armor uses an algorithm developed by a finance Ph.D. to sort through and analyze all of the available puts for your position, scanning for the optimal ones.
Decline Thresholds
In this context, "threshold" refers to the maximum decline you are willing to risk in the value of your position in a security. You can enter any percentage you like for a decline threshold when scanning for optimal puts (the higher the percentage though, the greater the chance you will find optimal puts for your position). I have used 20% thresholds for each of the securities below. Essentially, 20% is a large enough threshold that it reduces the cost of hedging, but not so large that it precludes a recovery.
The Optimal Puts for CME
Below is a screen capture showing the optimal put option contract to buy to hedge 100 shares of CME against a greater-than-20% drop between now and March 16, 2012. A note about these optimal put options and their cost: to be conservative, Portfolio Armor calculated the cost based on the ask price of the optimal puts. In practice an investor can often purchase puts for a lower price, i.e., some price between the bid and the ask.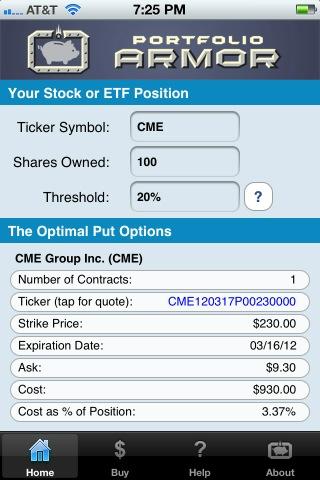 Hedging Costs as of Monday's Close
The hedging data in the table below is as of Monday's close, and is presented as a percentage of position value. The Relative Safety data is as of Monday's close; the first four stocks are considered to have "poor" Relative Safety, and the last three are considered to have "good" Relative Safety.
One comparison here shows a potential weakness of VectorVest's Relative Safety (RS) ranking: Despite having a "good" RS ranking, it costs more than 3 times as much to hedge Stifel Financial Corp (SF) with optimal puts as it does to hedge LPL Investment Holdings (LPLA), suggesting market participants have different views of the relative safety of these stocks. In an article a few months ago ("High Optimal Hedging Cost: A Red Flag?"), we speculated that high optimal hedging cost could be a red flag for future performance. It will be interesting to watch SF and LPLA over the next several months and see how this plays out.
Symbol

Name

Relative Safety

Hedging Cost

Lower RS Brokers
(

PJC

)
Piper Jaffrey Cos.
0.68
12.8%*
(

EVR

)
Evercore Partners, Inc.
0.67
7.11%*
(

LPLA

)
LPL Investment Hold.
0.67
4.48%**
(

SWS

)
SWS Group, Inc.
0.65
No Optimal Contracts
Higher RS Brokers
(RJF)
Raymond James Fin.
1.21
12.5%***
(CME)
CME Group, Inc.
1.18
3.37%*
(SF)
Stifel Financial Corp.
1.16
13.8%**
*Based on optimal puts expiring in March 2012.
**Based on optimal puts expiring in April 2012.
***Based on optimal puts expiring in May 2012.
Disclosure: I have no positions in any stocks mentioned, and no plans to initiate any positions within the next 72 hours.