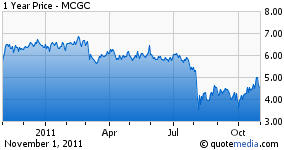 MCG Capital (NASDAQ:MCGC), one of the oldest and most troubled Business Development companies ("BDC") announced today the resignation of its chief executive officer. The press release says Steve Tunney Sr. has been replaced in the top management spot by Board Chairman Richard Neu. Moreover, Hagen Saville, currently the company's executive vice president of Business Development, has been appointed to the position of president and CEO.
NO NEW STRATEGY
As you'd expect, the press release does not begin to tell the whole story. Much of the announcement is taken up with thank-yous back and forth between the company and Tunney. The chairman/ new CEO does not suggest a new strategy at this point for the company:
"... Mr. Neu stated that "Hagen and I are truly excited to have the opportunity presented to us by our stockholders and the MCG Board of Directors to further our strategy to maximize shareholder value. We expect that this value will be created through the payment of a competitive dividend, a tax efficient staple of the BDC business model, and continued efforts to close the gap between our stock price and net asset value."...
THIRD QUARTER 2011 PRELIMINARY RESULTS POOR
However, the preliminary results presented in the same press release suggests there are very serious challenges ahead for the company. Distributable Net Operating Income ("DNOI") is down on the quarter to 9 cents a share, hurt by $5mn in previously announced in restructuring costs brought on by MCGC's struggle to fit its organization to the size of capital available.
More worrying is the continued deterioration in the value of the MCGC portfolio. For the quarter, the "Net Investment Loss" (which means Realized and Unrealized Losses) was $31.1mn. Existing investors will not be surprised that the biggest contributor to the loss was another write-down of the company's largest investment: Broadview Network Holdings, down $24.7mn. After that hit, the $159mn invested in Broadview is valued just under $29mn.
ASSET COVERAGE RATIO
The number we pay most attention to is the asset coverage ratio. For a BDC to continue to pay dividends the ratio has to be above 200%. The latest ratio is 230%, marginally down from 232% in the June quarter. That does not sound much of a drop, but it suggests that MCGC has been maintaining this metric by continuing to shrink the size of its investment portfolio. The press release is not comprehensive in supplying September data, but we'd guess that total assets at cost have dropped materially since the last reporting period, and so have borrowings. This is not unexpected because MCGC has been in loan run-off for some time as it has been unable to find new sources of debt or equity capital.
THIS IS WHAT DE-LEVERAGING LOOKS LIKE
The company's principal source of financing is its off balance sheet Commercial Loan Trust 2006-1 ("CLO") which began its automatic repayment period in July. That means that any of the $372mn of loan assets pledged to that facility which get repaid for any reason will be applied to paying off the $317mn in borrowings outstanding. The CLO has a nominal maturity date of 2018, but we'd expect to see borrowings below $200mn by year end and down to near zero by the end of next year.
Then there's the $150 warehouse financing arranged by Sun Trust. That facility was renewed at the beginning of the year until January 2013. We worry that the warehouse line won't get renewed if MCGC is not able to fix the continuing write-down of its investment portfolio. Sun Trust has a covenant requiring the company to maintain a minimum net worth of $450mn. With the latest write-offs MCGC's net worth must be around $500mn. That's not a huge margin for maneuver. If the facility is not renewed all proceeds for a twelve month period will go to the pay-down of the outstandings, with a bullet at the end. Given that the collateral in the warehouse line consists of senior loans we're not too worried that MCGC will be able to pay off the debt.
However the prospective non-renewal of the Sun Trust financing would leave MCGC's only material additional borrowing capacity $6mn of undrawn capacity under its SBIC license. Yes, the company could increase its borrowing capacity with the SBIC by investing further capital therein, but that would add only $41mn in additional debt capacity from June's levels. Moreover the SBIC has already declined MCGC's request for a second SBIC license, which could have added $75mn in long term financing to MCGC's books.
In a worst case situation MCGC in 18 months or less could be a much smaller entity whose asset base would consist of a disproportionately high number of equity investments and non-performing loans and whose only source of external debt capital would be $100-$150mn of SBIC funding. It's hard to believe that the company's earnings and dividend could possibly remain anywhere near current levels if such a drastic downsizing should occur.
DIVIDEND STILL BEING PAID
MCGC continues to be able to continue to pay its dividend (which was announced in the same press release at an unchanged 17 cents a share) but the company is de-leveraging fast without any clear strategy from management old and new as to where this is going to end up. The good news is that Mr. Neu and the rest of the team still have time to affect a turnaround here, but the room for maneuver is narrowing.
Disclosure: I have no positions in any stocks mentioned, and no plans to initiate any positions within the next 72 hours.