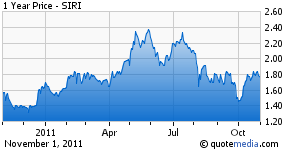 When Sirius XM (NASDAQ:SIRI) reported Q2 earnings back in August, I said that it had hit it out of the park, keeping in line with the baseball reference that CEO Mel Karmazin established earlier this year during the company's 2010 Q4 announcement when he first issued the promise.
Upon its Q2 announcement Sirius produced the following results, which then prompted Mel Karmazin to say: "Our results in the second quarter were strong, and we are proud of our record levels of subscribers, revenue and adjusted EBITDA and growth in free cash flow. Sirius XM continues to perform well, and we are pleased to raise our subscriber guidance and, for the second time this year, our free cash flow guidance," said Karmazin.
Subscribers exceed 21 million, an all-time high
Record revenue of $744 million, up 6% over second quarter 2010
Record adjusted EBITDA of $185 million, up 20% over second quarter 2010
Company raises guidance: 1.6 million net subscriber additions and free cash flow approaching $400 million expected in 2011
To this point I will have to say that the company has kept its promise. After all, how can a company that once flirted with bankruptcy just two years ago not be credited for exceeding expectations for several consecutive quarters. The question investors wanted to is, can it continue?
How do you follow a home run?
On Tuesday, Sirius reported one of the strongest quarters that the company has seen in its history. Although the stock price does not reflect the quality of this recent quarter, it should serve as a reminder to investors that ever doubted either the execution capability or fortitude of this company.
How do you assess a performance where profits surge 54%? It seems that the perceived stagnation in auto sales has been exaggerated as it was a boost in sales that spurred the growth in subscriptions. If that was not enough, not only did the company beat analysts' estimates by earning 2 cents per share, its revenue rose 6.3% to $762.6 million from $717.5 million. Including the recognition of deferred subscriber revenue, the company said it posted adjusted revenue of $764.8 million, which was up from an adjusted $722.5 million from the quarter a year ago.
The stock dropped as low as $1.65 before rebounding and remarkably it even reached $1.83 before settling. It always amazes me to see the reaction of investors during and after conference calls. It was evident that the stock had a "sell on the news" reaction followed by a "actually numbers were pretty good" recovery and then a "ehhh."
Chief Executive Mel Karmazin touted the company's record quarter and set forth targets for 2012, including accelerated revenue and earnings growth as well as record free cash flow.
"We ended the third quarter with more than $600 million of cash and cash equivalents," CFO David Frear said, and the satellite radio company also lowered its debt burden to 3.4 times EBITDA, from 4.5 a year ago. Through nine months of 2011, the company has generated more free cash flow than it did in all of 2010, ahead of the seasonally strong fourth quarter.
Sirius XM reiterated its 2011 and 2012 guidance. Revenue, expected to hit $3 billion this year, should rise 10% to about $3.3 billion in 2012, while adjusted EBITDA is expected to rise 20% to $860 million in 2012, from an anticipated $715 million for 2011. On the free cash flow side, Sirius expects $400 million this year to grow 75% to $700 million in 2012.
Summary
Regardless of what your reaction was, it needs to be understood that this company is running on all cylinders. When a company reports a "record breaking quarter" that is not a company to run away from. While investors have every right to be frustrated with the stock, everyone should be excited about Sirius XM the company and how it continues to execute. I continue to maintain that this is now one of the best times to be an investor and to keep things in perspective. If you believe in the wisdom of Warren Buffett like I do, than you should believe that the stock will eventually perform well.
Disclosure: I am long SIRI.