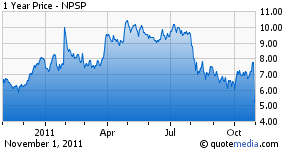 NPS Pharmaceuticals (NPSP) is trading down over 30% yesterday after presenting new data on their drug GATTEX (teduglutide) for the treatment of short bowel syndrome. The data presented was generally favorable with 91% of test subjects responding to treatment. While the data was positive, investors were spooked by three reported cases of cancer including two cancer deaths. However, if you dig into the press release, all three cases of cancer were in patients with preexisting conditions or precursors to cancer. The three cases are detailed in the press release and are below.
A metastatic adenocarcinoma of probable gastrointestinal origin resulted in death. The subject was 48 years old with a significant prior history of Hodgkin's disease treated with chemotherapy and radiotherapy. A neoplasm was discovered after 313 days of therapy. A review of the abdominal computed tomography (CT) six months prior to starting GATTEX therapy revealed a markedly enlarged liver with a focal lesion of unclear origin.
One case of non-small cell lung carcinoma resulted in death. The case was reported in a 64-year-old with a significant history of smoking (30 cigarettes per day for 30 years). The tumor was discovered 85 days after initiation of treatment with GATTEX.
One case of lung squamous cell carcinoma was reported. The subject was 74 years old with a history of smoking. The cancer diagnosis was made after 535 days of treatment with GATTEX.
Despite the deaths, the study was reviewed and approved with no recommended changes by an independent safety board. The drug has been granted orphan drug status by the FDA and European Medicines Agency (EMA). It has already been submitted for approval with the EMA and NPS plans to file for FDA approval by year end.
Per the NPS conference call hosted at 2:15ET today, all cases of cancer came out of the Polish study sites. The adenocarcinoma patient would not have been enrolled in the study if the lesion had been discovered during pretrial screening as it should have been. Additionally, the doctor handling the Polish sites, out of 218 male patients (excluding those in the drug trial), sees a 66x higher rate of lung cancer in short bowel syndrome patients than in the general population. This led CEO Francois Nader to state that the deaths were not considered a potential risk "signal" for the drug.
Yesterday S&P reiterated their buy opinion on the stock saying "While we see this news raising the program's risk profile, we continue to view Gattex's efficacy for a rare disease with few treatment options supporting approval prospects."
NPS is scheduled to report earnings on November 3rd.
Disclosure: I am long NPSP. I entered into a covered call position in NPS yesterday. I am long NPS shares and short NPS calls. Accounts from which I am an indirect beneficiary also hold a long position in NPS.