Many of today's companies with bullish stocks are praised for their abilities to redefine the value chain in their respective industries. While innovating, these companies tend to put competitors out of business. Amazon's popularization of the e-book put Barnes & Noble (NYSE:BKS) in dire straits financially and closed Borders. Netflix's movies by mail and television companies' on-demand services drove Blockbuster into bankruptcy. In this article, I justify how video game retailer GameStop can be next.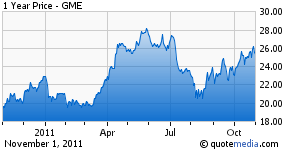 Once the next generation of video game consoles launches in 2012, more and more gamers will download games directly onto their systems. "Out of the box" games will more likely than not become obsolete and video game retailers can very likely be eliminated from the value chain. From a strategy standpoint, video game retailing is an extremely mature industry as almost all standalone game retailers have been rolled up into GameStop (NYSE:GME) over the past few years. Historically, when industries look to mergers and acquisitions as a primary way of growing and boosting earnings, it means that the industry is on the verge of collapse in terms of profitability, which drives down stock prices.
GameStop has already done a lot to help prevent imminent doom as customers can download content directly from their website and receive special bonuses in games if they choose to preorder at the retail stores. However, this may not be enough. Barnes & Noble's Nook was its response to the Kindle, yet the company is still losing to Amazon (NASDAQ:AMZN). Blockbuster introduced Blockbuster Direct to compete with Netflix (NASDAQ:NFLX), but it still did not save the company from bankruptcy. Almost half of GameStop's revenue stems from its sales of used games. Although this is a profitable venture now and will most likely have more longevity than its new game sales, I do not believe that it can lead to long term sustainable earnings, which is what investors need in today's market.
It is very difficult to gauge when GameStop will cease being profitable. It's heavily dependent on when video games become truly on-demand and gamers stop going to retail stores to buy games. As we have seen, brick and mortar retail stores have very little flexibility and investors have had waning confidence in technology retailers. With Best Buy (NYSE:BBY) stock driven down by bears and former tech retailers like Circuit City lost and forgotten, shorting GameStop is a good play in today's on-demand world. GameStop's current market cap is $3.65 billion on an expected $10 billion in revenue. Its market cap would drop to around $1 billion if it begins to be unprofitable when comparing it to Barnes & Noble's financials. Analysts expect earnings per share to actually increase from $2.67 in FY 2010 to $3.15 in FY 2012 so if on-demand video game purchasing occurs sooner than expected, early movers can earn a great return on their investments.
Disclosure: I have no positions in any stocks mentioned, and no plans to initiate any positions within the next 72 hours.