Valero Energy Corp. (NYSE:VLO) shares dived almost 8% on Monday, Oct. 31 to $24.65 after India's Reliance Industries said it has no plans to buy Valero. Stock price of Valero had surged 22% in 3 days after U.K. newspaper Daily Mail reported on Wed. Oct. 26 the takeover rumor that a bidding war could occur between India's Reliant Industries, Inc., Royal Dutch Shell (NYSE:RDS.A)(NYSE:RDS.B), and ... China's CNOOC. Traders had responded to the speculation by frenzied trading in VLO options. Click to enlarge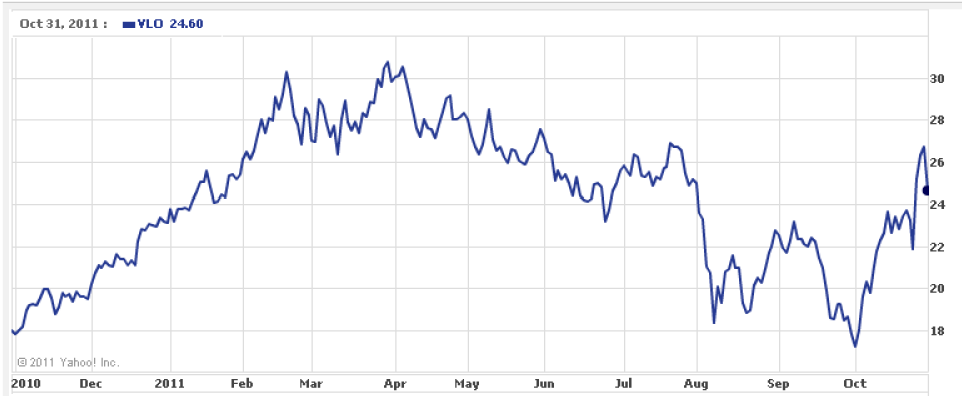 Click to enlarge
(Click to enlarge)
Valero is the largest independent U.S. refiner operating 15 refineries with approximately 2.9 million barrels per day of throughput capacity as of September 2011, which represents about 16% of the total refining operable capacity in the U.S. The company is one of the progressive refiners that has been spending heavily to high-grade plants to process cheaper crude grades. That is part of the reason Bloomberg data show Valero is the most profitable among eight independent U.S. refiners with earnings of $3.30 per barrel of oil processed.
So even though Reliance is out of the picture, Valero could still be a takeover target given the recent frenetic mega-deals in the energy sector such as Kinder Morgan's (NYSE:KMI) $38 billion acquisition of El Paso and Statoil's $4.7 billion acquisition of Brigham Exploration.
CNOOC – A Non Starter
Shell and CNOOC (NYSE:CEO) are the remaining two players mentioned in the initial Daily Mail report. But it looks like the reason China's CNOOC was even thrown into this rumor mill was partly for media sensationalism. CNOOC probably still has that bitter aftertaste with the political whirlwinds and hostility surrounding its 2005 bid for the U.S.-based Unocal. Chevron (NYSE:CVX) ended up acquiring Unocal after CNOOC's retreat.
Given the recent tensions between China and the U.S. over currency, trades, and Taiwan arms deal, it is unlikely that CNOOC would attempt such a high profile takeover. And even if CNOOC is brave enough to launch yet another major energy acquisition in the U.S., the deal would no doubt be shut down in the regulatory and governmental approval channel.
Shell – Bucking The Trend?
Royal Dutch Shell, although declined to comment on the Valero bid speculation, could make an interesting potential suitor, albeit it may be seen as an unwelcome move by shareholders and Wall Street. After all, the latest industry trend is either divesting or spinning off the lower margin refining business. For example, Marathon Oil (NYSE:MRO) has already officially split its downstream arm into Marathon Petroleum (NYSE:MPC), and ConocoPhillips (NYSE:COP) said it would complete the split of its downstream by June, 2012.
Nevertheless, we believe the refining spin-off is a short-sighted move that may have yielded some short-term positive response from Wall Street, but ultimately would lose the important long-term strategic advantage of the integrated model.
Size and Network Do Matter
Almost everything in the business world is pointing to one thing -- size and leverage do matter, which is part of the reason Exxon (NYSE:XOM) and Chevron are still keeping the integrated oil company model.
In the commodity-related business, network and infrastructure is such an important advantage that you see investment bankers buying up oil storage spaces, warehouses, and chartering tankers, etc. So by the same token, integrated oil companies historically have benefited from the downstream side for more stable cashflow, and as a hedge to the very volatile upstream crude oil market.
Integrated Oil Model - Strategic Advantages
Furthermore, we do not see refining as the "dog" of the oil business as some Wall Street analysts think. Refiners are getting even more sophisticated managing the sector's "feast and famine" cycle. For example, in the U.S., refiners are able to set the product prices (gasoline, diesel, etc.) based on the higher-priced Brent, instead of WTI to take advantage of the arbitrage (the Brent-WTI spread was as high as $28 on Oct. 14) realizing good margins.
In addition, several refiners also jumped ahead of the curve just like Valero by upgrading their facilities to get better yields processing lower priced crude grades boosting profitability in the face of dwindling global supply of the easy-to-process light sweet crudes,.
It has been a very difficult time for the refiners during this economic downturn coupled with increasingly stringent environmental regulations. Bloomberg pointed out that E&P (exploration & production) is 40 time more profitable than refining, particularly with $100+ Brent oil price forecast in the foreseeable future. But we think based on the long-term oil demand outlook, the strategic advantage of the refining and marketing segment still outweighs the short-term EPS contribution.
And ultimately, these already separated (and much smaller) E&P and refining companies would end up being easy preys to competitors looking to gain size, leverage, and strategic advantages, and basically fade into the oil history book.
So from that perspective, we speculate that there could be a reason that Shell's name surfaced in the takeover rumor to begin with, and that Shell might be taking a more strategic approach regarding the refining and marketing business bucking the current industry trend.
Russia & Kuwait
Other potential suitors of Valero could also include Lukoil (LIKOF.PK) of Moscow, Kuwait Petroleum Corp. or buyout firms, Muse Stancil, as IHS Herold, told Bloomberg.
While these speculations get the market rumor mill churning, looking back at the DP World controversy, the U.S. government would most likely take a very dim view of any kind of a majority foreign ownership in such a significant strategic asset on its home turf.
Chesapeake & Hess Should Consider Valero
On that note, we think a Valero bid would make sense for two domestic companies - Chesapeake (NYSE:CHK) and Hess (NYSE:HES) and that both companies should give it some consideration to at least bid for a sizable stake.
Chesapeake is shifting its E&P portfolio from natural gas to oil, and is one of the independent E&Ps implementing an integrated business model with in-house fracking crew, rig and rig mobilization fleet, etc. A downstream acquisition would certainly fit its integrated philosophy, while benefiting from the hedging and stable cashflow effect of the downstream business complimenting its aggressive upstream operation.
Hess is doing quite well not shying away from refining while expanding into power generation (via a 50% joint venture in Bayonne Energy Center, LLC) and commodity and derivative trading business. Hess refining operation is mostly in the East Coast and Florida South. Valero's quality refining assets would expand its downstream presence to the Gulf Coast, while providing long term growth.
Both Chesapeake and Hess stand a better chance of getting through the U.S. regulatory process since Chesapeake does not have significant downstream asset, and Hess is still small enough to not raise a red flag.
Actual Bid(s) Would Lift Other Refining Stocks
According to the estimate by Edward Jones & Co, Valero may be worth $40 a share in an acquisition, which would imply a total valuation of around $23 billion, and a 28% premium to VLO 52-week high of $31.12. That is a price tag within the reach of many powerful players in the energy sector.
In the M&A business, it is often difficult to tell who the final players will be. Regardless, one thing we do know is that the actual bid(s) of Valero or any other refiners, when handed down, would lift other stocks such as Tesoro (NYSE:TSO), Sunoco (Sun), in the refining sector as well, at least temporarily.
Disclosure: I have no positions in any stocks mentioned, and no plans to initiate any positions within the next 72 hours.