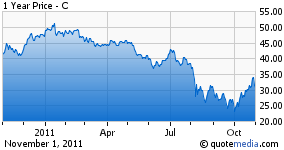 Citigroup (NYSE:C) is a global financial services company with a broad range of financial products and services. It has approximately 200 million customer accounts and operates in 160 countries. The company operates through two segments, Citicorp and Citi Holdings. The Citicorp segment operates as a global bank for businesses and consumers with two primary businesses: Regional Consumer Banking and Institutional Clients Group. The Citi Holdings segment operates Brokerage and Asset Management, Local Consumer Lending, and Special Asset Pool businesses. This segment contains businesses and portfolios that Citigroup has determined are not central to its core business (around 15% of Citigroup's assets).
A very interesting aspect of Citigroup is the presence in emerging markets, which delivered 68% of Citicorp's earnings from continued operations. It is a true international bank with a strong presence in Asia and Latin America. Regional consumer banking revenue from these two regions is more than $4.9 billion. This is more than the $3.4 billion revenue from North America Regional banking and clearly outlines the strength and focus from Citigroup on emerging markets. It sets Citigroup apart from other big banks like Bank of America (NYSE:BAC) and JP Morgan (NYSE:JPM). It provides the company a unique opportunity to grow its loan book in growing emerging countries.
The company reported net income of $3.8 billion ($1.23 per diluted share) for the third quarter. This was 75% higher than the prior year period. Third quarter revenues of $20.8 billion increased slightly from prior year. Third quarter revenues included a $1.9 billion credit valuation adjustment (CVA). Excluding CVA, third quarter 2011 revenues were $18.9 billion, 8% below the prior year period. Earnings without CVA would have been $0.39 per share less.
The year-over-year decline in Citigroup revenues, excluding CVA, was driven by lower revenues in both segments. Citicorp revenues, excluding CVA, were down 2% from the prior year period largely due to lower revenues in securities and banking that more than offset higher revenues in Regional Consumer Banking (RCB), while Citi Holdings revenues declined 27% from the prior year period largely from the impact of a decline in Citi Holdings assets. Graph 1 gives an overview of the Q3 revenue for Citicorp and Citi Holdings.
Graph 1: Citicorp & City Holdings Q3 revenue (in billion $).
Click to enlarge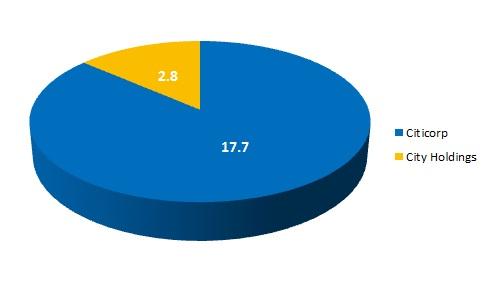 For Citicorp, international regional banking was clearly a bright spot in the third quarter driven by Asia (up 13%), Latin America (up 9%) and EMEA (up 5%) which in aggregate, increased revenue 10% year-over-year to $4.9 billion. This in contrast to North America where revenues of $3.4 billion were 9% lower than the prior year period.
Citigroup continues to make good progress in reducing the assets in Citi Holdings which fell $132 billion (31%) to $289 billion compared to the prior year period. Consistent with its strategy, Citigroup intends to continue to exit Brokerage and Asset Management, Local Consumer Lending and Special Asset Pool as quickly as practicable in an economically rational manner. To date, the decrease in Citi Holdings assets has been primarily driven by asset sales and business dispositions, as well as portfolio run-off and pay-downs.
The balance sheet keeps on improving. Non-accrual assets have decreased with almost 50% in 12 months. Deposits make up around 80% of total liabilities. Total allowance for loan losses were $32.1 billion at quarter end (5.1% of total loans). Total cost of credit fell 43% to $3.4 billion. The company was able to release another $1.4 billion in credit reserves. Book value per share is currently $60.56 and tangible book value per share is $49.50. A Tier 1 Capital Ratio of 13.5% and a Tier 1 Common Ratio of 11.7% is among the highest.
The strong capital position, improving balance sheet conditions and the opportunities to capitalize on emerging market growth through its international operations make Citigroup together with its low valuation an interesting investment opportunity. The stock price is currently around $30 with a P/B value of 0.6.
I see Citigroup as an investment that will pay off in the long term. Expect the company to need another 2 to 3 years to work through its issues. The increase in revenue from emerging markets should be able to offset the decrease in revenue and assets in Citi Holdings. Let's take this as the foundation for this investment thesis. Following assumptions:
Assets will remain stable until 2014, after that the Citigroup will increase them with 5% annually.
Return on Assets (ROA) is 1%. This is lower than the 1.4% ROA from before the financial crisis and reflects the new reality of banking under tighter regulation.
Share count remains the same.
P/E ratio of 12 in 2020.
Graph 2 shows the development of Citigroup's assets based on the above assumptions.
Graph 2: Asset value trend
Click to enlarge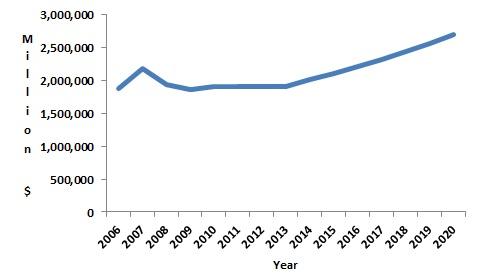 The asset value in 2020 would be around $2.7 trillion. Inflation alone would get you most likely to this asset value. I do consider this a conservative estimate. A ROA of 1% would deliver $27 billion in earnings. Current share count is 2,989 million. That would put the earnings per share at $9. With a P/E of 12, you get a stock price of $108. You would almost triple your investment in the next nine years (a compound annual growth rate of almost 15%). In the medium term - two to three years - I do expect that Citigroup will be trading close to book value. That would immediately double your investment. If you're willing to start investing in the financial sector again, then Citigroup should be on your shortlist. I would not bet the farm, it does however offer an attractive risk/return proposition.
Disclosure: I have no positions in any stocks mentioned, but may initiate a long position in C over the next 72 hours.