Summary
Groupon is marketing their IPO right now and is scheduled to price soon if markets and investors permit. This is the most highly anticipated and controversial IPO of 2011. Groupon is reminiscent of Priceline.com, which was bringing a very different business model to the travel industry and led by an eccentric founder/CEO named Jay Walker. The proposed price range is not unreasonable. Peer group companies that have gross margins in excess of 80% trade at 8 to 18x sales. At the mid-point Groupon (NASDAQ:GRPN) is at about 7.2x. But our base case intrinsic value is $11 and a "stretch" version only gets us to $20. We expect this is an IPO many will be looking to "play it for the pop" so near term prices could go anywhere. There's not enough information yet for long-term investors to own Groupon and the management team is not yet proven enough to rely upon.
Positives, Neutrals and Negatives
+ Groupon is at the heart of a new model of customer acquisition that takes the old concept of "coupon" and reshapes it for the new technology world of mobile and social consumers and local businesses.
+ Some investors have positioned Groupon as "another eBay, Amazon or Priceline" based on their leadership in this emerging category of consumer commerce.
+ Growth has been remarkable. Revenues for the September 2011 quarter were just over $430m compared to $82m in the same quarter a year ago.
+ The lifetime value of a Groupon user suggests the business model can work over time and drive positive margins when spending levels normalize and growth levels off. According to the company they get back about $7-8/quarter for a customer that costs them $18 to acquire.
+ The completion of the IPO should provide some additional momentum for their business. Given all the controversy swirling around Groupon merchants will be relieved if IPO goes well, the company get's a cash infusion (merchants have to be paid) and investors validate the business model.
= Marketing spend has been declining sharply as a % of revenue but it has also slowed the rate of revenue growth. It's not clear how much demand for Groupon is "pull" versus "push."
= Groupon has made much of their appeal to the "Gen Y" audience who combine an interest in getting a good deal with the lack of anything to do or enough "reasons to get out of bed."
- Groupon is going through a product transition that they illustrate in their roadshow with a plateau for "Groupon 1.0" and a new phase of growth driven by "Groupon 2.0" which comprises "Groupon Now!" among some other things. Since launching in May there is no evidence that this strategy is working.
- Valuation appears high and doesn't leave much upside based on intrinsic value. It will take a few more quarters to calibrate a tenable long-term financial model for the business. The company wasn't bold enough to provide one on their roadshow.
- The CEO is young with very limited experience. So far Andrew Mason hasn't been very reassuring to investors. The management team is experienced but hasn't had much time to work together as a team.
- The deal will improve the balance sheet but still leaves it weak; a concern since Groupon is competing with Google (NASDAQ:GOOG) and Amazon (NASDAQ:AMZN).
- It's not clear how much IP protection Groupon has. So far they have relied mostly on their scale as a differentiator. This has worked so far but both Amazon and Google are finding traction in this market.
Valuation
Any analysis of valuation for Groupon is fraught with weak assumptions. We've done two intrinsic value estimates, a base case (which is still very optimistic) and a "stretch" case. The base case suggests an intrinsic value target of $12 for next year. It's reasonable to use the 2012 IV since it's October but there's more risk in that number.
To build a model that could justify the filing range we had to dial in sustained high rates of growth, best-of-breed operating margins and a high multiple to go along with it. That can push the shares to $20 on a fundamental basis. Again we have to note that nobody, management included, has any way to know the right long-term assumptions until we see at least another 6-9 months of results.
A peer analysis is included below to help guide a discussion of how the Groupon business might develop. Amazon and Google are simply too big to include here but Priceline (NASDAQ:PCLN) is a good comparable. The odd name is ReachLocal which is perhaps the closest thing to a similar business that's public. ReachLocal trades at a mere 0.5x sales and is losing money on their $335M of LTM revenue.
Another important point about Priceline is that the stock had a bubble debut, which helped but then spend six years in the wilderness until the company really got traction in 2007. Since then it's been a big winner but that's all come in the past three years.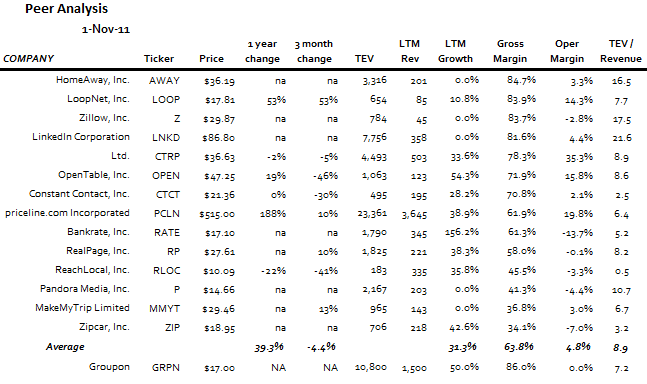 (Click to enlarge)
Disclosure: I have no positions in any stocks mentioned, and no plans to initiate any positions within the next 72 hours.