Neurocrine Biosciences (Nasdaq: NBIX) shares surged on Tuesday after the company said on Monday that third-quarter earnings jumped sharply as revenue nearly tripled.
The company's balance sheet on September 30, 2011 reflected total assets of $149.0 million, including cash, investments and receivables of $140.2 million. The asset balances were bolstered during the third quarter through $30.0 million of milestones recognized under the Abbott Laboratories (NYSE: ABT) collaboration agreement.
"The achievement of the two milestones under the Abbott agreement enables us to achieve our $130 million 2011 year-end cash, investments and receivables target for the Company," said Timothy P. Coughlin, Chief Financial Officer of Neurocrine Biosciences. "With Abbott moving elagolix forward in endometriosis and uterine fibroids, we will look to accelerate our VMAT2 Phase II clinical program, as well as bring some of our pre-clinical drug candidates into the clinic."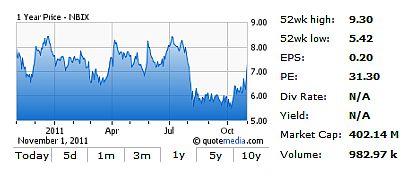 In October when the stock was at $5.93, we said to look closely at the stock after we noted a substantial insider buy in NBIX placed by Mark N. Lampert of the BioTechnology Value Fund, LP and that his buying activity put shares on the higher end of the tight trading range that had been in play for NBIX shares since August.
Earlier that month, On Tuesday Oct 4th, Neurocrine announced that it had received a $20 million milestone payment from development partner, Abbott, for the gynecological drug candidate elagolix. The companies are developing elagolix as a treatment for pain associated with endometriosis, a condition in which a tissue similar to the uterine lining is found outside of the uterus, such as on the ovaries. The condition can cause pelvic pain and infertility. Neurocrine said it has received $30 million in milestone payments in the third quarter.
A look at the BioMedReports FDA Calendar and Worldwide Regulatory Tracker shows that Neurocrine is anticipating Elagolix Phase III trials for endometriosis which are planned to start "in the fourth quarter of 2011." That entry on the calendar was sourced from a company press release dated May 3rd, 2011. There is an additional catalyst pending for the company which is scheduled for Q1 of 2012.
Shares are still trading at a substantial discount from their 52-week high ($ 9.30) with 76.30% of the company's shares owned by institutions.
Those interested in reading the firm's earnings call transcript may do so here.
Disclosure: I have no positions in any stocks mentioned, and no plans to initiate any positions within the next 72 hours.