Summary
Whole Foods Market (NASDAQ:WFM) is scheduled to report 4Q 2011 earnings after the close of trading on Wednesday, November 2. Whole Foods remains the market leader in high-end grocery chains, with an attractive real estate portfolio given the adjacency of its stores to the more affluent consumer, while carving out an attractive niche in the healthy/organic space.
With the stock just off the recent 52-week high of $74.45 and expectations moving higher ahead of the 4Q earnings release, Whole Foods is vulnerable to any missteps. The company previously guided for EPS of $0.40 to $0.41, while revenues are seen improving 12.7% to $2.36 bln. Considering the recent run-up from the August lows (up ~30%), Whole Foods is expected to significantly top these estimates. The guidance for the 1Q 2012 period and FY 2012 could also dictate how the shares respond to earnings.
Valuation is a bit elevated ahead of the 4Q earnings release, with the shares trading at 31.9x forward earnings, more than double the five-year growth rate. But at a mere 1.3x sales, no debt on its books, nearly $537 mln in cash, and efficient cost controls, Whole Foods is seeing improved margins and earnings growth. A stronger than expected quarterly report from United Natural Foods (NASDAQ:UNFI) back on September 8 also bodes well.
Chart Review
Whole Foods recently hit a 52-week high of $74.45. That will be the initial resistance level in the event of a stronger than expected earnings release. The all-time high is near $78, a level established at the start of 2005.
In the event of a disappointing earnings release, look for soft support near $70, coinciding with the 20-Day SMA, and the 50-Day SMA around $68. There is further downside risk to $64.
Click to enlarge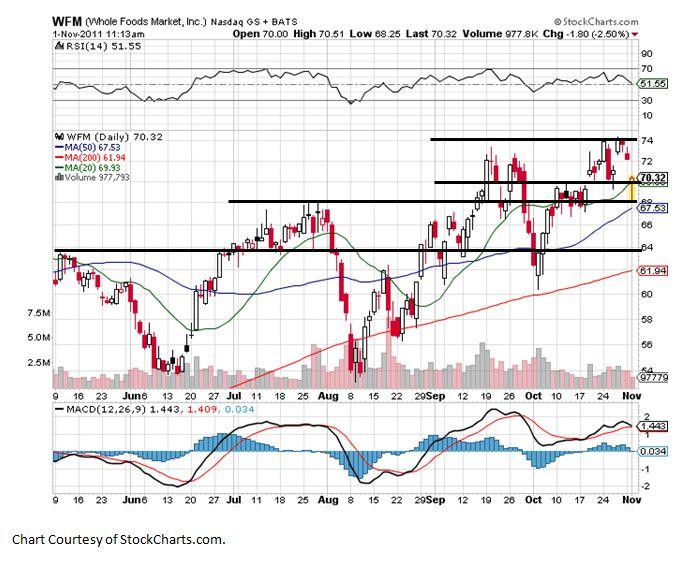 Click to enlarge

Click to enlarge
Disclaimer: By using this report, you acknowledge that Selerity, Inc. is in no way liable for losses or gains arising out of commentary, analysis and or data in this report. Your investment decisions and recommendations are made entirely at your discretion. Selerity does not own securities in companies that they write about, is not an investment adviser, and the content contained herein is not an endorsement to buy or sell any securities. No content published as part of this report constitutes a recommendation that any particular investment, security, portfolio of securities, transaction or investment strategy is suitable for any specific person.
Disclosure: I have no positions in any stocks mentioned, and no plans to initiate any positions within the next 72 hours.