The Bank of Japan has lost nearly $300 million on its exchange traded fund purchases that are part of a plan to shore up the stock market, according to a report Tuesday.
The BOJ has lost as much as $281.7 million buying ETFs as the Topix Index nears a 27-year low, Bloomberg reported.
The central bank's equity holdings have dropped about 4% since buying began in December 2010, according to the article. The purchases are part of its aggressive easing program designed to boost confidence in capital markets.
"This is not what a central bank should be doing," Masaaki Kanno, the Bank of Japan's former chief foreign-exchange dealer, told Bloomberg, referring to the ETF purchases. "The program started in an emergency, and it's been snowballing." Japan on Monday again intervened in currency markets to cool the yen's rise, which is hurting exporters.
iShares MSCI Japan ETF

click to enlarge
CurrencyShares Japanese Yen Trust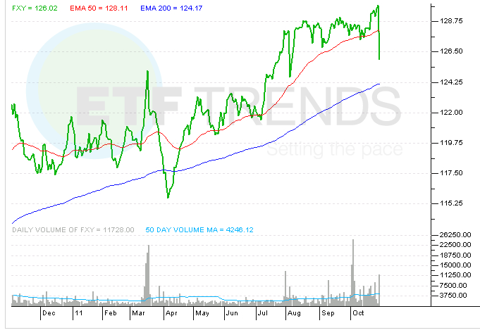 Disclosure: None