One of the companies that has been in the news, frankly, for just plain messing up has been Netflix (NASDAQ:NFLX). Management split its product line in two giving separate pricing schedules for DVD and streaming video, announced and then reversed a split of the company into two distinct units and then reversed itself on portions of its pricing. Confidence in both management's planning ability and investor confidence in the company's ability to retain customers caused the stock to plunge 73.07% from its previous one-year high. I think that brings in a buying opportunity for those who say "buy on bad news." My prediction is that the price will stabilize, management will find a fall guy for the mess and in the end the company will retain around 90% of its previous customer base. If this happens and you can pick up a few shares below 80, some quick profits may come your way. Let's look at the current hourly price action on this Barchart provided graph of the last month's hourly trading. I think it shows that the price has bottomed:
Click to enlarge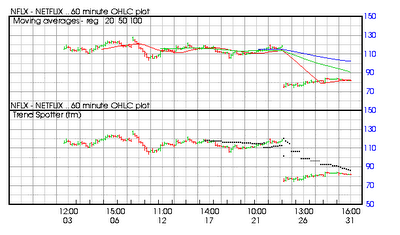 Netflix provides subscription based Internet services for TV shows and movies in the United States and internationally. The company allows its subscribers to watch unlimited TV shows and movies streamed over the Internet to their televisions, computers and mobile devices. Its subscribers in the United States would also receive standard definition DVDs and Blu-ray discs delivered to their homes. As of June 30, 2011, the company had approximately 25 million subscribers. Netflix was founded in 1997 and is headquartered in Los Gatos, California. (Yahoo Finance profile)
Factors To Consider
Barchart technical indicators:
96% Barchart technical sell signal - the sell signals are weakening
Trend Spotter sell signal also weakening
Trading below its 20, 50 and 100 day moving average
Lost 36.12% in just the last month
Lost 73.07% off its 1 year high
Relative Strength Index is 27.24% but reversing
Barchart computes a technical support level at 79.90
Recently traded at 82.08 with a 50 day moving average of 150.83
Fundamental factors:
Wall Street brokerage analysts have not changed their opinions on this stock
Analysts revenue forecasts are for a year over year 49.90% increase this year and another 31.30% next year
Earnings estimates are for an increase of 50.00% this year, an additional 38.30% next year and an annual increase of 28.96% for the next five years
Even with all the bad press analysts still have four strong buy, seven buy, 16 hold and only five negative recommendations out there - the five under perform reports are actually two LESS than last month
I think these estimates are over rated and results will come in around 10% lower than current projections. Analysts are reluctant to admit errors.
There will be first quarter losses in 2012 but they should have been expected with the expansion effort in the U.K.
The stock price drop has brought the P/E ratio down to 19 which is not that much above the market P/E ratio of around 14
General investor interest:
The individual investor as measured by the readers of Motley Fool that have expressed an opinion are still interested in this stock as 9,422 still vote 82% that the stock will beat the market
The more experienced All Stars have an 89% vote for the same result
Wall Street columnists are only 80% positive on the stock
Jim Cramer is one of those dissenters
Competitors:
You should always compare your stock with competitors over the last year, except when current news is important. For that reason I would like to look at the price action over just the last six months. As you can see Netflix (NFLX) is down the most at 70%, Amazon (NASDAQ:AMZN) up 10%, Hastings Entertainment (NASDAQ:HAST) down 57% and Barnes & Noble (NYSE:BKS) down 39%:
Click to enlarge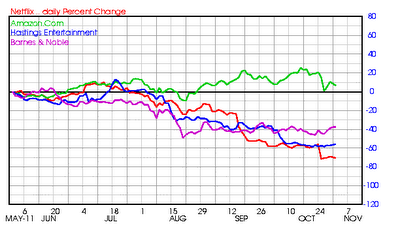 Summary: There is no doubt that Netflix is a mess. I do believe there is money to be made out of this mess. The stock has been beaten down further than the numbers warrant. If you use an hourly trading chart to follow the current price trends' plus use the discipline of a trailing stop loss you should be able to make some profits and limit your down side risks. Try to acquire the stock at or below 80 and place a 10% moving stop loss. This stock will gyrate so unless you are a really adroit day trader use the trailing stop loss to protect you.
Disclosure: I have no positions in any stocks mentioned, and no plans to initiate any positions within the next 72 hours.