Sirius XM (NASDAQ:SIRI) could be providing investors a great opportunity to invest in the company's future growth. The recent earnings report provided investors with a great insight into the company's performance. One of the biggest concerns investors had was if Sirius could continue its strong performance. Investors got that answer with Sirius having an excellent quarter once again.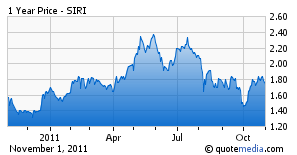 Sirius added 334,000 net subscribers in the third quarter; this takes total subscribers to 21.35 million subscribers. So far this year, Sirius has added over 1.16 million net new subscribers; this is a 6% increase compared to last year. Sirius confirmed its fourth quarter subscriber projections of 440,000 new net subscribers; this would be an increase of 34% when compared to the same quarter in 2010.
Sirius has also been showing great progress in minimizing expenses and maximizing revenue. The company generated $197 million in EBITDA, up 16% year-over-year for the quarter. Adjusted EBITDA guidance for next year implies a full year margin of 26%, up from an estimated margin of 24% for 2011. Sirius reduced content expenses by 8% the first 9 months of this year. I expect the company to further reduce expenses in this area.
I like how Sirius is looking for new ways to increase sales. The company has seen success in the used car channel. The company is running trials with certified used cars. Sirius has over 3,000 dealers currently enrolled in this program. This could open up a potential new market for Sirius if the trials continue to be a success.
I'm bullish on Sirius long term and view pullbacks as an opportunity to buy more shares. I expect Sirius to continue to increase free cash flow that will increase the company's market cap. The company's free cash flow projection has increased to $400 million this year compared to a negative free cash flow of $550 million in 2008.
There are some analysts that may have been disappointed with the company's recent earnings, but it depends on how you analyze it. I see a company that is executing its plan well and has had good subscriber and earnings growth. Even though it may not be at the pace that many analysts are expecting, I wouldn't view that as a reason to sell just yet.
Disclosure: I am long SIRI.