One industry that should benefit in particular from a recovery is consumer and business finance. Such an industry is supported by fluidity in discretionary income that inevitably follows a dynamic marketplace. Western Union (NYSE:WU) and Wright Express (WXS) are two specialists within this domain that are promising to value investors.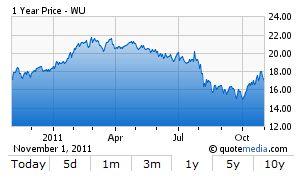 From a multiples perspective, Western Union is cheaper at a respective 11.4x and 9.9x past and forward earnings compared to a respective 19x and 10.8x past and forward earnings for Wright Express.
In addition, Western Union offers a dividend yield of 1.9% that enables investors to partially hedge against the risk inherent its beta of 1.42. Analysts nevertheless rate both companies around a "strong buy".
To be clear, these two firms are not perfect comparisons. Western Union is a relic from the Gilded Age, a telegraph-turned-financial services company. It offers payment services and facilitates money movement through its global network of 445K+ agents in more than 200 countries. It operates in consumer-to-consumer and global business transactions.
By contrast, Wright Express was founded just around three decades ago and offers unique information management and payment processing for the US government and commercial vehicle fleet. This unique focus gives the company greater negotiating power than more general providers. Its segments are Fleet and MasterCard, the latter of which provides corporate clients payment processing solutions.
Western Union recently launched an account-based money transfer service in Asia, which is favorable, in my view, in the sense that it hedges against domestic instability. In addition, the increased exposure to emerging markets will help lock out competition in an increasingly competitive industry. The business division will be a challenging one, but the firm has nevertheless prevailed thus far.
At the recent third quarter earnings call, CEO Hikmet Ersek stated:
Our business continues to be resilient, with solid consumer-to-consumer trends overall improved in consumer bill payments and a very strong quarter from Western Union Business Solutions. Total revenue increased 6% or 5% on a constant currency basis. As you are all aware, there are a lot of turbulences in the markets in the third quarter, and certainly we are seeing economic challenges in some parts of the world. However, our consumers are loyal, our business is diversified and we remain on track to achieve the full year outlook for revenue that we provided in July. So we have moved our EPS outlook to be at the higher end of our previous range.
While I model revenue increasing by 5.9% to $5.5B in 2011 and then by 10.1% in the following year, taxes will rise and cut more into the bottom line over time. The consumer-to-consumer segment is normalizing due to a slowdown in Europe, which remains a significant risk given the macro headwinds.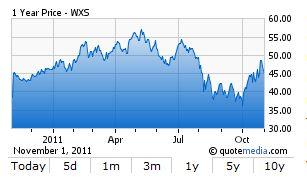 Wright Express is a little safer in this respect in that it can more benefit from stimulus spending during a recession. Although Western Union has strong European agent relationships, management cannot rely on this network to fuel sustainable free cash flow.
In my belief, increases in scale in other segments would be more beneficial to ROIC and value creation. Transactions, for example, grew substantially during the third quarter - up 14% in the third quarter and benefiting from price increase elsewhere. Expansion in the business services area presents a catalyst going forward.
Towards unlocking value from corporate spending, management is on track to closing its acquisition of Travelex Global Business Payments. This purchase will be combined with Western Union Business Solutions and produce revenue synergies through greater client networks and cost synergies through scaling operations. I anticipate that the purchase will help increase operating margins from 25% in 2010 to around 27.3% in 2012.
Consensus estimates for EPS are that it will increase by 10.6% to $1.57 in 2011 and then by an average of ~9.4% in the next two years. Wright Express has a higher bar at around 19.7% average growth over the next three years. Given the attractive valuations and exposures to high risk-adjusted returns, I find myself in agreement with analysts that both companies are attractive value investments at the present moment.
Disclosure: I have no positions in any stocks mentioned, and no plans to initiate any positions within the next 72 hours.