eLong (NASDAQ:LONG) announces its 3Q11 on November 7th and its larger rival, Ctrip (NASDAQ:CTRP), announces its earnings on November 13th.
While I am positive on both companies' growth prospects in China's online travel industry as Chinese travelers shift to online booking from offline (eg. Phone) booking, I am less positive on the near term macro impact that both companies will face. Hence I do not see strong near term top and bottom line growth for the remainder of the year. Depending on the macro environment, both Ctrip and eLong could experience multiples expansions in CY2012.
Recently, Civil Aviation Administration of China cut 2011 passenger number growth from 13% to 8% as passenger volume and air traffic growth from top 3 airlines, consisting of Air China, China Southern Airline (NYSE:ZNH), and China Eastern Airline (NYSE:CEA), decelerated on a year-over-year basis (See Chart).
Click to enlarge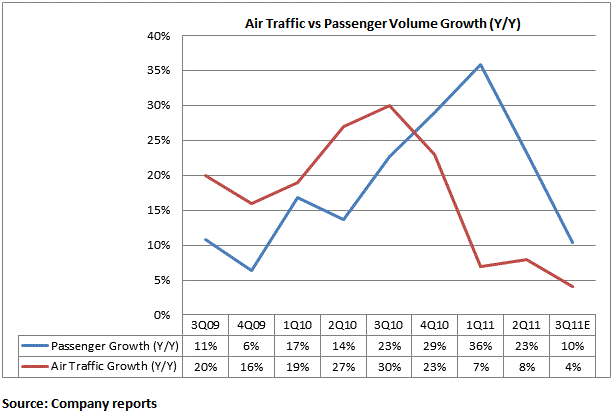 Investors should note that the strong passenger growth from 2Q10 to 4Q10 was due to the World Expo, which was held in Shanghai and attracted over 73 million visitors. Therefore 3Q11 results from both companies are likely to face tougher comps from the higher base due to the World Expo.
Lastly, there has been growing competition from low end players, such as mom-and-pop shops that compete on price, which could hurt Ctrip and eLong's market share in the long term. That said, I'd advise investors to remain neutral to Chinese OTA players for they are likely to face tough macro headwinds well into early next year.
Disclosure: I have no positions in any stocks mentioned, and no plans to initiate any positions within the next 72 hours.