As we wrote in our last report, we expect gold prices to rise through 2012. We sited supportive fundamentals, good investor sentiment and a supportive environment (due mostly to currency uncertainties) as the main reasons for our thinking so.
Though gold prices fell last month, this movement has not crossed what is the true trend line for gold prices (which is not the 200-day trend line often used). And if prices did cross the trend line, i.e. if prices fell to $1525 – $1600 on the close, it would still be within the range of oscillations that have been seen on either side of the trend line.
Figure 1
Source: Datastream
With gold expected to continue its upward (bumpy) trend, what about gold mining stocks? How have they done versus the rise in gold prices and what may happen to them in the future? Using the Thomson Reuters Gold Mining Sector as our base and some basic technical analysis, Figure 2 shows an interesting sideways pattern for gold miners.
Figure 2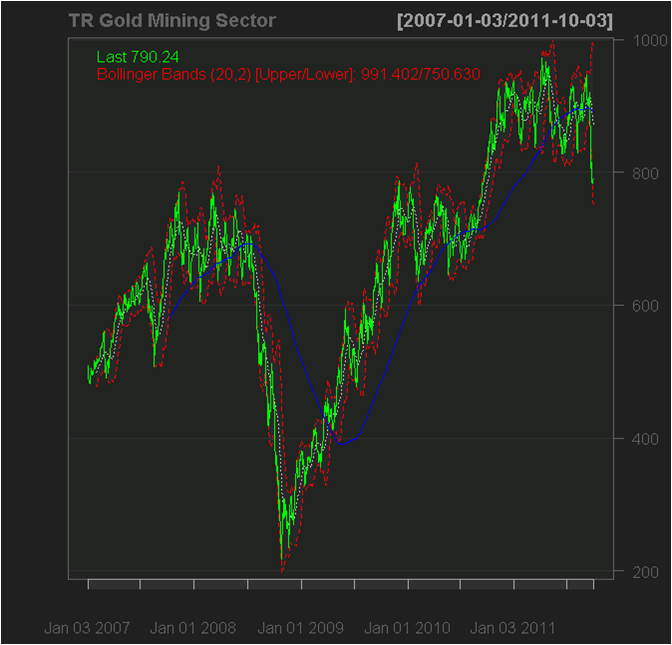 Source: Datastream
For most of 2011, the gold sector has been moving sideways though in late September sector prices have broken through both the 200-day moving average as well as the Bollinger Bands (a significant indicator of price volatility) that have held steady since late 2010. The reason for this breakdown is most certainly the recent decline in gold prices over the past month. But it bears knowing that other technical indicators (not shown above) give some support to the conclusion that sector prices may head back up soon as the sector's prices are approaching an oversold condition.
With gold having prices have increased during the year, it may be surprising to some that the sector has not done as well. The reason for this is that though the sector's prices and gold prices are correlated over the long haul, in the short term and often in the intermediate term, a sector index like Thomson Reuters, which is heavily weighted toward large-caps and does not have any micro-caps, will de-couple at times from the metal price. Some of these underperforming large-cap stocks are AngloGold (NYSE:AU) (-8.9%), Kinross (NYSE:KGC) (-8.4%) and Barrick (NYSE:ABX) (-4.7%).
Now most of the stocks in most gold mining sector indices are not pure gold plays. By a pure gold play we mean that the firm's sole business is to engage in the acquisition, exploration, and development of mineral properties or they cannot be characterized as a broad-based mineral producer whose income from gold production is only a part (albeit a significant part) of their mining income. Typically large-cap firms tend to fall into the broad-based producer category.
In comparison to the sector prices in Figure 1, there are gold mining stocks that have seen significant price increases over the last nine months. These stocks are pure gold plays (at least in a relative sense) and they are primarily small and micro cap stocks. Small and micro-cap stocks in most sectors tend to be the pure play stocks as their focus is on the "essence" of the sector. They do not play with the big-boys and in the case of gold, do not mine across the spectrum of precious metals or make efforts to expand beyond pure production.
Figure 3 shows the performance of Midway Gold Corp (NYSEMKT:MDW), a stock with ~ $300M market cap.
Figure 3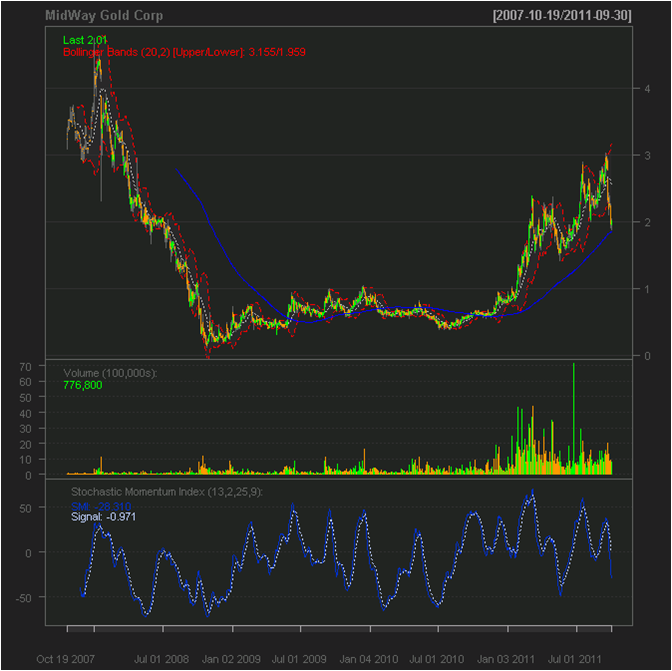 Source: DataStream
Midway is one of the sector's pure plays because it engages solely in the acquisition, exploration, and development of mineral properties in North America. Its return is greater than 200% this year, it trades under $5/share. On most if not all upward movements in gold, it has the potential to benefit from most if not all the upward movements in gold prices. And given its stochastic oscillator signal, it, like the other stocks we will look at, is signaling a current oversold condition.
Another stock which has had good returns this year (more than 50%) is Allied Nevada Corp (NYSEMKT:ANV).
Figure 4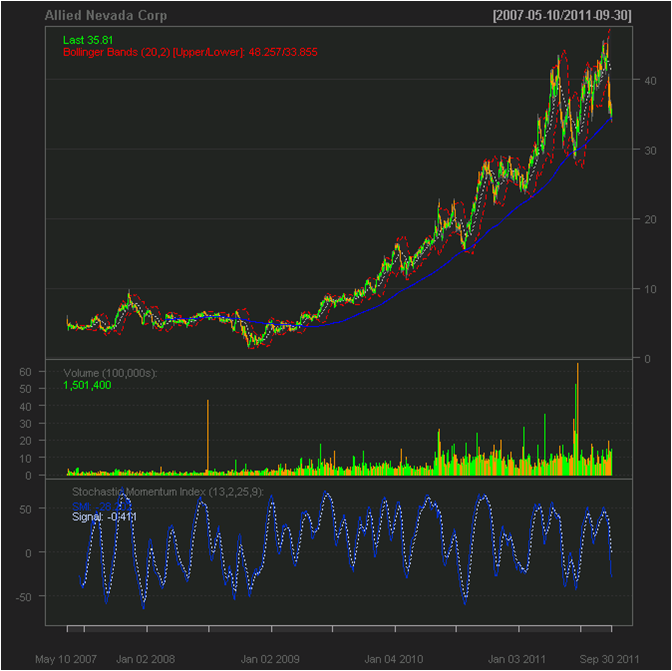 Source: Datastream
Allied Nevada Corp is a Nevada mining firm that specializes in mining only silver and gold. It has the best current technical indicators of the small and micro-cap pure plays and its price has one of the strongest links to gold prices. Its market cap is almost $4B.
Finally there is Gold Reserve Inc, (GRZ) another micro-cap stock. Like Midway, Gold Reserve is a firm that engages in the acquisition, exploration, and development of mineral properties in both North America and in select overseas countries.
Figure 5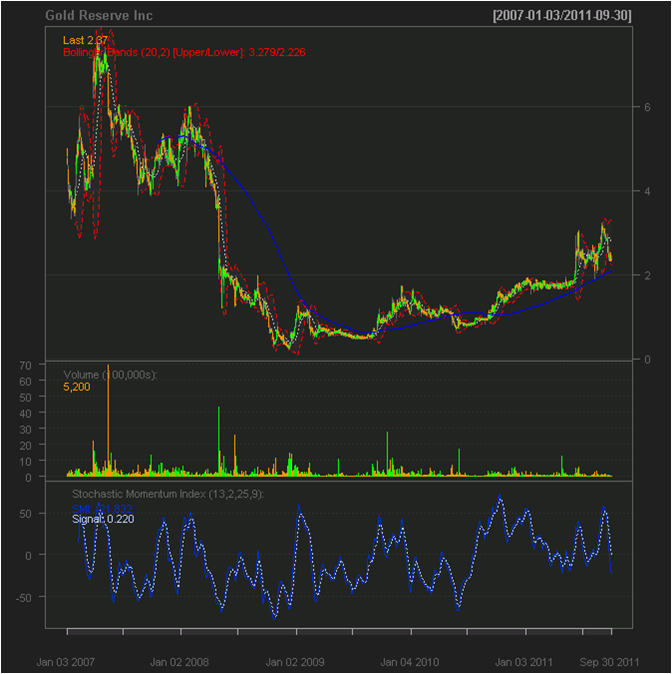 Source: Datastream
Its technical indicators are in good shape and it has returned more than 70% this year. This is another relatively pure gold play.
There are other relatively pure plays amongst small and micro-cap gold mining stocks such as Alacer Gold (OTCPK:ALIAF) which has returned ~45% this year and has a $3.1B market cap, but we leave these to the reader to look at.
To conclude, we have focused on the relative pure plays in gold mining stocks as a way of highlighting those stocks that would best benefit from the continued upward movement in gold prices. Whether you accept the gold price argument at the beginning of this article or think, like others, that gold prices are at the bottom of a "V" price pattern with their next probable move being up, it would behoove an investor to look at the small and micro-cap stocks for their potential pure play benefits.
If an investor would like to consider a long term value play such as Rio Tinto (NYSE:RIO), making such as investment would put them in line with other analysts whose articles also discuss the various ways of playing the rising price of gold.
Disclosure: I have no positions in any stocks mentioned, and no plans to initiate any positions within the next 72 hours.