I have written several articles recently on how to look underneath the superficial, juicy dividend yield of a stock for the more important total return numbers. Many investors don't realize that in many cases, even though a stock may seemingly offer an attractive dividend yield, the total return numbers of the stock have been terrible. Here is the first general article that I wrote on this subject.
I recently wrote another article comparing two blue-chip stocks (General Electric (NYSE:GE) and McDonald's (NYSE:MCD)) that on the surface offer similar dividend yields, but underneath the surface have delivered two widely different results for shareholders.
I also wrote a recent article on a great example of an income and growth stock named Kinder Morgan (NYSE:KMP).
In this article, I would like to focus on another stock that has provided a very nice combination of Income and Growth -- the best of both worlds. Natural gas pipeline stock, Enterprise Products (NYSE:EPD) will report earnings on Wednesday. The Houston based large-cap stock ($37B) has a been a terrific income and growth stock over the years.
Enterprise Products Partners L.P. is a MLP engaged in the ownership and management of energy transportation and storage assets primarily in the U.S.
Let's first look at a current five year chart of Enterprise Products Partners L.P.: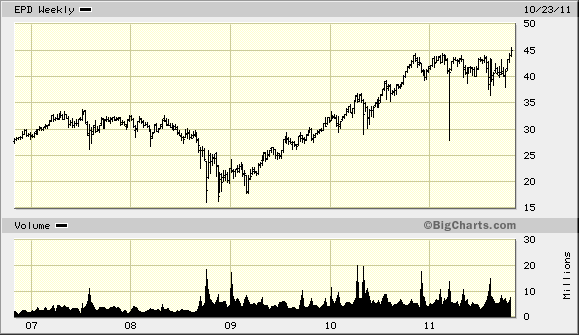 As you can see, the stock has done very well over the last five years, and is currently at or near all-time highs. Note that the stock has also held up very well during the recent 17% sell-off in the market.
Why is the stock doing so well?
Let's first begin with the track record of the stock's short-term, intermediate -term, and long-term performance. Here is a snapshot that shows very plainly how well the stock has performed during these periods of time vs. the S&P 500: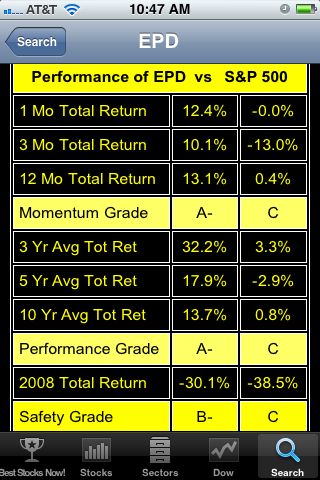 Data from Best Stocks Now App
The performance shown above is total performance, it includes the dividends paid by the company. I invented this smart phone app so that users could easily see the bottom-line performance of 2,700 different stocks. For some strange reason, this information is not readily available.
As you can see, the stock has soundly beat the S&P 500 over the last 1, 3, 5, and 10 years. As compared to 2,700 other stocks, the stock gets an A- performance grade. This is very good for a dividend paying stock. In addition to this, the stock still sports a very attractive dividend yield of 5.6%. Compare this with CD rates and the U.S. ten year treasury right now!
The stock passes the past performance test with flying colors. To me, this is a strong indication of the competence of the management of the company.
What about the fundamentals, however? Past performance is nice, but investing is all about the future. How safe is that dividend? Can the company continue to grow? Is the stock still a good value? Let's next look at Enterprise Products' dividend history.
DIVIDEND HISTORY:
DATE
Amount
27-Oct-11
0.613 Dividend
27-Jul-11
0.605 Dividend
27-Apr-11
0.598 Dividend
27-Jan-11
0.59 Dividend
27-Oct-10
0.583 Dividend
28-Jul-10
0.575 Dividend
28-Apr-10
0.568 Dividend
27-Jan-10
0.56 Dividend
28-Oct-09
0.553 Dividend
29-Jul-09
0.545 Dividend
28-Apr-09
0.538 Dividend
28-Jan-09
0.53 Dividend
29-Oct-08
0.523 Dividend
29-Jul-08
0.515 Dividend
28-Apr-08
0.508 Dividend
29-Jan-08
0.50 Dividend
29-Oct-07
0.49 Dividend
27-Jul-07
0.483 Dividend
26-Apr-07
0.475 Dividend
29-Jan-07
0.468 Dividend
27-Oct-06
0.46 Dividend
27-Jul-06
0.453 Dividend
26-Apr-06
0.445 Dividend
27-Jan-06
0.438 Dividend
27-Oct-05
0.43 Dividend
27-Jul-05
0.42 Dividend
27-Apr-05
0.41 Dividend
27-Jan-05
0.40 Dividend
27-Oct-04
0.395 Dividend
28-Jul-04
0.373 Dividend
28-Apr-04
0.373 Dividend
28-Jan-04
0.373 Dividend
29-Oct-03
0.373 Dividend
29-Jul-03
0.363 Dividend
28-Apr-03
0.363 Dividend
29-Jan-03
0.345 Dividend
29-Oct-02
0.345 Dividend
29-Jul-02
0.335 Dividend
16-May-02
2: 1 Stock Split
26-Apr-02
0.335 Dividend
29-Jan-02
0.3125 Dividend
29-Oct-01
0.3125 Dividend
27-Jul-01
0.294 Dividend
26-Apr-01
0.275 Dividend
29-Jan-01
0.275 Dividend
27-Oct-00
0.2625 Dividend
27-Jul-00
0.2625 Dividend
26-Apr-00
0.25 Dividend
27-Jan-00
0.25 Dividend
27-Oct-99
0.225 Dividend
28-Jul-99
0.225 Dividend
28-Apr-99
0.225 Dividend
27-Jan-99
0.225 Dividend
28-Oct-98
0.225 Dividend
As you can see, Enterprise Products has an excellent track record of INCREASING its dividend over the last 13 years. This is another extremely important attribute that I like to see in a dividend paying stock.
Now let's look at analysts' consensus earnings and growth expectations. According to the analysts that follow the stock, the company is expected to grow its earnings by 8.6% per year over the next 5 years. The analysts community also has a consensus EPS estimate of $2.26 for next year. At that rate, Enterprise Products would be earning $3.14 five years from now.
What multiple would apply to those future potential earnings of $3.14 per share? Consider that the stock is currently trading at a PE ratio of 30 and a forward PE ratio of 19.84. Also, consider that over the last four quarters, the stock has traded between a PE ratio of 25-40. Lastly, consider that over the last ten years, the average PE ratio of Enterprise Products is just over 31.
Annual Avg. PE ratio of EPD
| | |
| --- | --- |
| 10-Dec | 31.9 |
| 9-Dec | 26.2 |
| 8-Dec | 31.2 |
| 7-Dec | 32.7 |
| 6-Dec | 21.5 |
| 5-Dec | 28.1 |
| 4-Dec | 27.3 |
| 3-Dec | 53.5 |
| 2-Dec | 44.2 |
| 1-Dec | 14.7 |
| Avg | 31.13 |
I use a multiple of 25 on those projected earnings of $3.14 to come up with a five year target price of $78.50. The stock is currently trading at just under $44 per share. In my opinion, the stock still has significant upside potential over the next five years.
Given Enterprise Products' long track record of dividend growth, its prospects for coming quarters and over the next five years, I feel fairly comfortable that I will continue to receive my dividends and continue to see income and growth in the stock.
Enterprise Products Partners is another one of the best examples of income and growth that I can find in the market at the current time.
Disclosure: I am long EPD.