During the last six months, the stock price of Apple Inc. (NASDAQ:AAPL) has gone up by over 15%. Even after the demise of the great Steve Jobs, Apple didn't pull back at all. It's still on its way up! Good thing for the investors, but that's for who already invested, right?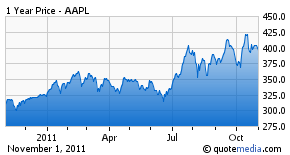 When you have a P/E ratio of 14.63x, compared to 6.25x of Hewlett-Packard (NYSE:HPQ), 9.67x of Microsoft (NASDAQ:MSFT), 10.6x of Intel (NASDAQ:INTC) and 8.47x of Dell (NASDAQ:DELL), you start to worry whether it is going to rise further in the recent future or not. For this, let's give the Q4 and Q3 reports a look.
From the Q4 report this year:
The company sold around 17.07 million iPhones during the quarter (unit growth of 21% from the year-ago quarter), 6.62 million iPods (27% unit growth), 4.89 million Macs (26% unit increase) and around 11.12 million iPads, over 166% unit increase. It seems to be that Apple aims to reside in every pocket in the world. It's true what they said, an Apple a day keeps the doctor away.
"We are thrilled with the very strong finish of an outstanding fiscal 2011, growing annual revenue to $108 billion and growing earnings to $26 billion," said Tim Cook, Apple's CEO.
The total SG&A expense of over $2 million and $200,000 increase in the R&D investment seems to have worked out fine for the company, resulting in around $4 million increase in gross profit and over $3 million increase in the operating income, over the same quarter previous year.
From the Q3 report this year:
The company sold 20.34 million iPhones in the third quarter (unit growth of 142% over year-ago quarter) and around 9.25 million iPads (unit growth of a whopping 183%). Compared to these stats, the fourth quarter's stats don't really look impressive. Yes, they have increased by double digit percentages, but are we seeing a decline in the demand of the iPhones and iPads?
And perhaps to keep up the demand, the company is thinking ahead and trying to incorporate innovation into these little smart devices, which may justify the company's purchase of C3 Technologies, a well-known 3D mapping company. Previously, it acquired other mapping software companies, for example, Placebase and Poly9.
As many sources say, with the A5 Processor, better image capturing aperture and superb mapping functionality, the upcoming iPhone series brings more for the people. Supply will stay strong and everything is being done to keep up the demand. Around $8 billion is going to be spent over the coming year, as reported here.
Not to mention the fact that the acquisition of mapping software companies will help Apple not to rely on Google (NASDAQ:GOOG) for its iOS mapping functionality, as well as providing a strong challenge to Google, Microsoft and Nokia (NYSE:NOK).
So, march ahead, Apple! As you ripe, we all want a bite.
Disclosure: I have no positions in any stocks mentioned, and no plans to initiate any positions within the next 72 hours.