It's Time To Buy Depressed Miners!
Fundamentals and Macroeconomic Trends
Prices for industrial metals and coal remain low. Miners of copper, iron ore, metallurgical coal and energy coal are oversold. While these stocks rallied in October, this was primarily due to improved sentiment regarding a Eurozone solution. It did not address the global macroeconomic trends or the fundamental supply - demand imbalance. BlackRock calls this a "massive" opportunity to invest in miners.
Depressed Prices, Depressed Stocks
On October 4th Seeking Alpha published an article of mine entitled, "Is This A Good Time To Buy Depressed Copper Miners?" After a month's passage of time and continuing evaluation of the fundamentals I now confidently assert, "It's Time to Buy Depressed Miners!" By that, I mean miners of iron ore, thermal and coking coal as well as copper. Power generation requires copper and it is the best conductor for the cables and wires that transmit it.
It is essential to the manufacture of consumer electronics and automobiles. In a large process manufacturing operation, like a pulp and paper mill, there might be 10,000 electric motors, all made with copper windings. Copper's uses include construction for wiring and for plumbing. Much of the earlier article presented information that supported the view that, indeed, it was a good time to buy copper miners. Allow me to summarize the key points:
Of the S&P 500 market sectors, the largest loser in September was Basic Materials, the sector that includes miners. Basic Materials was down 23% YTD with only Financials having a larger loss for the nine-month period at 24%.

Copper, which reached a record high of $10,190/tonne on February 14 of this year, was down 30% to $6,975 on September 30, a one-year low. The larger copper mining companies were down 30% to 50%.
Besides copper, major mined products are iron ore, used with coking (metallurgical) coal to manufacture steel and thermal coal used in industrial boilers and in huge quantities for power generation. Some miners, such as US based Freeport-McMoRan Copper and Gold (NYSE:FCX) and Southern Copper Company (NYSE:SCCO) are primarily copper miners who benefit from minerals often found with copper: silver, gold, and molybdenum. Teck (TCK) is a diversified miner and Canada's largest. It focuses on coal, copper and smaller amounts of several minerals.
Other miners such as Australia based BHP Billiton (BPH), the world's largest miner with a market capitalization of over $220B, mine a variety of products such as thermal coal, energy coal, copper, manganese, petroleum (oil and gas), aluminum (bauxite), lead, zinc and nickel. Vale (NYSE:VALE), the Brazilian miner and Rio Tinto (NYSE:RIO), another Australian miner, are in this category. ADRs of the last three trade on the NYSE. Ivanhoe Mining (IVN) is a Vancouver exploration and mining company involved with RIO Tinto at the Oyu Tolgoi copper-gold-silver project located in southern Mongolia in the Gobi Desert.
A table listing these firms with fundamentals and performance data is at the end of this article.
click to enlarge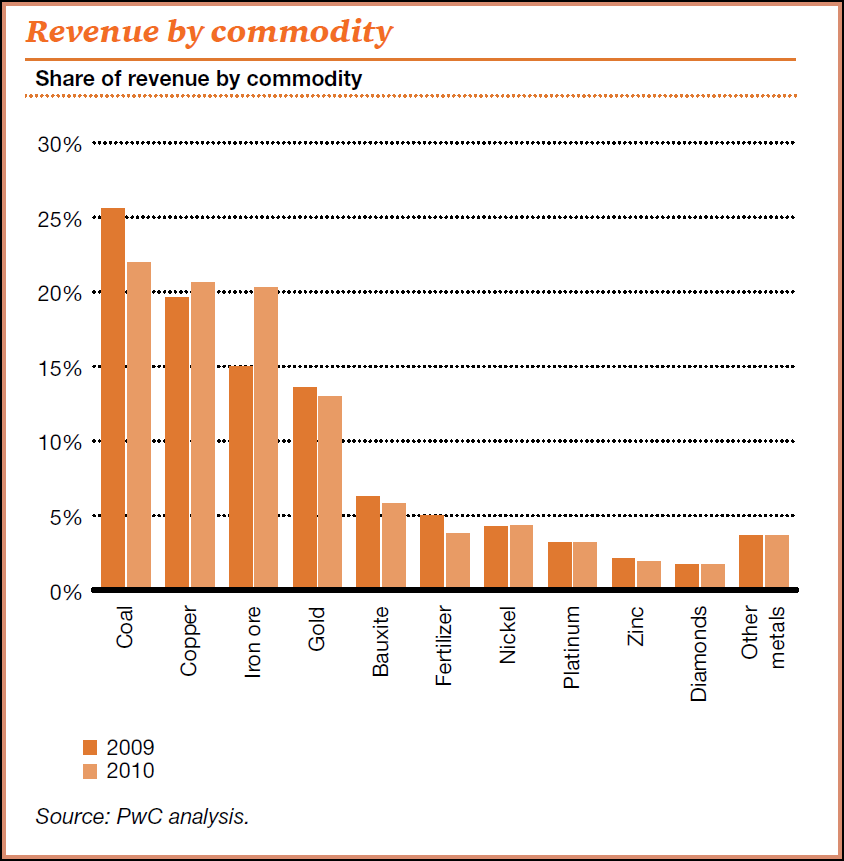 Click to enlarge
Reasons Behind Low Prices and Valuations
There were two primary reasons that copper on the London Metal Exchange (LME) was lower in price in September than any time in the previous year. Copper companies on the NYSE declined for the same reasons. There was over supply in the market place because of a growing realization that recovery from the recession was very weak. This caused slower than expected economic growth and reduction in the amount of copper needed for manufacturing and construction.
Secondly, China, which accounts for 40% of the world copper market, slowed their purchases of copper. Most of this was due to inventory draw-down, as China imported 380,000 of copper less in Q1 and Q2 than it did during the same period last year. This inventory draw-down continued through August and September figures were not available until mid-October. In addition, the Chinese economy grew at a markedly slower rate in Q3 than it has since 2009. This was in part because of lessened demand from the export markets and the intention of China to ease the rate of inflation. Copper and copper stocks hit YTD lows at the end of September. LME Copper fell to $6,975/tonne from its February 14th record of $10,190/tonne, down 31%, and the miners were on average 45% below their 52-week highs.
A Response to the Oversold Market
Copper is a leading indicator of the global economy and the above appears to be a dire prediction. However, there is much more driving the market down than the dynamics of supply and demand. Copper supply and demand are tied in a close balance, and constricted supply will be the case until at least 2014. Markets often overreact as emotions multiply the effect of news. In this case, the news is the continuing slow economic recovery in the US and the debt problems in the Eurozone. Sentiment trumps fundamentals in the short term. The market was oversold, and still is oversold.
A value investor, I bought undervalued stocks based on the fundamentals and long term macroeconomic trends. I increased my position in Southern Copper Company and initiated a position in Freeport-McMoRan Copper and Gold. I continued to hold Ivanhoe Mining. In addition, I put a watch on BHP Billiton and began my due diligence process on that firm. I may have bought very near the bottom; however, I will continue to add to my holdings on dips and plan to initiate positions in BHP and RIO this week. They are Morningstar 4 Star and 5 Star stocks, in that order.
Fundamentals and Macroeconomic Trends
When we speak of the fundamentals in the market for copper, iron ore, coal, or other commodities we are talking about the global supply compared to the global demand. The relationship of supply and demand underlies determination of price. For copper, even in this day of computer trading, price is set at auction by an outcry in the trading pit at the London Metal Exchange (LME). By mid-October, even though supply decreased because of labor actions in the copper mining industry, in Indonesia, Peru, Chile and Mexico, the demand was not enough to drive prices of copper or the miners stocks very far toward their earlier highs. The copper markets for the most part ignored the labor problems, which continue to affect copper supply. On October 9, 2011 The Telegraph, the electronic version of the U.K.'s Daily Telegraph, reported that International Copper Study Group (ICSG) released its latest assessment of copper market.
According to preliminary ICSG data, global growth in copper demand for 2011 will exceed global growth in copper production, with a production deficit of about 200,000 metric tonnes of refined copper expected for the year.
It is contrary to the laws of economics for prices to decline in light of a coming shortage. Markets acted irrationally and were significantly oversold. The primary reason was fear of the continuing Eurozone debt issues; fear that lack of resolution would cause another recession. Even analysts were skeptical as to when the downward trend would reverse. Michael Widmer, Metals Strategist at BofA - Merrill Lynch, was reported in the Telegraph as saying, "Factoring in also a likely stabilization of the US economy through 2012, we believe more visible upward pressure on prices will not emerge until then". He added that he did not expect significant buying in the near future. By mid-month, after flurries of activity on the Eurozone crisis, copper prices and the prices of miners were up about 10%.
"Strong fundamentals alone will not dictate copper's price." Copper Investing News commentary said. The red metal will react to global macroeconomics; however, analysts say that it would take a very long and very profound recession, perhaps a depression, to alter the favorable fundamentals supporting the metal. Beyond a "prolonged recession", neither new supply nor substitutions have the ability to alter commodities' supply/demand fundamentals. In terms of copper, neither supply nor substitutions are likely to thwart the metal's rally. Over the past 10 years, demand for copper has increased almost 7-fold, while it has been nearly 100 years since a significant new copper discovery. "In order to meet demand, we need to open one new major mine every year."
While not unexpected, good news from Beijing on October 14th was enthusiastically received.
BEIJING (Commodity Online):
Chinese Copper imports rose to 380,526 tonnes in September, hitting a 16-month high. This comes at a time when copper prices have been under pressure on fears of a Chinese slowdown.

That confirms earlier reports that the Chinese may be once again start stockpiling since copper prices have fallen to attractive levels. LME copper has fallen from $9500 levels in August to trade at around $7500 currently.
Americans feel dread as copper prices fall due to the red metal's reputation as Dr. Copper, the metal with a degree in economics and a leading indicator of global economic activity. China is much more optimistic. It sees a fall in copper prices as an opportunity to stock up on a material it will need large amounts of for many years.
Just last week, BlackRock, the world's largest investment company made extremely bullish statements concerning not only copper but miners of other basic materials. Investments by BlackRock in mining are $35.75 billion, making it one of the world's largest single holders of the sector. Mineweb reported, Tuesday October 25, 2011 with this release from Reuters:
BlackRock Inc, the world's largest money manager, sees "massive opportunity" in oversold mining equities, the firm's resources investment division chief Evy Hambro told a briefing on Tuesday. "Valuations are at very low levels," Hambro said.

Recent declines in global iron ore prices could lead to a drop in supply leading to a later upside rebound in prices, Hambro noted.
On Wednesday, October 26, 2011 the Adelaide Advertiser reported continuing discussion of the matter from Melbourne.
BlackRock gold and mining sector portfolio manager Catherine Raw said equity market nervousness was obscuring the fact that fewer high-quality mineral deposits were being discovered and those that were being found, were in higher-risk countries. Supply was also constrained because financing for new projects was getting harder to secure. She feels that supply constraints will support commodity prices over the next five or so years.
Over the last decade, demand for basic materials has shifted from Western Europe and North America to China and other emerging nations. China is the largest consumer of copper, metallurgical coal and iron ore. India and Japan are the big customers for seaborne energy coal and Australia is the closest large provider.
Widely Traded Global Miners
Well-managed miners with solid balance sheets and good reserves will do very well in the intermediate and long term. Those who invest in them will share in the rewards. These are seven good candidates for your further evaluation. IVN is a speculative exploration stock but the rest are profitable dividend paying stocks. Short term, there are prospects for rapid growth as the economy improves and the Eurozone issues are resolved. Buy on dips of 4% to 6%. While up from their September 30, 2011 lows, there is much room left for movement. All are slightly above their 50-day moving averages but well below the 200-day moving averages and their 52-week highs. The P/Es and PEGs are very attractive.

Click to enlarge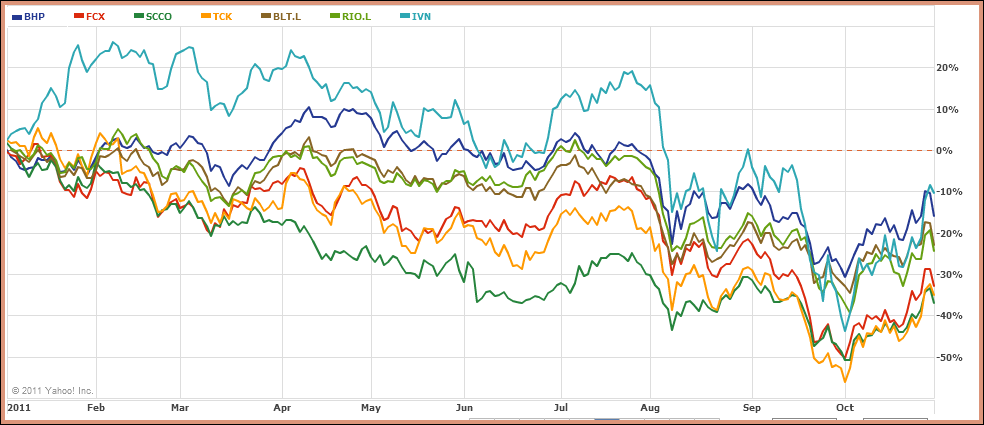 Click to enlarge