The authors of this posting never realized how complex the business of coffee was. Or perhaps, maybe management, the board of directors, and the auditors are inept. You buy a commodity, treat it, flavor it and do whatever it is that you do, and then sell it. Not hard. No offense to anyone, but it is true. And coffee machines, how complex a business is that? Install a machine and collect rent. If a third party is involved, pay them a commission and move on.
Reading management's explanation of what went wrong is as intelligent as listening to J-Wow and Snooki have a conversation. The discussion is vapid, silly, and downright stupid. That a business like this had multiple misstatements on the financial statements is scary and indicates not just mistakes, but outright fraud and/or gross negligence.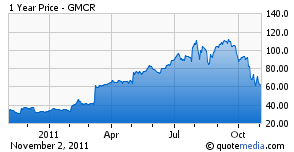 So, for those of you doing mental gymnastics about this stock, here is in our own humble opinion of what went down with Green Mountain (NASDAQ:GMCR) Madness (we mean Coffee). Just so our readers know, collectively we, the authors, have over 20 years of experience in futures/equities trading and over ten years of public accounting and consulting experience. We have seen and dealt with financial fraud directly and we have been directly involved in financial restatements of public companies.
Now, in our opinion, it is virtually impossible in the Sarbanes-Oxley age, to misstate revenues in more than one way and overvalue inventory (and thus understate cost of goods sold) for over three years before it is discovered. Companies are required to have accounting controls and business controls to provide checks and balances (people and systems checking other people and other systems) to prevent material misstatements from occurring in the financial statements. So, what this means is that there should be a solid financial management team in place that understands finance and accounting. Plain and simple. On top of that, there should be people monitoring what the finance and accounting people are doing to make sure they are doing what they are supposed to be doing.
All companies in this day and age should have a written set of accounting policies which explain in detail how every type of material (significant) transaction should be recorded. For example, royalties and other deferred revenue and expenses would be addressed in the accounting policies documentation issued internally by the company. Furthermore, the auditors should have a copy of this and test it as part of their accounting controls testing. In our experience, complex areas such as revenue recognition get the attention of the senior management of the audit firm performing the audit of the company.
So, what does this all mean? It seems highly unlikely that all the accounting irregularities were accidental. In our opinion, several people knew but did nothing about it until they had no choice because a higher power (the SEC) starting looking into things. In our own experience with financial restatements, it is an ugly thing where everyone looks bad. The accounting function of the company looks inept. The Board and the audit committee look like they fell asleep at the switch. And the auditors don't look good either, even if they were the ones to find the misstatements in the financials because everyone will ask, "Why did it take the auditors this long to find these misstatements?"
Therefore, neither the company nor the auditors want to find material misstatements of this magnitude in the financial statements and when issues such as this do arise, both sides seek ways to minimize or rationalize the items so a restatement is not necessary. But once the SEC starts poking around, everyone comes clean (sort of) because unlike the auditors, the SEC is not (as far as we know) on the payroll.
Many will now question whether to buy or sell this stock. Our view is simple. If you are trading or trying to invest in this company, beware. We believe that the quality of earnings is poor and management is inept. Poor record keeping leads to poor management. Any valuation should be based off of operating cash flow with very modest growth assumptions. We note that there are some published valuations of this company using growth rates and discount rates that do not reflect the economic reality and are reminiscent of valuations published during the internet stock boom/bust cycle.
Disclosure: I have no positions in any stocks mentioned, but may initiate a short position in GMCR over the next 72 hours.