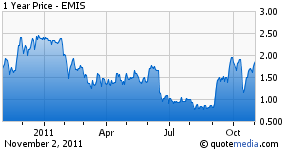 At last, the Osteoarthritis (OA) results are behind us. I told you once, I told you twice, I told you three times and I'm here to tell you one last time – Emisphere (OTCPK:EMIS) is all about Osteoporosis (OP). Oral salmon calcitonin is made for Osteoporosis.
The current enthusiasm in the shares of EMIS is being confirmed by the bullish formations on EMIS' daily and weekly charts. Recently, we witnessed a Golden Cross on EMIS' daily chart. In the technical trading world a Golden Cross is when the 50 day moving average ($1.44) crosses above the 200 day moving average ($1.41) and it implies a long term bullish move in the stock. Further confirmation of this bullish move is that the Golden Cross also occurred on the weekly chart this week.
The simultaneous Golden Crosses on EMIS' daily and weekly charts will bring it to the attention of technical traders and we can expect to see them enter the stock in the immediate future as technical trading programs issue buy signals.
Here's a few bullish fundamental points to back up the technicals and why I believe the Golden Cross will provide short-term profits to traders and long-term gains to investors.
I believe the OP trial is ready to break the Eligen technology out of its 20-year lab stint. As a result, the shares of Emisphere could prove to be the best investment in the market place in the next 30 to 60 days. I see EMIS trading north of $4 going into December on heavier volume as both traders and biotechnology funds bet on Novartis' (NYSE:NVS) OP trial having positive data. Positive data should bring a 50%-100% increase in the share price.
My conviction comes from two obvious pieces of evidence. First, the Data Monitoring Committee's (DMC) two interim looks (2009 and 2010) came back positive on both end points: efficacy and safety. Important to note, many investors thought the DMC had only taken one interim look in 2009 and not in 2010. However, Novartis this past week proved that the second interim look did indeed take place and this should put both longs and shorts on the same page. Second, Novartis hasn't put the OA trials to rest. The results of the European OA trial were very strong, showing that the Eligen technology does deliver salmon calcitonin (SCT) to the knee. More importantly, MRI data showed SCT slowing cartilage deterioration.
I'm a big believer in the theory that Novartis wants to push OA through on the success of OP. This could be done either with another small trial or through a ton of publications thereby striking doctors' curiosity of its use as a preventive measure in tackling OA. My opinion is backed by Novartis' partner Nordic Bioscience which will once again be showing off the EU OA abstract at the upcoming American College of Rheumatology (ACR) conference in Chicago this November 8th . This conference follows close on the heels of the Osteoarthritis Research Society International (OARSI) conference they presented at in September. It certainly doesn't appear that Nordic or NVS have given up on OA yet. In addition, the founder of Nordic Bioscience has decided to bet on Unigene's (OTC:UGNE) peptide for diabetes after Emisphere's Eligen carrier was used in a clinical trial with calcitonin on its effects on diabetes in rats. What strikes me as very strategic are the time slots that the founder has chosen to add to his investment in UGNE. He has options to purchase at year-end (NVS publicly stated we would see results on OP by year end) and again mid year 2012 (where Novartis will most likely file for OP if positive data is released). I see this as bullish to the shares of EMIS.
Another recent sign of confidence is that the CEO of Emisphere participated in the Bio Investor Conference in San Francisco last week, meeting with investors in front of a very important milestone for the company. I remind you that the company had been radio silent for almost one year. I believe the board now has enough confidence in the interim CEO that he will conduct a Q&A on the upcoming conference call. To not have him answer questions would be a failure to all the new and current shareholders.
On Halloween, Roth Capital put out a research report on EMIS and initiated coverage with a Buy rating and a $3.25 price target. This is very positive as it will spark institutional interest in the coming days, weeks and months. I also believe that this initiation will clear out all the short term sellers banking profits from EMIS' recent financing, putting the shares in strong hands.
Unfortunately, EMIS gets no credit for its Novo Nordisk (NYSE:NVO) relationship that is now three years old. In my opinion, the Roth analyst failed to highlight the NVO upside on positive OP data. A successful OP trial will allow institutional investors to uncover the importance of Novo Nordisk. NVO is very serious about the Eligen technology and I believe that Novo will be a better partner than Novartis over the next three years as its programs will far exceed those of Novartis. Time will tell. To date, Novo is working on oral insulin using Eligen technology for which we could see a phase I trial in 2012 and they're also working on Glp-1 which could enter into a phase II or phase 1-b in the next six months. Both programs could be up for milestone payments if forward progress is made. I remind all that EMIS could potentially receive close to $75 million in future milestone payments from Novo on Glp-1 alone. I wouldn't rule out another partnership with Novo sooner rather than later as they seem very interested in an obesity drug. To date Emisphere has collected $17 million from NVO in both milestone and licensing payments over the past three years.
Lastly, the trend is our friend on two fronts. The lead drug for OP is based on bisphosphonates. Very recently, these drugs were red flagged by the FDA and I'm sure many doctors are backing away from prescribing them without more information. Please read this article by a Seeking Alpha author. Roth Capital's research report claims that prescriptions for bisphosphonates are down 25% year over year (y-o-y). This is a monster data point to the potential of oral calcitonin. They also estimate that Novartis' marketing power will get them 65% of the $800m salmon calcitonin market (injectable and nasal) or $500m. In my humble opinion, with bisphosphonates prescriptions down 25% y-o-y Novartis should conservatively garner 20% of the overall OP market which stands at $10bn today (bisphosphonates $7bn) and estimated to be $15bn in 2015, which equates to $3bn to Novartis. Roth gives oral salmon calcitonin a value of $2 per share to EMIS whereas I see a value of $12 per share. I understand and respect that brokerage firm analysts have to be conservative in their price targets and estimates but I believe that a $10 -$12 price target would be more accurate and realistic.
Last month, a competitor Tarsa Therapeutics announced positive phase III data on an oral calcitonin tablet product versus nasal spray (maintenance). I personally do not believe it compares to Novartis' trial as it is 1/8th the size (565 patients vs 4,500 patients) and 1/3rd the time frame (1 year vs 3 years). In my opinion, Emisphere controls the superior delivery system in the market. Regardless of whose system is used, oral salmon calcitonin is effective and safe for the millions of women and men who suffer from this horrible disease.
The last front is that baby boomers are here and OP strikes women aged 45 and older. Demographics don't lie. When OP lands for NVS with Emisphere's Eligen technology you better believe NVS views this drug as a mega drug as they see these two fronts as the wind behind them. OP will also be the driving force to get doctors to look into oral SCT as a preventive measure for high risk patients for OA, further reinforcing my estimate that Novartis could gain 20% of the OP market.
Here's a few charts of stocks that had golden crosses to show you the potential moves we could see: Vivus Inc. (VVUS), Amarin Corp. (AMRN), Pharmacyclics inc. (PCYC), Ariad Pharmaceuticals (ARIA), Intel Corp. (INTC) , Nuance Communications (NUAN).
In biotechs, nothing is certain. In Emisphere you have nothing that is certain but you have a lot of signs pointing to a high degree of confidence in this OP trial. The charts are telling us the buyers are here. The OP market is in need of an oral calcitonin drug to replace bisphosphonates. The EU OA trial shows deliverance of the drug via the Eligen technology. Tarsa had phase III results on an oral calcitonin drug that were positive. We have the DMC delivering two go aheads in two out of the three years of the OP trial. These fundamental points have made me add to my shares here, I bought more today as I've become more confident in Emisphere's Golden Cross becoming my golden opportunity.
Disclosure: I am long EMIS.OB.